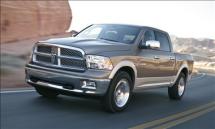 Overview:
This week we're looking at the 2010 Dodge RAM 1500 Laramie Crew 4X4. Yep, a Chrysler product and it would appear we have observed the third resurrection of this troubled American car maker. From a brief engagement with Daimler, Chrysler has emerged a better car company whose products have come a long way as a result of that brief affair.
New for the 2010 Dodge Ram 1500 is an increased towing capacity to 10,450 and increased gross combined weight rating to 15,500 lbs. when equipped with the 5.7-liter engine, 140.5-inch wheelbase and 3.92 rear axle. All engines include an interactive Decel Fuel Shut Off to allow shut off of fuel flow during deceleration for improved fuel economy. New features also include available folding trailer mirrors, integrated trailer-brake controller, power trailer-tow mirrors and 22-inch wheels for R/T. Inside: the Ram adds passive head restraints, a fuel-saver indicator on the instrument panel of the 3.7-liter engine configuration. That is old technology but an effective way to be reminded you of how badly you are doing with fuel consumption. I guess it doesn't matter with the 5.7 liter HEMI engine. A premium tire-pressure monitoring system is also becoming more popular. Personally I have found them to be annoyingly unreliable as they give false warnings primarily on those cold mornings. The new park-assist indicator in the electronic vehicle information center is on the other hand one of the more useful additions. A new iPod Control connects most iPod-compatible devices and allows iPod devices to be controlled through the media center audio system or the steering-wheel radio controls.
General Info:
Parts – US/Canadian 76%. Engine-Mexico, Transmission-US.
Assembly – Warren, Michigan, USA
Class:  – Standard Pickup
Cars: – Caliber, Challenger, Charger, Dakota, Durango, Durango Hybrid, Grand Caravan, Journey, Magnum, Nitro, Ram 15-25-3500, Sprinter, Sprinter Wagon & Viper.
Opinion:
Fly or Drive – that is the question. Well, with the incompetence of the TSA and our government generally, I've changed my opinion of the 500 mile rule. I think I'll push that up (for me) to 1,000 miles. For me that is the distance between Los Angeles, CA and Portland, Oregon. Here's how I compute that logic. If driving alone you save $400 round trip air fare vs. $150 in gas. If I fly it takes 7 hours and the indignity of undressing with total strangers. The drive takes 14-15 hours. (A full body scan would piss me off just enough to seal the deal to drive.)
And finally, the clincher is if there are two or more traveling together. Then you multiply the $400 by the number of travelers for air fare but all the rest is the same for the drive except you can share the driving duties and go straight through. That's a winner and no worries about the Muslim terrorists. Glenn reminds me that "Not all Muslims are terrorists, but all terrorists today are Muslims".
Handling & Performance:
Chrysler's Dodge trucks are arguably the best trucks on the market anywhere in the world. Hard working people count on a hard working truck. My choice many years ago was the Dodge 3500 dual wheel diesel (Cummins) powered work horse. Now after 265,000 trouble free miles I still count on it when I need to do the heavy lifting.
Styling:
Unmistakably Dodge with an image of being tough in its look and feel. It just gets better every year.
Fit and Finish:
Big, bulky, heavy, solid and fit together as well and close as a truck dares to.
Cost:
A bit more expensive than I think is appropriate because I know how profitable trucks are for the manufacturer. Ok, so it's competitive with similar size and quality trucks.
But to put it all into perspective the truth is the price of today's pickup trucks is about ½ the cost of an 18 wheel semi truck. Why is that? When I toured the Daimler truck plant in Oregon last month I got a healthy appreciation for comparable values, which I discussed in a previous column.
Conveniences and comfort:
Very good, and a really solid comfortable ride.
Consumer Recommendation:
All listed players are very nice trucks but you know my bias because I own a Dodge Ram. Tom in my office will only own Ford. Fortunately for you it's an easy evaluation process because you only have to test drive 7 makes.
Recognized Competition:
Dodge Ram 1500 $21-43,000, Chevrolet Silverado 1500 $21-42,000, Ford F150 $21-39,000, GMC Sierra 1500 $21-46,000, Honda Ridgeline $28-37,000, Nissan Titan $29-39,000, Toyota Tundra $23-42,000.
Good News:
Competitively priced, a top contender for me.
Bad News:
Only fair fuel economy.
Standard Equipment:
5.7 liter 390 hp V8 HEMI engine, 5-speed automatic transmission, electric shift on demand transfer case, front and rear side curtain air bags, stability control, 4-wheel ABS disc brakes, HD engine cooling, remote keyless entry and remote starting, security alarm, rear park sensor assist system, power locks, tire pressure monitor, air conditioning with dual zone temp control, Media center CD/DVD/MP3 radio with 6.5" Touch screen & 30 GB hard drive , Sirius satellite radio, 506 Watt Alpine surround w/ 9 speakers and sub-woofer, steering wheel mounted controls, Uconnect phone with voice command, heated front heated seats with lumbar adjust 40/20/40 split bench seat and rear 60/40 split fold down seat, leather wrapped heated steering wheel, rear power sliding window, power memory 10 way driver and 6-way passenger seats, memory for radio, driver seat, mirrors and pedals, trip computer, temp and compass gauges, 20" aluminum wheels.
Gas Stats:
$2.99/ Gal avg. January 9 '10
for more information.
13 City and 18 Highway MPG
Pricing:
MSRP $42,650.
Your comments are welcomed. My e-mail is joe@autolove.com
Copyright © 2014 – An Automotive Love Affair.