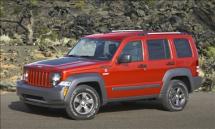 Overview:
This week we're looking at the 2010 Jeep Liberty 4X4 SUV. Wow, since I reviewed the Liberty some years ago on an Elk Hunt in the snow of southern Oregon, this SUV has put on some weight. But then I have too.
As you probably already know I have a soft spot in my heart for Jeep. The Jamboree's I've attended have convinced me Jeep is not only the Original it is up to the challenges made by virtually every other SUV on the market.
The real contenders are Hummer, Range Rover and newcomer Toyota FJ. They are threats to the Grand Daddy of Crowned Champs in the Off Road auto world. There are admittedly others that are capable but they don't double as ON Road travelers. They must ride to the off road venues on a trailer. Probably pulled by a Jeep.
General Info:
Parts – US/Canadian 80%
Assembly – Toledo, Ohio, USA
Class:  – SUV
Cars: – Commander, Compass, Grand Cherokee, Liberty, Patriot and Wrangler.
2003 Liberty smaller size $17-24,000.          1989 Wrangler
Opinion:

Revealing Holidays!
If you ever wondered how many government employees you're tax dollars are supporting, you'll be on notice when you drive down the freeway on "Moon Monday", "Gay Liberation Day", MKL's and Presidents day holidays. That's right those are the days when government offices celebrate while the rest of us must go to work to earn real money to pay for their time off. (suggestion to those on the dole workers – go to the beach on those days and drive during rush hours so it won't be so obvious).
It would appear to me that if there is 17% unemployment of Non-government jobs then federal and state government should lay off the same number of jobs in the public sector. Me – I'm tired of supporting these high paid positions that provide lousy service to boot. The classic example is the DMV.
If I don't produce I don't get paid, but government workers simply show up and they get paid. While on assignment in Eastern Europe shortly after the fall of the USSR and Socialism generally, young people I visited with were thrilled to have the opportunity of Capitalism. But their parents were bummed because they had become accoustomed to just showing up to get a pay check. Today, Poland's economy, for one Eastern European country, is growing by leaps and bounds as a result.
Traffic patterns can be pretty revealing and a shocking reminder of the imbalance of workers who produce GNP or GDP and those Government Jobs that consume the hard work of the "Real Workers". For the younger readers, if you don't know what thoseAcronyms stand for you're not paying enough attention to US Economic Theory and policy. It is more likely you didn't even learn about Economics in government run schools.
Ok, so this opinion probably offends about 40% of the people, and the TRUTH of it should offend the other 60% who are reminded of the FACTS – Nothing but the facts.
Handling & Performance:
Ever improving on road comfort as well as first class off road prowess.
Styling:
Consistently Jeep image. Friend Dave has a 1942 Jeep and the dream lives on.
Fit and Finish:
Excellent
Cost:
It is amazing to me that prices have NOT inflated over the years as you might think or expect. The 2003 Liberty was priced at $17-24,000. What's amazing is that simply from the growth or increase due to passage of time the Rule of 72's can shed light on the real value we have experienced over the past several decades. Of course the economies of scale and vastly improved technology and component cost efficiency has made a big impact on future cost as well.
Current competitive prices are very close for all in this class.
Conveniences and comfort:
Larger and ever growing improvements in technology.
Consumer Recommendation:
Put Jeep on your competitive review for this class SUV.
Recognized Competition:
Jeep Liberty $23-29,000, Chevrolet Equinox $23-30,000, Dodge Nitro $22-25,000, Ford Escape $21-27,000, Ford Escape Hybird $30-34,000, Honda CR-V $22-30,000, Honda Element $21-26,000, Hyundai Tucson $19-26,000, 2009 Kia Sportage $17-23,000, Mazda Tribute $20-29,000, 2009 Mazda Tribute Hybrid $29-33,000, Mercury Mariner $24-27,000, Mercury Mariner Hybrid $30-32,000, Mitsubishi Outlander $21-29,000, 2009 Nissan Rogue $20-23,000, 2009 Pontiac Torrent $25-31,000, 2009 Saturn Vue $23-31,000, 2009 Saturn Vue Hybrid $28,160, Subaru Forester $20-28,000, 2009 Suzuki Grand Vitara $19-27,000, Toyota RAV4 $22-28,000.
Good News:
Jeep styling, roomy interior in class, stable handling and solid feel.
Bad News:

If you opt for the full top soft cover it will come with wind noise. If I wanted that unique sliding top I would put up gladly with a little wind noise.
Standard Equipment:

3.7 liter 210 HP V6 engine, 4-speed automatic transmission, electronic stability program, 4-wheel ABS brake assist disc brakes, traction control, Electronic roll mitigation, hill start assist and hill decent control, multistage front air bags, supplemental side curtain and rear air bags, Part time 4-wheel drive system, cruise control, security alarm and theft deterrent system and sentry key, tire pressure monitoring, 19.5 gal fuel tank, air conditioning, media center with CD/MP3 radio, audio jack 8 speakers and SIRIUS satellite service for 1-year, vehicle information center, leather wrapped steering wheel and shift knob, cargo compartment cover, power windows and locks, leather trim 6-way power driver and 2-way passenger heated front seats, tilt steering column, fold flat front passenger seat, 60/40 split folding rear seat, 17" aluminum wheels and rear window wiper washer.
Gas Stats:

$2.97/ Gal avg. January 30 '10
for more information.
15 City and 21 Highway MPG
Pricing:
MSRP $28,735.
Your comments are welcomed. My e-mail is joe@autolove.com
Copyright © 2014 – An Automotive Love Affair.