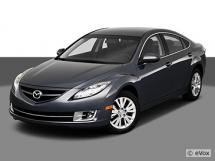 Overview:
This week we're looking at the 2010 Mazda 6i (4-door) Touring Sedan. If the surprise of those I came in contact with while testing the car is any indication, there has been a noticeable (perceived) change in Mazda in recent years.
"Wow that's a Mazda?" speaks volumes and echo's my feeling as well. The only Mazda that ever tickled my fun zone is the MX-5 Miata. I've always liked the little car because I have always had fun driving it. Most all other Mazda's have always been pretty commonplace. Good cars but nothing to stir the imagination and excite the driving experience. I expect for most that has not changed but this Sedan is somewhat of a departure in my view. Simply a very nice automobile.
It is assembled in Michigan, USA and half the parts are from the US – now that excites me.
General Info:
Parts – US/Canada 45% Japan 35%. Engine Mexico & Japan, Transmission Japan.
Assembly – Flat Rock, Michigan USA
Class:  – Midsize Car
Cars: – CX-7, CX-9, Mazda 3, 5, 6, MazdaSpeed3, MX-5 Miata, RX 8, Tribute, Tribute Hybrid     and Truck.
Opinion:
This is more information than opinion. For those folks in the high desert in Southern California, USA who do not commute to Los Angeles via Angeles Crest Highway likely do not know that route is closed for up to a year. The recent fires have made the road impassable. For those who do occasion to use the Crest it is a real bummer. Why – because it is the only other route. For the folks who choose to take highway 14 south you have a lot more friends to share the misery of commuting. Opinion – I believe there is a good reason to step up the repairs. While they are at it why not put a hole through the mountain to make it a 5 minute drive?
Handling & Performance:
Mazda is always a solid performer. You seldom hear horror stories about Mazda's. This Mazda 6i delivers a smooth and comfortable ride and is much faster than you'd expect – for a 2.5 liter 170 hp engine. Any less would be too little any more would be unnecessary. A midsize car is meant to carry folks in comfort under normal road conditions. It does that just fine.
Styling:
Clean lines and the best effort from Mazda ever. Mazda has always, in my mind, been . . . well, just another car. It has always been a 'plain jane', just get the job done kinda car. We all know 'glitz' sells and sexy is important to catch your eye. Mazda however produces simply no-nonsense transportation passenger vehicles and one truck. I think it is breaking out of the plain wrap mold and the Mazda 6i signals the way.
Fit and Finish:
Excellent.
Cost:
The 18 competitors listed below are very close in pricing. Generally, as far as passenger cars go, this is a nice grouping in class and I like them all in varying degrees. I was particularly impressed with what you get for the money with this Mazda 6i. It is in the top few for best pricing in my mind.
Another note about cost that just blows my mind. I spent a day touring Daimler's Western Star Truck manufacturing plant in Portland, Oregon this past week. Daimler also manufactures Freightliner trucks (in Mexico now), and after it sold off Chrysler the Mercedes-Benz brand remains its primary product Daimler is known for.
The point of my comment here is that I will never again consider car prices a good deal. The magnitude of building an 18 wheel truck has to make it the best buy on the planet at around $90-110,000 generally. When you consider you can easily pay that for a car in today's world trucks are inexpensive by comparison. Moreover a car is a liability (costs you money) and a truck is an asset (it makes you money). And unless you're a taxi cab driver your car makes you nothing. In any case the tour helped me to put value of such vehicles in perspective.
You'll often hear stories about the owner of a trucking company who complains about the cost of trucks for his fleet but then goes out and steps into his $100,000 Porsche. Go figure the human sense of priority.
Conveniences and comfort:
This Mazda is at the top of the list for comfort. In a world of electronic gadgets for any and everything all manufacturers have lots to choose from to make our travels easier.
Consumer Recommendation:
There is a lot of competition in this class which will make your selection a real chore. Mazda is a must see in your search. It's not on my Christmas list but it is near the top of my contender list.
Recognized Competition:
Mazda 6i $18-28,000, Audi A4 $31-34,000, Chevrolet Malibu $22-27,000, Chrysler Sebring $20-22,000, Dodge Avenger $20-22,000, Dodge Charger $24-38,000, Ford Fusion $20-28,000, Honda Accord $21-31,000, Hyundai Sonata $19-27,000, Kia Optima $17-22,000, Mercury Milan $22-28,000, Mitsubishi Galant $21-28,000, Nissan Altima $20-29,000, Pontiac G6 $19-32,000, Saturn Aura $23-27,000, Subaru Legacy $20-30,000, Toyota Camry $19-29,000, Volkswagen Jetta $18-23,000.
Good News:
Well priced, good fuel economy, lots of convenience stuff, inclusion of the important mechanical safety features like disc brakes and stability control and plenty of power.
Bad News:

None noted.
Standard Equipment:

2.5 liter 170 hp 4-cylinder engine, 6-speed manual transmission, anti-theft engine immobilizer, 17" alloy wheels, tire pressure monitoring system, variable intermittent wipers, cloth seats, front and side and side curtain airbags, LATCH child safety seat anchors, 8-way power driver seat, air conditioning, 60/40 split folding rear seats, AM/FM 6-speaker stereo system with 6-disc CD changer, MP-3 playback, front & rear stabilizer bars, 4-wheel ABS disc brakes with Traction control and dynamic stability control, fog lights, power mirrors, trip computer, leather wrapped tilt & telescopic steering wheel with controls for radio and cruise control, map lights, center console, rear seat armrest, power windows and locks and remote keyless entry.
Gas Stats:

$2.85/ Gal avg. November 19, '09
for more information.
20 City and 29 Highway MPG
Pricing:
MSRP $20,900.
Your comments are welcomed. My e-mail is joe@autolove.com
Copyright © 2014 – An Automotive Love Affair.