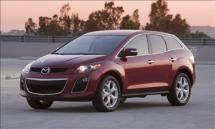 Overview:

This week we're looking at the 2010 Mazda CX-7 Sport FWD SUV. I have a family relation who is into badges… Porsche, BMW ($90K priced cars) Toyota Sequoia (top model) and yet… when he asked what car was I driving this week it was after saying "that is a nice looking SUV". . . right after buying a Sequoia Platinum.
Others also made similar comments… and "what a beeauuuutiful car", says my doctor neighbor Miguel. I agree Miguel. This is a very nice option for SUV buyers. I was fortunate to be able to schedule this SUV at this time of year since it carried my Christmas tree to my home 50 miles away. I needed to put the 6' tree 'inside' the car because of the long drive. And of course it was needed to tote gifts hither dither and yon… without reindeer I might add.
General Info:
Parts – Japan 95%
Assembly – Hiroshima, Japan
Class: – SUV
Cars: – CX-7, CX-9, Mazda 3, 5, 6, MazdaSpeed3, MX-5 Miata, RX 8, Tribute, Tribute Hybrid             and Truck.
Opinion:

In this Christmas season I was reminded how money moves too many of us which is especially true with some states on the verge of bankruptcy because they don't know how to manage.
Many families tell me it is a season tradition to watch "It's a Wonderful Life" with Jimmy Stewart and Donna Reed. There we observe George Bailey's life with and without character and care for the other guy.
I was traveling home after our family Christmas celebration when I was reminded of the world we live in as I observed the heavy hand of  the CHP out in force to raise taxes. Dick always tells me "the thirst which is unquenchable is the thirst when the well is fullest".  No matter how much tax our wasteful government exacts from us they can never have enough. You can bet the CHP passed out its own kind of 'stocking stuffers' this 'holiday season'.
I remind you to be cautious and keep the speed down because these tax collectors ARE NOT YOUR FRIEND.
Handling & Performance:
Positive pulling is from a Front Wheel Drive system… if you like that. I prefer rear wheel drive but more prefer All Wheel Drive. In any case the Mazda CX-7 is sure footed and has adequate power. Perhaps that fact is why I think it should do better in the fuel consumption category.
Styling:
The interior from the drivers view reminds me of an airplane cockpit. So not only is Saab influenced by their parent an aircraft company. This Mazda has great styling with beautiful lines. You gotta love this pretty car.
Fit and Finish:

Outstanding
Cost:
Even better. There is a truly a lot of value for the money in this CX-7. I'm continually amazed at what great cars can be produced this inexpensively.
Conveniences and comfort:
As priced this Mazda CX-7 includes everything I would want on my car because after 18 years of testing new cars I have become accustomed to certain features. As to the options I would toss the Moon Roof as I consider it a waste of money. I would add only one item and that would be a Navigation system but NOT a factory item. I would buy a Magellan Maestro for about $300; Garmin with many models under $300 or even a Tom Tom generally priced less but now with several models similarly priced.
Consumer Recommendation:
There are 23 competitors listed and this Mazda is in some pretty expensive company. All the better to compete with for this Mazda. It is arguably the best of the lower priced options and equal to the task when pitted against the more pricey badges to boot. Definitely you will need to include this as a top contender when doing your comparison.
Recognized Competition:
Mazda CX-7 $22-33,000, Acura RDX $33-38,000, Audi Q5 $37,350, BMW X3 $39,700, Cadillac SRX $33-48,000, Chevrolet Equinox $22-30,000, Dodge Journey $20-29,000, Dodge Nitro $22-25,000, Ford Edge $27-36,000, Honda Accord Crosstour $30-36,000, Hyundai Santa Fe $22-31,000, Infiniti EX $34-37,000, Land Rover LR2 $35,375, Lexus RX 350 $37-39,000, Lincoln MKX $33-48,000, Mercedes Benz GLK $35-36,000, Mitsubishi Outlander $21-26,000, Nissan Murano $28-37,000, Subaru Outback $23-31,000, Suzuki XL7 $26-30,000, Toyota Highlander $26-35,000 Toyota Highlander Hyrbid $35-41,000, Volkswagen Tiguan $23-31,000.
Good News:
Well priced, a top contender.
Bad News:

Only fair fuel economy.
Standard Equipment:

2.5 liter 161 horsepower I4-cylinder engine, anti-theft engine immobilizer, 5-speed automatic transmission, front wheel drive, 4-wheel ABS power disc brakes, dynamic stability control, traction control, power rack & pinion steering, front & rear stabilizers, front strut independent & rear multi-link suspension, power mirrors, power windows and locks, air conditioning, front & rear armrests, front, side and side curtain airbags, tire pressure monitoring system, AM/FM with CD audio system, steering wheel mounted audio, cruise & Bluetooth controls, tilt & telescopic leather wrapped steering wheel, cruise control, remote keyless entry, 17" aluminum alloy wheels, cloth seating, 6-way manual adjustable driver seat, 60/40 split fold down rear seat, LATCH child safety seat, .
Options: Sirius satellite radio, fog lights, power moon roof, heated front seats – $2,775.
Gas Stats:
$2.85/ Gal avg. December 28 '09
for more information.
20 City and 28 Highway MPG
Pricing:
MSRP $22,340, with options $25,115.
Your comments are welcomed. My e-mail is joe@autolove.com
Copyright © 2014 – An Automotive Love Affair.