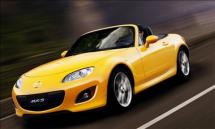 Overview:
This week we're looking at the 2010 Mazda MX-5 Miata two seater convertible sport car.
First I have to tell you I have always liked this little car that is a limited use car as you expect from a sport car. My major complaint is the tinny sound from closing doors, hood and trunk lid. The hood and trunk lid are most noticeably tinny in part because they are aluminum. However, you'll pay dearly to get a more solid sound from others in class noted below. It is what it is, and the price is right for this car. I've tested all those listed here and found the Solstice and Sky to be a little more solid sounding doors etc., but one has to wonder if those cars will be around when Miata moves forward into the future.
I have great memories when the Miata took Ilona and me on a short vacation jaunt to Lake Tahoe with all our bags. True there wasn't an inch of room to spare but if memory serves me, prior year models had more trunk space. Driving through mountain roads is a delight however and when you're in love the car becomes a part of the experience. Thanks Miata.
General Info:
Parts – Japan 95%
Assembly – Hiroshima, Japan
Class:  – Two Seater
Cars: – CX-7, CX-9, Mazda 3, 5, 6, MazdaSpeed3, MX-5 Miata, RX 8, Tribute, Tribute Hybrid and Truck.
Opinion:
Most people hate to be told what to do especially when your response would be daaaaah – any idiot knows that – so to the Cal Trans folks who put up the signs for our safety "Click it or Ticket" I say stuff it.
Handling & Performance:
Fun fun fun… road hugging handling and although the trunk clangs a little when you close it, there is no significant tinny-ness in the driving experience. It is a solid performer and the 167 hp 2.0 liter 4-cylinder engine is perfect for the car and it will surprise you with 0-60 mph in just 7 seconds.
Styling:
Identifiably consistent design is the look you get while keeping up with the times. There's a lot to be said for design that can look fresh but still look like the car you first fell in love with.
Design wise I don't know what they could do better for the size … it is just small. It was, for example, impossible for two of us to get to the airport even with baggage designed for airplane overhead compartments. If there were, however, better access to the small space behind the seats I could have made the trip. The designers might give that some consideration!
Fit and Finish:
Consistently good and not unlike those noted below that are closest in price.
Cost:
Mazda Miata is in some pretty rich company but since there is little to choose from in this small sport car class the most closely aligned is either the Saturn Sky or the Pontiac Solstice. Even the Honda S2000 for much more money doesn't raise the bar all that much.
Conveniences and comfort:
If you travel light and simply want a fun to drive sport car Mazda Miata is hard to beat. The good news and the bad news is that everything is at your finger tips and well within reach.
You have to love the simple convertible top operation that you can literally put it down while sitting in the car. I didn't try putting it down while driving but you could at slower speeds without blowing the top into the lane behind you. Definitely not recommended even if the road police are not around.
Consumer Recommendation:
Most folks I talk with about Miata feel it is a Chick Car. No comment.
Recognized Competition:
Mazda MX-5 Miata $22-28,000, Audi TT $35-48,000, BMW Z4 $46-52,000, Lotus Elise $47-55,000, Honda S2000 $35-38,000, Mercedes-Benz SLK $47-67,000, MINI Cooper $20-29,000, Pontiac Solstice $24-30,000, Porsche Boxster $47-57,000, Saturn Sky $28-34,000.
Good News:
Fun, fast, road hugging performance, good fuel economy and ultra simple top operation.
Bad News:

Small, light weight – tinny sound closing doors, trunk and hood, bumpy ride on all but ultra smooth roads, rough entry and exit for older dogs – Definitely a younger people's car.
Standard Equipment:

2.0 liter dual overhead cam16 valve 167 hp 4-cylinder engine, 6 speed manual transmission, rear wheel drive, front disc brakes with rear disc brakes with aluminum calipers, 17" Alloy wheels, power mirrors, air conditioning, power windows & locks, remote keyless entry, heated leather seats and shift knob and hand brake, aluminum engine frame, front double wishbone and rear multi-link suspension, front and rear stabilizer bars, cloth convertible top, aluminum hood and trunk lid,
Gas Stats:

$2.78/ Gal avg. November 27, '09
for more information.
21 City and 28 Highway MPG
Pricing:
MSRP $26,410.
Your comments are welcomed. My e-mail is joe@autolove.com
Copyright © 2014 – An Automotive Love Affair.