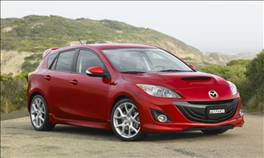 Overview:
This week we're looking at the 2010 Mazda Speed 3 Sport. Good buy, fun to drive but only fair fuel economy relative to the class. It's hard not to put your foot into it because it is so responsive. Fact of the matter is that it's almost too responsive. I'm not happy with the steering wheel being jerked out of my hands when I want faster acceleration. Torque Steer is the cause and it is typical of front wheel drive. The solution is for Mazda to employ all wheel drive or rear wheel drive, both of which are unavailable in the Speed 3.
To me it has always been a 'kids' car. The oversize air scoop on the hood and large spoiler in the rear with a low stance makes it hot for younger drivers but it is unlikely you would find grandpa behind the wheel. Take a look at the next few you see on the road and see if I'm right. Some say styling is "over the top" but my guess is some really young designers are responsible for the look.
Opinion:
"The few, the proud the Moron's" – Ever notice how some folks are starved for attention and will do just about anything to get it. In the auto industry's "After Market" there are some neat things you can add to your car to show your pride of ownership and love affair with your car.  You can see the latest and greatest of these aftermarket gadgets at the SEMA (Specialty Equipment Market Association) show in Las Vegas, Nevada every November.
Two add-ons that just bug the heck out of me are (#2) Hub Caps that rotate whether the car is moving or standing still, and (#1) Boom Boxes or as some call them Ghetto Blasters. They have been with us for about 30 years and although the craze is about over they will find you in traffic when you least expect it and can't escape the boom and thud sounds. . . and not a caveman in sight so it is hard to see where the obnoxious sounds emanate from. Consider that if these people really liked their tunes they could enjoy them on personal stereos with headphones and keep their music to themselves understanding others may not share their musical tastes. It is just another indication and reminder of why the "all about me" generation is fading away. It can't go any too fast for me.
Handling & Performance:
Well what can you say… it doesn't get much better for the money. And being it is a Mazda it will continue to truck along for a lot of years. Steering is quick and sure and that is in large part due to the FWD which is also the culprit for Torque Steer that makes driving this car less enjoyable. You also will find a lot of road noise but when you're young I suppose there is less concern about road noise and they probably drown it out with loud music.
Styling:
Youthful, but so are baggy shorts that start at the knees and go down from there. I'm embarrassed for them, but I'm not embarrassed for this youthful Mazda Speed 3 because that is their target market and in that sense the design is "Brilliant".
It won't appeal to Grandpa or even parents but it is a hot item with our youth.
Fit and Finish:
Very good.
Cost:
Excellent value in class.
Conveniences and comfort:
All conveniences are included and the Speed 3 is surprisingly roomy for a small car that purports to be in the midsize class.
Consumer Recommendation:
To me there are three close competitors in this type of youthful car: Subaru Impreza WRX and the Evo from Mitsubishi. But the Speed 3 has to be the best of the three from a cost standpoint.
Recognized Competition:
Mazda Speed 3 $23,340, Audi A3 $27-31,000, BMW 1 Series $29-40,000, Chevrolet HHR $19-26,000, Dodge Caliber $17-20,000, Honda Civic $15-25,000, MINI Clubman $20-31,000, Mitsubishi Lancer Evolution $34-41,000, Saturn Astra $17-20,000, Subaru Impreza WRX $25-35,000, Volkswagen GTI $23-24,000.
Good News:
Decent fuel economy (not great but OK), fabulously fun to drive and perhaps the best buy in class.
Bad News:
Front wheel drive is all that is available on the Speed 3 and so turbocharger causes torque steer which is really annoying and road noise is more than I like.
Standard Equipment:
2.3 liter 263 HP Inline 4 cylinder engine turbocharged and intercooled, 6-speed manual transmission, front wheel drive, independent suspension, front & rear stabilizers, power steering, 4-wheel power ABS disc brakes with electronic brake distribution (EBD), traction control, 18" allow wheels, halogen headlights and fog lights, variable intermittent wipers, rear wiper, cloth and leather seats, 60/40 split fold down rear seat, audio with CD / MP3 with 6 speakers, Bluetooth hands free phone, SIRIUS satellite radio, leather wrapped steering wheel with audio controls, tilt & telescopic column, auto locks, multi info display, cruise control, climate control, power windows & locks, tire pressure monitor, LATCH child safety, anti-theft engine immobilizer, remote keyless entry and front, side and curtain airbags.
Options:
Includes upgraded sound system, navigation, and advanced keyless entry system with push button start – $1,895.
Gas Stats:
$2.99/ Gal avg. July 5, 2010
for more information.
18 City and 25 Highway MPG
Pricing:
MSRP $23,195.
Your comments are welcomed. My e-mail is joe@autolove.com
Copyright © 2010 – An Automotive Love Affair
Your comments are welcomed. My e-mail is joe@autolove.com
Copyright © 2014 – An Automotive Love Affair.