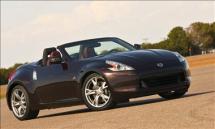 Overview:
This week we're looking at the 2010 Nissan 370Z Roadster Tour two seat sport car. Amazing. I've always enjoyed the ride in this special performer. And although I like Porsche I also like Ferrari but those fancy badges cost 2-3 times the price of this "Z" so that makes this one of the best alternatives for us common folk to experience an extraordinary performance automobile. You gotta love it.
I like the new and interesting instrument panel. The gas gauge employs small lighted dots that are calibrated one dot per gallon of gas. Kinda neat. But I was a little miffed with a malfunctioning cruise control because I believe this feature is one of the most important and should be standard equipment on ALL cars like seat belts. It simply is the best feature to help drivers maintain a steady speed and thus improve everyone's commute.
I'm a golfer, arguably, so it was instantly apparent I wouldn't be using this car to get to the links. Not that the trunk is super tiny but a set of clubs for a midget small is what I'm talking about. Even the Cadillac XLR with a convertible hard top that folds into the trunk will accept a set of clubs with the top down and stored in the trunk area.
General Info:
Parts – n/a
Assembly – Los Angeles, USA
Class:  – Two Seaters
Cars: – Altima, Altima Hybrid, Armada, Cube, Frontier, GT-R, Maxima, Murano, Pathfinder, Quest, Rogue, Sentra, Titan Versa, Xterra & Z.
Opinion:
Is it just me or do you get really mad when Cal Trans does really stupid things… like closing lanes for cleanup during rush hour. Really – can they be that clueless? They can do such stuff mid day or evenings. Consider the problems caused for hundreds of thousands of travelers for the convenience of a few Cal Trans workers. Really, the other day on CA 14 south they closed a lane before 9 AM. Hellllll O! Any body home at Cal Trans?
Handling & Performance:
Zipping through the mountain curves this Z makes you think you're riding on rails and it delivers truly amazing handling and the 370 is fast-fast-fast. The CVTCS (continuously variable valve timing control system) is very advanced technology only available on much more expensive engines in the past. Really good stuff and along with sophisticated suspension this is worth the price of admission all by itself. The exceptional handling around sharp mountain curves is because of the advanced engineering says engineer, colleague and friend Merkel Weiss. When it comes to the technical stuff I lean on Merkel.
You will notice the ride being 'bumpy' which is necessary for great handling but I like a little softer ride.
If you like a manual shift option the paddle shifters are really long and easy to use. I'm not crazy about the feature and prefer using the automatic setting where it knows when to shift for optimum performance.
Styling:
I like the styling better every year Merkel. Changes are generally minor and that is no different this year with just subtle changes to the door handles and lights front and rear. Nice job Nissan.
Fit and Finish:
Very good. No complaints.
Cost:
Pretty competitive pricing against the closest competition that tops my list, like Audi TT, BMW Z4 and Infiniti G.
Conveniences and comfort:
There is an abundance of great standard features and conveniences including not so usual heated and cooled seats. Comfort is relative, however and as small cabin sports cars go it is typical. I continue to appreciate the smart key system so you can literally leave the key in your pocket or purse. It also has a super simple to use convertible top.
Recognized Competition:
Nissan 370Z $30-41,000, Audi TT $38-49,000, BMW 1-Series $29-40,000, 2009 BMW Z4 $46-52,000, Chevrolet Camaro $23-34,000, 2011 Ford Mustang $22-38,000, 2011 Ford Shelby GT500 $49-54,000, Infiniti G Convertible $44-47,000, Infiniti G Coupe $36-40,000, Mazda RX-8 $26-32,000, Mercedes-Benz SLK $47-67,000, Volkswagen Eos $32-36,000, Volkswagen New Beetle $19-27,000, Volvo C70 $40,000.
Good News:
Outstanding handling that makes the 370 a thrill to drive, good but expected fuel economy, a super simple convertible top mechanism and smartly storing design.
Bad News:
The low front end will scrape on every parking stall wheel stop. You need to be extra careful when parking. The noise level is high with the convertible model.
Standard Equipment:
3.7 liter 332 hp V6 engine, 7 speed automatic transmission, CVTCS, electronic drive by wire throttle, rack & pinion speed sensitive power steering, independent aluminum double wishbone front and multi-link rear suspension, front & rear stabilizer bars, front & rear vented ABS brake assist disc brakes and brake force distribution, 18" aluminum alloy wheels, front side and side curtain air bags, traction control, vehicle dynamic control, tire pressure monitoring, security system with immobilizer, 8-way adjustable driver and 4-way passenger power leather seats heated and cooled, tilt steering wheel with controls for cruise and audio etc., 8-speaker Bose audio with CD and XM satellite, Bluetooth hands free, climate control, intelligent key system, power windows and locks, 12 volt outlets, illuminated visor mirrors, storage and cup holders you'd expect, power fully automatic folding soft top & heated power mirrors.
Gas Stats:
$2.99/ Gal avg. April 14 '10
for more information.
18 City and 25 Highway MPG
Pricing:
MSRP $41,820.
Your comments are welcomed. My e-mail is joe@autolove.com
Copyright © 2014 – An Automotive Love Affair.