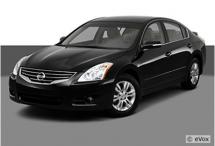 Overview:
This week we're looking at the 2010 Nissan Altima CPE 3.5 SR. Instantly it is a likable car. Friend Merkel and I looked it over and believe it or not there was an immediate appreciation for the car. Artists and engineers are pretty self centered and they are ultra critical of anyone else's work. Merkel is a Fiat guy and Honda is also at the top of his list of the best cars ever. OK, they are damn good cars, but because I drive a different car every week my love affair is a bit more broad and thus there isn't one that stands that far apart from the rest.
This Nissan Altima is one of those cars that dispel the contention that there are extreme stand out cars in the world. There are too many good products available today and those days are gone when folks would passionately defend their Ford or Chrysler or GM product. Life was simple. The Big 3 was it. Nothing challenged that preeminence in the Auto Industry. For all practical purposes that didn't begin to change until the 1960s with a rather feeble attempt by the Japanese to enter the American auto market. It was after all the only major consumer of auto products in the entire world. China at the time didn't even have roads let alone cars.
Many good products being replicated or assembled or even made from scratch in countries other than the US. Most recently China has entered the fray. Nissan (Datsun back then) was simply the first to enter the American market. I know that first hand because I bought one of the first to land on American soil. But things moved quickly and soon there would be a wide variety or Japanese cars populating our highways.
More and more are being built in China, South America, India and other places where labor is less expensive in today's world. You have seen my comparison in that US Automakers labor costs at about $78 / hour while Japan car makers are around $45/ hour. Tough to compete with that disparity in wages which is the largest part of the cost to you the customer. Imagine what the hourly wages are in India and China.
General Info:
Parts – n/a.
Assembly – Smyrna, USA
Class:  – SubCompact
Cars: – Altima, Altima Hybrid, Armada, cube, Frontier, GT-R, Maxima, Murano, Pathfinder, Quest, Rogue, Sentra, Titan, Versa, Xterra and Z.
Handling & Performance:
Altima is clearly an all around good sedan. I did find an unsettling brake chatter that is not dangerous but it is annoying. I also noticed the manual shift knob bounced a bit when the clutch engaged which is also not a repair problem but is also annoying. I suspect that is eliminated with the automatic transmission.
Styling:
Lovely – great job Nissan. I especially like the rear view stance. Bold and substantial.
Fit and Finish:
Very good.
Cost:
Competitively priced and in the top 5 for me.
Conveniences and comfort:
Well I tested the 2-door Coupe and I have to tell you a little story. Sorry Margaret I have to do it. Steve and Margaret (brother and sister-in-law) and I got into the car to go to lunch. Margaret made the mistake of opting for the rear seat. Getting in was a slight challenge but getting out was hilarious. She got her feet up onto the sill and proceeded to slip and fall into the foot space in front of the seat. We nearly had to call the fire department to bring the Jaws of Life to get her extricated from that sitting position in the foot well. Good thing she wasn't wearing a dress or skirt. Pants were bad enough. Margaret could be a stand in double for Julie Andrews and every time I see her I start humming "The Sound of Music". But this was nothing to sing about.
Consumer Recommendation:
I've never heard horror stories about Nissan in all my years owning an automotive repair garage in La Canada, CA – then or since. Back then it was because Nissan was not a regular visitor to our shop that one would have to conclude it was a pretty good car. BMW visited often as did Audi, Jaguar, Mercedes Benz and of course Fiat (Fix it Again Tony) was a frequent visitor. But not a lot of Nissan's or Toyota's for that matter. We were billed out as a German and Italian shop but although we did Ferrari's, Lamborghini's and Maserati's we didn't do many because there simply aren't many on the road. And all of those are in Beverly Hills.
Today Japanese cars are still on the top of the reliability list but even Japan outsources to Korea and China for assembly to cut their labor costs. Korea has learned quickly and produces their own brands in Hyundai and Kia. Clearly the best bang for the buck. As their labor force matures and costs approximate US and Japanese car makers even more jobs will be exported to China or other labor rich countries. By then we'll travel "back to the future" with unimagined modes of transportation.
In the meantime the competition below is what you have to choose from at this price range. Notice Korean cars are well priced relative to the others because they still have something to prove. That makes them a great buy
Recognized Competition:
Nissan Altima $20-30,000, Chevrolet Malibu $22-27,000, Chrysler Sebring $20-33,000, Ford Fusion $20-28,000, Honda Accord $21-31,000, Hyundai Sonata $19-25,000, Kia Optima $18-23,000, Mazda 6 $19-29,000, Mercury Milan $22-28,000, Mitsubishi Galant $22-24,000, Subaru Legacy $20-30,000, Suzuki Kizashi $19-27,000, Toyota Camry $20-29,000, Volkswagen Jetta $18-25,000 and Voldswagen Passat $27,915.
Good News:
Quality, fair pricing, comfortable ride (except the rear seat in the Coupe), fun to drive and lots of power.
Bad News:
Rear seat difficult to get in and out. Some mechanical anomalies that are more annoying than problems.
Standard Equipment:
3.5 liter 270 hp 6-cylinder engine, 6-speed manual transmission, fuel injection, front & rear stabilizer bars, power steering, independent front and multi-link rear suspension, power ABS vented front and rear disc brakes, 18" alloy wheels, front side and roof mountain curtain air bags, lower anchors & tethers for children, traction control, vehicle dynamic control, tire pressure monitoring, security system with immobilizer, 8-way power driver seat leather, heated front seats, 60/40 split fold down rear seat, wood tone finishes, leather wrapped steering wheel with audio controls, tilt & telescopic steering column, Bose audio system with 7 speakers, XM satellite, MP3 / WMA CD Rom, trip computer, speed sensitive volume control, 4.3" color display, Bluetooth phone system, air conditioning, dual zone, Intelligent Key, power windows, key fob auto window down, moon roof with sunshade, compass, power locks with auto locking system, 2- 12 Volt power outlets, auto on/off Xenon head lights, fog lights, power heated mirrors with turn signals and solar glass.
Gas Stats:
$2.97/ Gal avg. June 21, 2010
for more information.
18 City and 27 Highway MPG
Pricing:
MSRP $29,600.
Your comments are welcomed. My e-mail is joe@autolove.com
Copyright © 2014 – An Automotive Love Affair.