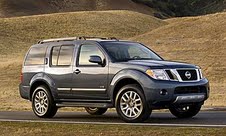 Overview:
This week we're looking at the 2010 Nissan Pathfinder SE 4X4. I have liked this SUV from the earliest models to hit the US Market. All of my experiences have been good over the years so the consistency speaks to the value. I've literally been driving Datsun (since owning one in 1966) and the name change to Nissan's – well, was just that, in name only. It has been a consistent quality product and much of the product is made right in the USA. Those early models had a shorter wheel base and an accompanying rougher ride than today's more comfort oriented, made for the highway offerings.
This model is more refined and has more sophisticated gadgets and goodies as you'd expect but it is almost too comfortable for an off road capable SUV. The first models I tested I took off road to the back country because 'off road' and 4X4'ing was relatively new and exciting and interesting to a growing number of pioneer spirited Americans. It's still exciting but not as wildly popular.
I particularly have enjoyed the Jeep Jamboree's and Camp Jeep events I have attended to experience  'real' off road-ing venues from 1-10 difficulty levels. Today I sense 4X4 is almost like an unneeded appendage and its perceived utility is less important for the average SUV consumer. We continue to see two wheel drive versions make more sense to more consumers. I think people are reevaluating the cost of the 4-wheel drive system for the limited to zero number of times they actually get off road. Using it to climb the speed bumps on Rodeo Drive in Beverly Hills hardly justifies the added cost in purchase price and higher fuel and maintenance costs.
Opinion:
When we drive we all have pet peeves and you've read some of mine I suspect. Let me read some of yours. Email them to me at joe@autolove.com and we'll run those.
One particularly important one I will repeat here is that Distracted drivers are a real danger to others. At the very least they back up traffic for miles behind them and at the worst they cause accidents. Please be mindful and attentive and concentrate when you drive. My life may be in YOUR hands.
Handling & Performance:
Good handling with even more comfort. 4.0 liter 266 horsepower is excellent but at a cost in fuel economy, or you can even opt for the LE V8 for 310 hp if you must and that too comes at a cost moving up by about $9,000.
Styling:
Cookie cutter standard look and that is a good thing. There is some pretty ugly stuff out there as designers seem to think "Wild and Crazy" is better. Not to me!
Fit and Finish:
Very good.
Cost:
Pricing is fiercely competitive and too close to draw major distinction but Pathfinder is definitely in the hunt.
Conveniences and comfort:
Seats fold neatly and easily and the standard equipment is all good. The SE Journey Package is just over $3,000 and I can live without most of it for that kind of money.
Consumer Recommendation:
Wow. There is a lot of real close competition price wise. You have a lot to choose from and I suspect your personal loyalties to brand will weigh large on your buying decision.
Recognized Competition:
Nissan Pathfinder $28-42,000, Acura MDX $42-54,000, Chevrolet Trailblazer $29-39,000, Dodge Durango $28-40,000, Ford Explorer $29-39,000, GMC Envoy $31-39,000, Honda Pilot $28-40,000, Hummer H3 $33-43,000, Jeep Grand Cherokee $31-43,000, Kia Borrego $26-39,000, Land Rover LR2  $35,500, Land Rover LR4  $47,250, Subaru Tribeca $30-36,000, Suzuki XL7 $26-30,000, Toyota 4Runner $28-40,000, Volvo XC90 $38-48,000.
Good News:
Responsive power, comfortable & roomy ride, long history of quality products and it's made in the USA.
Bad News:
Fuel consumption is equally as bad as all others. This will matter as gas prices soar over the next few years.
Standard Equipment:
4.0 liter 266 horsepower V6 engine, 5-speed automatic transmission, independent suspension with stabilizer bars, 6,000 lb tow capacity with tow hitch receiver, 4-wheel power ABS brake system  with brake force distribution, switch operated shift on the fly 4-wheel drive system, 17" alloy wheels, front air bag system with roof mounted curtain side supplemental bags and front seat mounted side air bags, vehicle dynamic control, vehicle immobilizer  system, tire pressure monitor, Child LATCH system, 8-way power driver seat with lumbar, 4-way manual passenger seat, 40/20/40 split fold flat & reclining second row seats, 50/50 split third row seat, leather wrapped steering wheel and shift knob, tilt wheel with cruise and audio controls, 6- speaker audio system with 6-in-dash CD changer & MP3, trip computer, dual zone climate control & rear AC controls,  power windows & locks, rear lift gate with opening rear glass hatch, fog lights, power mirrors, rear privacy glass, roof rails, lower radiator skid plate and side running boards.
Gas Stats:
$2.99/ Gal avg. July 17, 2010
for more information.
14 City and 20 Highway MPG
Pricing:
MSRP $32,610.
Your comments are welcomed. My e-mail is joe@autolove.com
Copyright © 2010 – An Automotive Love Affair
Your comments are welcomed. My e-mail is joe@autolove.com
Copyright © 2014 – An Automotive Love Affair.