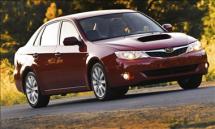 Overview:
This week we're looking at the 2010 Subaru Impreza 2.5i Premium AWD (all wheel drive) 4-door sedan.
Nice styling for a compact commuter. I would like to see better fuel economy but the trade off is the AWD common to all Subaru siblings. It is perhaps the most significant differentiating feature out of all the competition. I give that a lot of weight in spite of the fact that nearly all those listed in class will do much better in gas consumption numbers both highway and city.
General Info:
Parts – Japan 100%
Assembly – Ota Gunma, Japan
Class:  – Compact
Cars: – Forester, Impreza, Impreza WRX, Legacy, Outback & Tribeca.
Handling & Performance:
The heritage of Rally Racing AWD road-a-bility (Subaru terms it 'corner carving') is what gives the Subaru product lineup a sure footed ride. Cornering is only a part of the handling characteristics that are wonderful in this Impreza. It is clearly one of the most capable commuters because of full time AWD and it is that which sets it apart from most of those seeking your consumer dollars.
Styling:
Impreza has clean sedan body styling and although some might consider it common place it is attractive and will look good for years to come. Projector beam headlights and fog lights are molded in and give that finished and thoughtful touch.
Fit and Finish:
Good – which means – similar to all others in this price range. I think you'd find it hard to pick one over the other on the basis of how well it is put together.
Cost:
Impreza is in the hunt for purchase price and when you add in all wheel drive the price gets all the better.
Conveniences and comfort:
Navigation and audio controls are not intuitive enough for my liking. Sure, I could pull out the manual / operators guide but based on all the other cars I test I'm confident I shouldn't have to. I simply expect much more in ease of operation so you can jump right in and operate the electronics as if you had been driving the car for a long time. To the designers I would say – stick to the KISS principle – keep it simply stupid!
Consumer Recommendation:
Wow there are a bunch of competitors in class – This is all good stuff for commuting and more. From a stable and reliability standpoint my top picks include Subaru, Honda, Nissan and Toyota, based on many years owning an automotive repair business.
Recognized Competition:
Subaru Impreza $17-35,000, Acura TCX $29-38,000, Audi A3 $27-31,000, BMW 1 Series $29-40,000, Chevrolet Cobalt $15-25,000, Chevrolet HHR $19-26,000, Dodge Caliber $16-25,000, Ford Focus $16-18,000, Honda Civic $15-25,000, Honda Civic Hybrid $24-27,000, Honda Fit $15-19,000, Hyundai Elantra $14-18,000, Kia Forte $14-17,000, Kia Spectra $14-16,000, Mazda 3 $15-22,000, MINI Clubman $20-31,000, MINI Cooper $19-34,000, Mitsubishi Lancer $15-27,000, Mitsubishi Lancer Sportback $19-28,000, Nissan Sentra $15-20,000, Pontiac G5 $17-20,000, Pontiac Vibe $16-21,000, Scion tC $17-18,000, Suzuki SX4 Crossover $16-19,000, Suzuki SX4 Sport $13-18,000, Toyota Corolla $15-20,000 Toyota Matrix $17-22,000, Volkswagen Jetta $18-23,000, Volkswagen New Beetle $18-27,000 and Volkswagen GTI $23-24,000.
Good News:
Nice commuter styling, great AWD handling.
Bad News:
Disappointing fuel economy.
Standard Equipment:
2.5 liter 170 horsepower H (horizontally opposed) 4-cylinder engine, 5-speed manual transmission, 4-wheel ABS power disc brakes with electronic brake force distribution, front, side and side curtain airbags, tire pressure monitoring system, security system with engine immobilizer, air conditioning, steering wheel mounted audio controls, audio with CD player, tilt steering wheel, cruise control, power windows, locks and mirrors, remote keyless entry, 16" alloy wheels, 60/40 split fold down rear seat.
Options: Satellite radio, touch screen Navigation system, Bluetooth hands free calling and power moon roof – $3,000; 4-speed automatic transmission – $1,000.
Gas Stats:
$2.79/ Gal avg. December 14 '09
for more information.
20 City and 26 Highway MPG
Pricing:
MSRP $18,495 with options $22,495.
Your comments are welcomed. My e-mail is joe@autolove.com
Copyright © 2014 – An Automotive Love Affair.