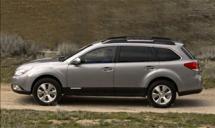 Overview:
This week we're looking at the 2010 Subaru Outback. The very popular Crossover is so because the consumer demands better fuel economy which is hard to do in a Suburban size SUV. This Subaru Crossover is one of the best in class. You get the off road capability and the Station Wagon comfort on the highway. OK, so you won't pull that boat and pack the 4 kids and all the skis etc., but what you will get is 10-15 mpg better on gas.
Subaru has been quietly aggressive in the marketing of its product over the years. It's a good product but they don't blow their own horn loudly enough. And when it comes to marketing I think the Outback and Tribeca are too similar. One could go but the consumer is too interested in badge ID. Outback has a wide range in price and features and performance. You can opt for the smaller 4-cylinder 170 hp engine with Outback or move up in price and features with the 256 hp 6-cylinder. The competition demands an upgrade capability as well for the same reason – ups-man-ship.
So that is where car companies maximize profit – "Up selling". The truck market (SUV's are trucks) is very profitable and the seller works the consumer and plays into the need for bigger, better, faster but down deep we know we're being worked. We have huge egos that car makers count on to keep moving the consumer up to extract the last dime. They know we want to define ourselves and be different. That human flaw costs us, don't you think?
My suggestion is – buy a Hummer H1 or a Jeep Wrangler and a wet T-Shirt and be all you can be. For the guys save $20 bucks – wet T-Shirt will give the wrong impression.
General Info:
Parts – .
Assembly – USA
Class:  – Compact
Cars: – Forester, Impreza, Impreza WRX, Legacy, Outback & Tribeca.
Opinion:
Update on Angeles Crest Highway. The Highway Patrol advises the Crest could be open as early as March. Cal Trans is yet to respond to my inquiry. If you have more information please email me joe@autolove.com.
Handling & Performance:
All wheel drive is cool, snappy acceleration is also but they need to do something about the touchy gas pedal. It can be annoying. As you'd expect AWD will cost you a little in fuel economy but not enough to offset the handling and safety benefits. The Engine size will mean more to mpg. The 4-cylinder will get 19-29 mpg and the 6-cylinder will only deliver 18-25 mpg.
Styling:
Subaru design has improved nicely over recent years.
Fit and Finish:
Very good.
Cost:
Range of price covers most folks. $23,000 for a 'new' reliable, all wheel drive vehicle that doubles for a very nice family sedan is pretty good.
Conveniences and comfort:
Very comfy ride.
Consumer Recommendation:
Subaru owners are devoted and Subaru needs to be included in your hunt for the right car at this time in your life. Subaru will become increasingly popular because of the crossover mix of a good family wagon with the SUV look. Mazda and Dodge would also be on the top of my list to consider.
Recognized Competition:
Subaru Outback $23-31,000, Audi A4 Avant $35,350, BMW 3 Series Sports Wagon $35-37,000, Cadillac CTS Sport Wagon $38-51,000, Dodge Journey $20-29,000, Honda Accord Crosstour $30-36,000, Mazda CX-7 $22-33,000, Saab 9-3 SportCombi $32-45,000, Toyota Venza $26-30,000, Volkswagen Passat Wagon $29,690, Volvo V50 $29-33,000, Volvo V70 $34-38,000, Volvo XC70 $38-43,000.
Good News:
In good company coupled with aggressive pricing.
Bad News:
None.
Standard Equipment:
3.6 liter 256 hp 6-cylinder engine, 5-speed automatic transmission, 17" Alloy Wheels, Steering wheel paddle shifters, driver one touch up/down, 10-way power drivers seat and 4-way power passenger seat, dual zone auto climate control, leather wrapped steering wheel, all weather package, All Wheel Drive, air conditioning, power windows & locks, leather seats, 5 passenger seating, Harman-Kardon audio system with CD player, ABS brakes, traction control, stability control.
Gas Stats:
$2.91/ Gal avg. February 9 '10
for more information.
18 City and 25 Highway MPG
Pricing:
MSRP $30,995.
Your comments are welcomed. My e-mail is joe@autolove.com
Copyright © 2014 – An Automotive Love Affair.