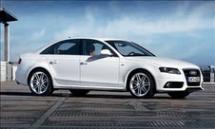 Overview:
This week we're looking at the 2011 Audi Q5 quattro full time All Wheel Drive Tiptronic. Quattro AWD was introduced in Audi racing about 30 years ago and it was wisely adopted by the production models.
The A5 is a smaller version of the Q7 for about $14,000 less. A 3.2 liter 270 horsepower V6 is available if the 211 hp Inline 4 is not enough for you. Both have the dual panel sunroof for a super large opening. Nice.
It is interesting to me that annual sales in the US is only 10% of total annual sales of just over a million units. In contrast, for example, Ford total annual unit sales was about 13 million of which Europe accounts for about 4.5 million in 2009.
Opinion:
Toll Roads in Southern California – If this doesn't chap your hide you're comatose. We pay gas taxes up the Kazoo for our roads and our crooked government slip this one by us.
There are toll lanes on the 91 freeway between Anaheim Hills and Corona, and actual toll roads (241, 261, 133, & 73) going through Orange County. 241 goes from Yorba Linda down to Orange, then to Rancho Santa Margarita. 261 goes from Orange to Jamboree & I5. 133 branches off the 241 in El Toro, and goes to Barranca in Irvine. 73 goes from the 405 in Costa Mesa/Newport Beach along the coast, and meets up with I5 in Mission Viejo.
This week we're looking at the 2011 Audi A4 2.0 TFSI Quattro MT6 Sedan. The 2011 Audi A4 continues unchanged after a redesign for 2009. Consumer Reports says "the A4 has a firm, yet supple and controlled ride, with agile handling". Flowery words, but yeah, it is a great ride?
They go on to say, "The four-cylinder turbo engine is responsive and gets 22 mpg overall with the AWD system. The interior has excellent fit and finish, but the rear seat is tight. The MMI driver-interaction system is complicated. A wagon and high-performance S4 are also available".
Well I agree with their take on the car generally and especially want to say I couldn't agree more that the electronics and controls are much more complicated than they need to be. It is however, just a thing about the Europeans and has been consistent over the years and that is particularly true of the German cars.
The Japanese and the Americans are the best at making things simple as they tend to be more direct in how things should work. It makes you wonder if everything else is more complicated than it needs to be in this Audi.
Opinion:
I would like to hear from you on the Diamond Lane. On some highways you can enter and exit anywhere along the route while others put more yellow paint down than all the school busses ever made. But my question is, are those double, and double double yellow lines really there when outside the hours when exclusively to be used for 2 or more occupants in the car? In other words, can you cross over those lines meant to be effective during high traffic hours?
My opinion is that you should be able to use that lane just as if it were like any other lane during 'off' hours.
My email is joe@autolove.com.
Handling & Performance:
The turbo charger gives any car that performance edge that I like a lot. The car is also a perfect size so it handles perfectly for me. Larger folks may find it a little small. So there are other models better suited to tall guys.
Styling:
Classic Audi look that is popular as evidenced by the growth of numbers of Audi's on the highway. Unique lighting Audi has introduced to the industry.
Fit and Finish:
Excellent.
Cost:
Expected range and a lot of quality for the investment.
Conveniences and comfort:
You have to love all the hi-tech stuff on cars today. Rain Sensing, for one, is easy to warm up to primarily because it eliminates one more distraction in the driving experience.
Consumer Recommendation:
Recognized Competition:
Audi A4 $32-36,000, Acura TL $35-44,000, Acura TSX $30-38,000, BMW 3-Series $34-59,000, BMW M3 $55-67,000, Buick Regal $26-29,000, Cadillac CTS $35-62,000, Hyundai Azera $25-30,000, Hyundai Equus $58-65,000, Hyundai Genesis $33-43,000, Hyundai Genesis Coupe $22-32,000, Infiniti G Convertible $45-57,000, Infiniti G Coupe $36-50,000, Infiniti G Sedan $31-44,000, Lexus ES 350 $35,525, Lexus IS $32-41,000, Lexus IS C $40-45,000, Lexus IS F $59,010, Lincoln MKZ $34-36,000, Lincoln MKZ Hybrid $34,330, Mazda 6 $20-29,000, Mercedes Benz C-Class $34-58,000, Saab 9-3 $29-45,000, Subaru Legacy $20-31,000, Suzuki Kizashi $19-27,000, Volkswagen CC $28-40,000, Volkswagen Passat $27,915, Volvo S40 $28-31,000, Volvo S60 $37,700.
Good News:
Good fuel economy, fast, comfortable, handles well and a real distinctively pretty presence on the road, and price competitive.
Bad News:
No complaints except for questionable choice of electronics that is not as user friendly as it could be. Others do a better job than the German auto makers.
Standard Equipment:
2.0 liter 211 horsepower inline 4 cylinder turbo charged engine, 6-speed manual transmission with O/D, Quattro permanent all wheel drive, ABS power disc brake system, 17" alloy wheels, speed sensitive power steering, climate control, power glass sunroof, power windows and locks with speed sensitive auto locks, leather and leather wrapped steering wheel, audio with in dash CD player and SIRIUS satellite radio, front, side and side curtain airbags, anti-theft system and LATCH child safety system.
Gas Stats:
$3.29/ Gal avg. Dec 27, 2010
www.fueleconomy.gov
for more information.
21 City and 31 Highway MPG
Pricing:
MSRP $32,850.
Your comments are welcomed. My e-mail is joe@autolove.com
Copyright © 2014 – An Automotive Love Affair.