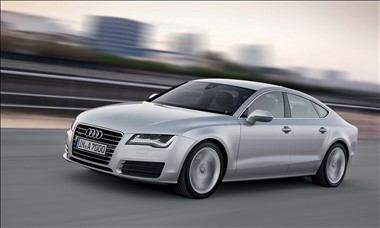 Overview:
This week we're looking at the 2012 Audi A7 3.0 TFSI Quattro Auto Tiptronic Sedan. This is a really impressive luxury car and a glimpse into the future.
Brother John and I weren't terribly impressed with early Audi's at our Foreign Car Repair shop, but we appreciated brands like BMW, Audi and Jaguar for revenue. A Ferrari now and again helped too. Thanks.
There is no evidence that is the case today. Technology has allowed 100,000 miles between tune ups and electrical has replaced mechanical systems. Such as electronic ignition replacing distributors and fuel injection in place of less efficient carburetors.
One could argue the complexity and addition of so many more systems and features offset other improvements. But all things considered it is clear that cars today are far more reliable.
General Information:
Parts from the US and Canada are 1%, Germany 75%; Engine  – Hungary Transmission – Germany. It is assembled in Neckarsulm, Germany, Classification is Mid-size. Cars from Audi: – A3, A4, A4 Avant, A5, A6, A6 Avant, A7, A8, Q5, Q7, R8, S4, S5, S6 & TT.
Handling & Performance:
Outstanding, fast and super easy handling. Even the fuel economy is decent for this class of turbocharged cars.
Styling:
Beautiful look and elegant inside.
Fit and Finish:
Excellent.
Cost:
Pricey, but it is a special car worth the price of admission.
Conveniences and comfort:
Wow. The 21st century is upon us and we're beginning to see some pretty amazing additions to our cars. Consider that when you go to the Airport, The Coffee Bean, the Library or most anywhere you can usually get WiFi. Well, you guessed it, now you can have WiFi in your Audi A7. Yep, very cool. Turn on the power and connect your cell phone and computer to the internet. And because it uses your phones contacts you select them right there on the color screen that appears out of the dash and tucks away neatly when not in use.
So I get in the A7 and my iPhone and iPad connect automatically to the cars technology systems. I let my hand fall to the control and with a glance I push the button, select the person I want to call, or Navigate to. Voice, Nav commands or music from my Cell hands free through the speakers, loud and clear. I would have to pull over to use my iPad or computer but if I have a passenger, they can find restaraunts and make reservations, get directions and literally anything they can do from the office or home. Print to a home or office printer. Incredible and we know it will only get better over time.
Another fabulous feature is the addition of Google Earth Navigation that takes Nav to the next level. You can see it coming, can't you? With such accurate devices like GPS coupled with Smart Cruise, lane change warnings, it won't be long until you can add "Hands Free Driving" to the ease of transportation. Set it, take your hands off the steering wheel and leave the driving to Hal – of 2001 – a Space Odyssey fame. Then if some fool cuts you off, the car will reduce speed or jam on the brakes to avoid accidents. Computer sensors have faster reaction time than any human driver plus it doesn't get distracted by anything.
Ok, so it isn't here today, but you know it can't be far off. Most component features exist now that even monitor your eyes and wake you up if you start drifting off into never-never land.
An in-law has a neighbor who works for Apple and the word is "you wouldn't believe what is coming down the pike." Yes I would believe it, Charlie. Wouldn't you love to be a fly on the wall of some of today's high tech companies.
A big thanks to the Space Program, NASA and all our tax payers who made it possible. Thanks to Jack Kennedy for the leadership and inspiration to put a man on the moon. JFK was a student of the London School of Economics and believed in the free market system, unlike too many who believe in Keynsian Economics. Keynes and Karl Marx were joined at the hip, philosophically and by now have been proven wrong. A final thanks to, arguably, our greatest president of the 20th Century, Ronald Reagan who's leadership grew our economy while convincing the world of Socialists & Communists to give up a failed social and economic experiment that lasted from 1917 to 1989.
So, thanks again JFK, Ronald Reagan and a country of 'Free Market' entrepreneurial capitalists who work wonders of hope based on Adam Smith's invisible hand.
Consumer Recommendation:
If this is in your price range you won't want to miss test driving this A7.
Recognized Competition:
Audi A7 $59,000, Acura ZDX $50,000, BMW 5 Series $57,000, Cadillac CTS Sport Wagon $44,000, Hyundai Genesis $47,000, Infiniti M $48,000, Mercedes Benz E-Class Wagon $52,000, Porsche Panamera $135,000.
Good News:
Great trunk lid opening for easy loading / unloading, but more important is this is an exciting car to drive and enjoy while it allows us to be connected to the world around us – "The future partially unveiled".
Bad News:
Anticipation, as Richard says is the best part of Realization as we dream of what might be.
Gas Stats:
$3.75/ Gal avg. July 28, 2011
for more information.
18 City and 28 Highway MPG
Pricing:
MSRP $59,250 standard and options can bring it to $69,000.
Your comments are welcomed. My e-mail is joe@autolove.com
Copyright © 2011 – An Automotive Love Affair
Your comments are welcomed. My e-mail is joe@autolove.com
Copyright © 2014 – An Automotive Love Affair.