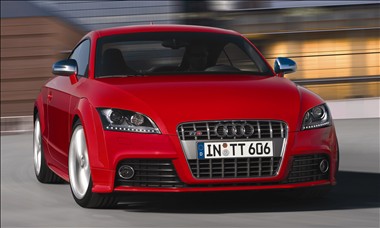 Overview:
This week we're looking at the 2011 Audi TT 2.0 TFSI Quattro S-Tronic Coupe. The TT is Audi's sporty two-door, four-passenger Coupe and Roadster, named for the Tourist Trophy, a European motorsports event that was first held in 1905. Both the TT Coupe and the TT Roadster were redesigned for the first time for 2008 and incorporate the third-generation Audi Space Frame (ASF) technology that combines aluminum and steel in the chassis to reduce weight and improve weight distribution. The TT Coupe concept was unveiled in 1995 and arrived in production form for 2000 with very few visual changes from the concept. The Roadster was added for 2001.
The 2011 Audi TT receives new bumpers, grille, fog light grille and chrome fog lights. Inside additional aluminum and high-gloss black trim is added for the steering wheel, center console and door panels.
I reviewed the TTS in 2010 and for 2011 it receives fog light grilles with horizontal braces and 19-inch tri-spoke 5-segment wheels.
General Information:
Parts used in this car come from the US and Canada are 1%, Germany 75%; Engine – Hungary; Transmission – Germany. It is assembled in Gyor, Hungary. Classification is  Sub-compact
Cars: – A3, A4, A4 Avant, A5, A6, A6 Avant, A7, A8, Q5, Q7, R8, S4, S5, S6 & TT.
Handling & Performance:
Awesome performance as usual, and that is where the trouble begins if you don't exercise self control. It is easy with a turbo to take the exhilaration of rapid acceleration to push the limits – speed limits. And in today's world that is getting pretty expensive for the "E" ride experience. If you were born after Disneyland changed ticketing for the rides at its park you likely don't know what the term "E" ride meant. Ask your mom or dad.
Styling:
Oolong Gray metallic paint. If you go to Chinese restaraunts you probably have had Oolong Tea? Good stuff but very expensive tea. This design speaks expensive too. But it is an eye catcher for sure. People always comment it is a "nice car" which translates to mean "well designed" for today's tastes. I really like the Audi lighting. I'll bet the guy that designed those got a raise.
Fit and Finish:
Very very good.
Cost:
Pricey, but it is in the company of very expensive cars so in that sense it is a bargain. It's all relative I guess, and if it performs, looks and feels as good or close enough then the price is irrelevant. And if you decide on this class car you can probably afford it.
Conveniences and comfort:
All the best. The list below says it all.
Consumer Recommendation:
One must consider when buying this car, if the size is right, that the cost of operation in class is usually pricey. Friend Mark when he takes his Porsche to the Porsche – Audi dealer in town it is never cheap. If you can't pay the price cross this one off the list. Mark can, and when we got back to LAX from a trip to Oregon and sat in the car he was noticeably impressed. He really liked this TT and he can literally buy 'any' car made. Glad you liked it Mark, But I have to give it back in a week. Life is simply not fair.
Recognized Competition:
Audi TT $38,000, BMW Z4 $47,000, Ford Mustang $33,000, Hyundai Genesis Coupe $27,000, Infiniti G Sedan $35,000, Lotus Elise $52,000, Lotus Exige $66,000, Mazda MX-5 Miata $23,000, Mazda RX8 $27,000, Mercedes Benz SLK $55,000, Mitsubishi Eclipse $25,000, Nissan Z $31,000, Porsche Boxster $48,000, Porsche Cayman $52,000, Saab 9-3 $29,000.
Good News:
Good fuel economy, lots of great features standard, fabulously fun to drive.
Bad News:
Pricey to own.
Standard Equipment:
2.0 liter 211 hp turbo charged 4-cylinder engine, S-Tronic 6-speed automatic dual clutch transmission, Quattro all wheel drive system, 18" alloy wheels, Front McPherson strut and four link rear suspension, servotronic electromechanical steering, electronic stability control, 4-wheel abs disc brakes, anti-slip regulation, automatic rear spoiler, Xenon headlights, tire pressure monitoring system, multi-function leather wrapped sport steering wheel, climate control, 140 watt sound system with in dash CD with SIRIUS satellite and 9-speakers, cruise control, 2+2 seater with 50/50 split folding rear seat, front, side and knee airbags, anti-theft alarm system, anchors and tethers for children (LATCH), 10-way power seats, rain sensing wipers.
Gas Stats:
$3.85/ Gal avg. June 14, 2011
for more information.
22 City and 31 Highway MPG
Pricing:
MSRP $38,300.
Your comments are welcomed. My e-mail is joe@autolove.com
Copyright © 2011 – An Automotive Love Affair
Your comments are welcomed. My e-mail is joe@autolove.com
Copyright © 2014 – An Automotive Love Affair.