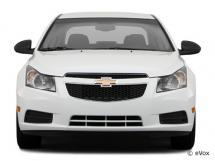 Overview:
This week we're looking at the 2011 Chevrolet Cruze 1 LT 4-door sedan. OK, so I'm a Chevy man in part because my first car was a 1934 Chevrolet Coupe with a Rumble Seat and at 15 that was the 'cats meow'. First loves are long lasting. By the way, please explain to the kids what a Rumble Seat is. And when you do I'll bet you too will hum a little song that advertised Chevy back when unless you remember the words… "See the USA in your Chevrolet, America is asking you to call…" take a listen at this link. http://www.youtube.com/watch?v=uBH-pQ0QS6E. … and to see a video back in time with Dinah Shore 1952. http://www.youtube.com/watch?v=KGZvQoPxhNs.
The new Cruze compact sedan replaces the Cobalt, intended to deliver style, roominess and upscale amenities while remaining fuel-efficient and inexpensive. It appears to have achieved those goals. It is offered with either a 1.8-liter Ecotec 4-cylinder engine or a 138-horsepower 1.4-liter Ecotec Turbo, which is the model I tested. Both come with either a 6-speed manual or a 6-speed automatic transmission. Eco trim expects to produce 40 mpg highway. OnStar comes standard on the Cruze.
General Info:
Parts – US/Canadian 45%; Mexico 15%, Austria 19%
Engine – Engine – Austria, Transmission – Mexico.
Assembly – Lordstown, OH, USA
Class – Compact
Cars – Avalanche, Aveo, Aveo 5, Camaro, Cobalt, Colorado, Corvette, Cruze, Equinox, Express, Express Cargo Van, HHR, Impala, Malibu, Malibu Hybrid, Silverado 1500, 2500HD, 3500 HD, Hybrid, Suburban, Tahoe, Tahoe Hybrid, TrailBlazer, Traverse & Volt.
Opinion:
Road conditions – Bob raised the concern and now I can't help but notice that roads are horrible in many areas, yet you see new surfacing in areas that are not as bad. What's that all about Cal Trans? Are there relatives and friends in those areas that are chosen to spend our tax dollars?
One observation is a case in point. I don't drive down Wilshire Blvd in LA very often, but if you have you can attest there are potholes you could repel down and get lost in. That is flat dangerous (no pun intended) and if someone gets hurt big lawsuits are likely for the negligence of Cal Trans Management.
PS on another note – A big kiss to those hard working CHP officers writing tickets to fill the state treasury. Of course they are more interested in saving their own asses as they rip off the poor folks of the little money they have for food for their families. How about a salute as you pass one of these lovable enforcers.
Handling & Performance:
Now that's what I'm talking about when it comes to fuel economy which is fast becoming a critical cost component. And I'm always thrilled to see these kind of MPG numbers from non-green cars. Put the pedal to the metal however and those numbers will be pushed down significantly. Europe has been producing high mileage cars for years, because gas prices there have been double those in America.
When I visit the pump more often than I'd like I avoid 'jack rabbit' starts and rapid acceleration generally.
Styling:
Some say it is a plain Jane but for my money it is pretty darn nice looking. Anyway I think the girl next door was always the best.
Fit and Finish:
Excellent in this price range compact sedan.
Cost:
Outstanding.
Conveniences and comfort:
OnStar – if you've never experienced this system you will agree it is worth the price of admission. I've been in remote areas of Kings Canyon National park in California and have been able to talk with a real live person. They knew exactly where I was as if they were following me. It is a navigation system with turn by turn instructions available when cell based systems won't work.
Consumer Recommendation:
This is a broad segment of the market that is not only affordable to buy and operate it is nice looking to boot. This is a great inexpensive, good looking family car and commuter.
Recognized Competition (MSRP):
Chevrolet Cruze $18,000, Dodge Avenger $19,000, Dodge Caliber $17,000, Ford Focus $17,000, Honda Civic $16,000, Honda CR-Z $19,000, Hyundai Elantra $15,000, Jeep Compass $15,000, Kia Forte $15,000, Mazda 3 $16,000, Mitsubishi Eclipse $19,000, Mitsubishi Lancer $15,000, Nissan Sentra $16,000, Scion tC $18,000, Subaru Impreza $17,000, Toyota Corolla $15,000, Volkswagen Golf $18,000, Volkswagen GTI $24,000, Volkswagen New Beetle $19,000.
Good News:
Fast, comfy, very good fuel economy, good size trunk and roomy back seat and ITS MADE IN AMERICA! Sorry I didn't mean to yell.
Bad News:
The Jury is out to see if GM can get it back together. What do you think?
Standard Equipment:
1.4 liter 138 hp inline 4 cylinder turbocharged engine, 6-speed auto transmission, front side and side curtain airbags front and back, stability and traction controls, 4-wheel front disc and rear drum ABS brakes, power door locks and child security with rear LATCH anchors, theft deterrent & alarm, remote keyless entry, 6-months OnStar directions and connections with auto crash response and turn/turn navigation, tire pressure monitor, 16" wheels, power mirrors, stereo with CD and XM with 6 speakers, 8-way manual adjuster seats, air conditioning, 60/40 split folding rear seat, tilt and telescoping steering column, cloth seating, power windows.
Gas Stats:
$3.91/ Gal avg. March 12, 2011
www.fueleconomy.gov <http://www.fueleconomy.gov/>
for more information.
24 City and 36 Highway MPG
Pricing:
MSRP $18,175.
Your comments are welcomed. My e-mail is joe@autolove.com
Copyright © 2011 – An Automotive Love Affair
Your comments are welcomed. My e-mail is joe@autolove.com
Copyright © 2014 – An Automotive Love Affair.