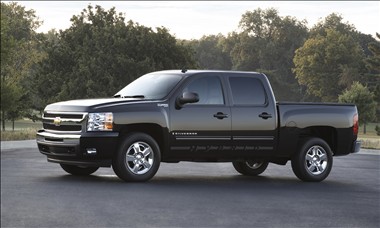 Overview: 
This week we're looking at the 2011 Chevrolet Silverado 1500 4WD Crew Cab 2HY Hybrid. I own a 1985 Silverado and got to wondering how this new Silverado will look in the year 2037. Will it hold up as well, better or the same as my 1985?
As to this new 2011 Silverado, the first thing you notice after you close the door is how quiet it is and the seats are like easy chairs at home. Then as I drive down the highway, I notice how solid it feels. It is light years better than the 1985 I have. I also think of my 1955 Ford Pickup and back then we were happy to sit on a milk crate as seating, so it was a luxury having a bench seat with coil springs. Literally you look under the seat which is hollow and you could see the coil springs holding up the seat covering and providing some seat cushion. That was real luxury. Those were also the days when Crank up windows were the norm and there was also a hole in the grill where you inserted the 'Hand Crank' to start the engine when the starter failed. Even further back to the Pre-electric Starter days, which WAS before my time, was when dad had to start his cars with a hand crank. Ringing any bells?
I'm sure any of you who remember "Mr. Toad's Wild Ride" and other "E" Ticket rides at Disneyland will relate to my comment above.
General Info:
Parts – US/Canadian 61%; Mexico 34%.
Engine – Engine – Mexico, Transmission – US.
Assembly – Silao, GJ, Mexico
Class  – Standard Pick up Trucks
Cars – Avalanche, Aveo, Aveo 5, Camaro, Cobalt, Colorado, Corvette, Cruze, Equinox, Express, Express Cargo Van, HHR, Impala, Malibu, Malibu Hybrid, Silverado 1500, 2500HD, 3500 HD, Hybrid, Suburban, Tahoe, Tahoe Hybrid, TrailBlazer, Traverse & Volt.
Opinion: 
OK, so what's your take on the diamond lane 'off hours' times? You know, that's when it is posted that it is a diamond lane between the hours of 5AM to 9AM. In other words it functions as a HOV lane during heavy traffic hours. Does that mean outside of heavy traffic hours the double yellow lines can be ignored? If it is not a diamond lane then entry and exit should be allowed with a simple turn signal anywhere along the road. That is what is happening currently by many but that is because they obviously possess 'common sense'.
What is your opinion?
What is the CHP opinion?
What is the Law?
What should the Law Be?
In Northern California as an example there ARE no double lines of any color separating diamond lane from others. Off heavy commuting hours you can use (enter and exit at will) any time any where. Now that is smart and something we apparently can't expect from CALTRANS. I call that brain dead.
·       Another thing that chaps my hide is the messages on signs on the highway. Not that they are there, but rather how some moron says, such as, "Slow down or move over for workers, IT'S THE LAW?" Well screw those arrogant bastards. Who the hell do they think they are? Who hired these idiots? Where did they learn to communicate?  . . . Oh excuse me. Right – Public Schools! That's where students are dumbed down and learn very little. Civil people would write it something like "Please watch for your road workers and slow down in construction zones. Safety First. Thanks".
Handling & Performance:
Fast was a real surprise, especially since it is a Hybrid. Kinda cool that you can creep along in slow traffic without the engine even engaging. That is a great capability for driving in LA traffic where freeways resemble parking lots more than highways.
Styling:
It's a truck. No doubt about it. Hard to conceal that fact.
Fit and Finish:
Excellent.
Cost:
More pricey than I expected, but the price includes features that are all standard and including in the pricing.
Conveniences and comfort:
You get a lot and it's all standard but it will cost you. They just save you the trouble of choosing options packages. Personally I prefer having the choice, plus it gives you the opportunity to bargain with the salespeople.
Consumer Recommendation:
Recognized Competition (MSRP):
Chevrolet Silverado 1500 Hybrid $48,000, Chevrolet Silverado 1500 $42,000, Dodge Ram 1500 $40,000, Ford F-150 $36,000, GMC Sierra 1500 $43,000, GMC Sierra 1500 Hybrid $42,000, Honda Ridgeline $32,000, Nissan Titan $40,000, Toyota Tundra $40,000.
Good News:
Super comfort, fast, fair fuel economy for a work truck and great features.
Bad News:
A little pricey.
Standard Equipment:
6.0 liter Vortec 332 horsepower V8 engine, 2 mode Hybrid transmission, Hybrid Propulsion Electric with 300 volt energy storage system, Z85 Handling and trailering suspension, power rack & pinion steering, HD trailering equipment, Locking rear differential, 4-wheel ABS with dynamic rear proportioning, front side and curtain airbags, remote keyless entry, auto headlights, stability control, OnStar directions & connections with auto crash response and turn by turn navigation, tire pressure Monitor system, Bluetooth, 17" wheels, front recovery hooks, power fold mirrors, deep tinted glass, fog lights, hard tonnear cover, power locks and windows, dual zone air conditioning, leather wrapped tilt steering wheel with audio controls, intermittent wipers, cruise control, power front bucket seats, stereo with CD player, NAV with traffic, audio system with touch screen, Bose Speakers and XM radio, power adjustable pedals and EZ lift and locking tailgate.
Gas Stats:
$3.75/ Gal avg. July 24, 2011
for more information.
20 City and 23 Highway MPG
Pricing:
MSRP $47,820.
Your comments are welcomed. My e-mail is joe@autolove.com
Copyright © 2011 – An Automotive Love Affair
Your comments are welcomed. My e-mail is joe@autolove.com
Copyright © 2014 – An Automotive Love Affair.