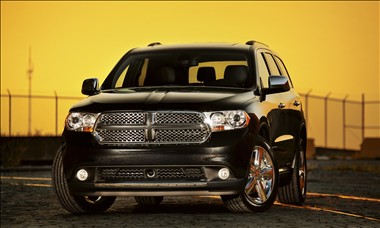 Overview: 
This week we're looking at the 2011 Dodge Durango Crewlux SUV. Son Mike could use this 8 passenger van. Mike is on his way to filling every seat. Number 5 is on the way and I'm sure Utah's finest are thrilled. It's what they do in old country, USA. Congratulations. Once the 7tharrives Mike may need to move up to a Mercedes-Benz Sprinter that seats 12. The bad news is that a Sprinter with seats will cost $45,000 so he may need a second job or a couple more wives to pay for it. We won't follow the logic on that.
General Info: 
Parts:  US/Canadian – 69% including the Engine & Transmission. It is assembled in Detroit, Michigan, USA. Class is SUV. Cars from Dodge include:  Avenger, Caliber, Challenger, Charger, Durango, Grand Caravan, Journey, Nitro & Viper.
Opinion: 
…And speaking of my son's growing family (In Utah), at first blush it seems out of touch with the "New World Order (Society)" of hope and change. In a society that demands politically correct and to do as the government dictates, this large vehicle is violating those dictates, some would say. Hogwash, say I. As long as we remain free it is our duty to do as Nature Dictates and not as high fashion Culture Coordinating Government says, as it meddles in the affairs of Mother Nature.
For you greenies and tree huggers who still have Al Gore bumper stickers, the large vehicles son Mike uses for his family makes the most sense, (assuming large families make sense to begin with).The brand and model is supported by those who can do simple math and know instinctively that hauling around a lot of folks means doing it in one vehicle, not two or more.
Mao Tse Tung would roll over in his grave and say he dictated "Only One Child" per family. Well for Mao that was a necessity since they didn't have cars in China, let alone SUV's that seat 8 people. Seriously though, at well over a billion people in China, it was necessary to do something! But once again, fooling with Mother Nature was poorly thought out. The culture in China discarded the girls so there is an imbalance and too many males. Now they have too many men and not enough women. Who'd a thunk! Obviously Mao did not, or didn't think it a bad thing.
Handling & Performance:
Wonderful, large SUV. Large means convenience for the higher fuel consumption. But that is where it is interesting since the MPG of this Durango is exactly the same last week's Mercedes-Benz E550 sport coupe. That Benz is lucky to seat 4. Have I made my case Obama?
Styling:
Nice appearance even if it resembles an FBI or other Government security vehicle used for diplomats and politicians and other better people than we – the real people.
Fit and Finish:
Very good.
Cost:
Good price to benefit ratio if you need a high capacity passenger vehicle, but if you intend to use it as a commuter it is expensive.
Conveniences and comfort:
For the money there is a huge list of standard features that are really nice. There are a couple of high tech options I would add and suggest you consider them as well for $1,195 – "Adaptive Cruise Control/ forward collision warning and "Blind Spot and Rear Cross Path Detection". These are extremely helpful and the best of recent improvements to available features.
Recognized Competition:
Dodge Durango $33,000, Acura MDX $43,000, Buick Enclave $36,000, Cadillac SRX $35,000, Chevrolet Traverse $38,000, Ford Edge $31,000, Ford Explorer $28,000, GMC Acadia $32,000, Honda Pilot $28,000, Hyundai Veracruz $28,000, Infiniti FX $43,000, Jeep Grand Cherokee $30,000, Mazda CX9 $29,000, Nissan Murano $29,000, Sabaru Tribeca $30,000, Toyota Highlander $36,000.
Good News:
It seats 8 and still gets 23mpg, great looking and super comfy with great features available.
Bad News:
None noted.
Standard Equipment:
3.6 liter 290 HP V6 engine,  5-speed auto trans, front, side and side curtain airbags, LATCH – ready child anchor system, electronic stability control, rear park assist, keyless enter and GO, remote start, hill start assist, trailer sway damping, security alarm, cruise control, climate control, rear A/C with heater, power windows and locks, 8-way power driver seat & 6-way passenger seat that folds flat, power 4-way lumber front seats, second row 60/40 reclining fold and tumble seat, third row 50/50 folding seat, third row remote fold down seat, 3- 12 V and one 115 V outlet, SIRIUS satellite radio, media center CD/DVD/MP3/HDD touch screen radio, Bluetooth streaming audio with 9 speakers, USB Port, tilt & telescopic leather wrapped steering wheel with audio controls, 18" Painted aluminum wheels, Power liftgate, fog lights, roof rails with stowable cross bars, halogen headlights, power heated signal o/s mirrors and deep tint sunscreen glass.
Gas Stats:
$3.65/ Gal avg. July 11, 2011
for more information.
16 City and 23 Highway MPG
Pricing:
MSRP $33,195.
Your comments are welcomed. My e-mail is joe@autolove.com
Copyright © 2011 – An Automotive Love Affair
Your comments are welcomed. My e-mail is joe@autolove.com
Copyright © 2014 – An Automotive Love Affair.