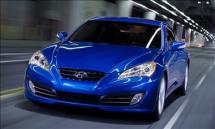 Overview:
This week we're looking at the 2011 Hyundai Genesis Coupe 3.8 R-Spec M/T. This car is in fantastic company to compete with, and they are mostly more expensive. The Coupe was a 2010 finalist for Motor Trends 'car of the year' and it is the most sporty of Hyundai's offerings to date. Although it is pitted against muscle cars like the Camaro, Mustang and Challenger I see it more comparable to Infiniti G Coupe, Mitsubishi Eclipse and Mazda RX-8.
I did experience an electrical anomaly that was unsettling. While driving it dropped to a maximum of 2,000 rpm and wouldn't run over 20 mph. Odd but after shutting down and restarting it was back to normal. It didn't repeat the problem and appeared to be an electrical glitch that I reported to the company. I experienced the same problem with a BMW with the same result. It either has something to do with the 'drive by wire' accelerator or in the computer somewhere. I will let you know as soon as I get an answer. I never did get a reply from BMW.
General Info: 3% of Parts are from the US and Canadian; 86% come from Korea including the Engine & Transmission. It is assembled in Ulsan, Korea. Class is Sub-Compact. Cars from Hyundai – Accent, Azera, Elantra, Elantra Touring, Entourage, Equus, Genesis, Genesis Coupe, Santa Fe, Sonata, Sonata Hybrid, Tucson & Veracruz.
Opinion:
Wow! The Gestapo is at it again. In the Midwest they are downloading your cell phone data onto police computers without probable cause. This isn't a suggestion, they are actually doing it. The direction is scary that law enforcement would go along with obvious intrusion on our right to privacy. It is the 4th amendment that guards against unreasonable searches and seizures and the government is testing us to see what they can get away with.
Benjamin Franklin is quoted as saying, "those who would give up liberty for security deserve neither". How insightful.
Speak out against such abuse of power that corrupts before it is 'absolute power' that corrupts absolutely. Of course you can't be stopped if you are an illegal alien without probable cause but you can be stopped while driving and demand you turn over your personal information that is kept on your cell phone. That data includes all your personal mail, texting messages and GPS co-ordinates for the past year so your every move is recorded. Wow!
Handling & Performance:
The Coupe is fast and a fun driving experience which comes standard.
Styling:
The Coupe is a sleek and a pretty looking sport car. The RED paint on the one I tested makes it a magnet to attract the ticket writers.
Fit and Finish:
Good, but I did report to the company there was an annoying squeak I couldn't find, which was reminiscent of the "Good old days" when cars always creaked and groaned as normal and expected. I'm sure it is a glitch that is unusual in today's world of cars because engineering is  generally bullet proof these days. The Coupe was introduced in 2010 so only a couple of years old and you can be sure they will search out the reason and fix it by the time you buy one.
Cost:
Very cost competitive in class. It will take off if the obvious popularity from my week of driving it is any indication. Then the price will go up as the performance is experienced for those who opt for a sport car that is so wisely priced.
Conveniences and comfort:
The rear seat is only good for very little people that is consistent with all sub compact sport car coupes. For the driver and passenger in front it is quite comfortable. The model I tested did not have cruise control which really was a surprise and I would not buy a car without it because I do a lot of road travel where I find it a necessity.
Consumer Recommendation:
If you are in the market for a sporty car this is a must test drive.
Recognized Competition:Hyundai Genesis Coupe $27,000, Audi A4 $32,000, Audi S5 $54,000, Audi TT $38,000, BMW 1 Series $36,000, BMW 3 Series $35,000, BMW 5 Series $45,000, BMW Z4 $47,000, Cadillac CTS $35,000, Chevrolet Camaro $24,000, Dodge Challenger $25,000, Ford Mustang $26,000, Infiniti G Convertible $46,000, Infiniti G Coupe $37,000, Jaguar XF Series $52,000, Lincoln MKS $41,000, Mazda RX8 $27,000, Mercedes-Benz E Class $49,000, Mitsubishi Eclipse $29,000, Nissan Z $31,000, Scion tC $19,000.
Good News:
Fast, fun driving experience, fair fuel economy, and very nice looking.
Bad News:
A couple of glitches that were unsettling.
Standard Equipment:
3.8 liter 306 horsepower V6 engine, 6-speed manual transmission, rear wheel drive, 5-link independent rear suspension, Track suspension strut brace, Brembo braking system, Anti Lock with brake force distribution brake assist, 19" wheels, torsion limited slip differential, electronic stability control, traction control, black leather with cloth insert seats, driver lumbar, special trim, air conditioning, keyless entry with alarm, leather wrapped steering wheel & shift knob, power windows, locks & mirrors, audio with XM, CD/MP3, trip computer, iPod / USB / Aux port, steering wheel audio controls, fog lights, Bluetooth phone system.
Gas Stats:
$4.15/ Gal avg. April 25, 2011
www.fueleconomy.govfor more information.
17 City and 26 Highway MPG
Pricing:
MSRP $26,750.
Your comments are welcomed. My e-mail is joe@autolove.com
Copyright © 2014 – An Automotive Love Affair.