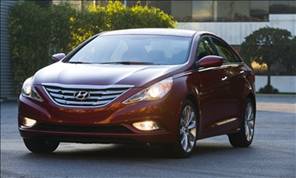 Overview: 
This week we're looking at the 2011 Hyundai Sonata SE 2.0T 4-door sedan. The fuel economy (mpg) numbers are good and without the Turbocharger even better by 2 mpg more on the highway. Personally I prefer having the option to use the rapid acceleration provided by the Turbo when I need it. I'd miss the 2 mpg and especially so when it goes to $5 or $6 per gallon. Thanks Obama, you are a slow learner and when we get rid of you we will likely resume drilling our own oil instead of sending our money over to other countries that do NOT deserve our help. If I thought you could change arrogance like you can change ignorance through teaching I wouldn't be so concerned about the future. But our current president is simply marching to a different drummer.
General Info: 
39% of Parts are from the US and Canadian including the engine; 60% come from Korea including the Transmission. It is assembled in Montgomery, Alabama, USA. Class is Midsize. Cars from Hyundai – Accent, Azera, Elantra, Elantra Touring, Entourage, Equus, Genesis, Genesis Coupe, Santa Fe, Sonata, Sonata Hybrid, Tucson & Veracruz.
Opinion: 
Do you ever wonder why private enterprise works so well and government is so inefficient at virtually everything it does, except killing guys like Osama bin Laden clandestinely with highly efficient military men and women?
I traveled all over eastern Europe shortly after the fall of Communism and I observed older folks in the family throughout Poland for example who hated the fall while their kids were loving it as they embraced capitalism and have now turned Poland, the Czech Republic into thriving economies in less than two short decades. The actual turnaround was evident just 5 years after that collapse of a stupid socialistic 40 year experiment was proven terribly wrong.
I am reminded of the drastic differences between Marxist Socialism and having to actually work for what you want or need to accomplish in your life. You know, "From each according to his abilities and to each according to his needs". Karl Marx was a bloody idiot as are all those today that haven't lived it or at least studied history enough so they don't STILL think it is a good idea. Those who voted for Obama's stated hope and change – translated to mean – let's try Socialism again because we're smarter and can make it work. Then we can have equality so we're all equally poor. God Bless the American dream and the great American experience that provided opportunity to those willing to work hard and provide for themselves.
God bless dad who emigrated from Sicily and passed on a work ethic common in those days.  Otherwise I wouldn't be enjoying the benefits of freedom, nor would I be responsible to pay it forward for my kids. Dad let me work for him to pay back the $50 it cost to buy my first car – a 1934 Chevrolet Coupe, with a rumble seat in the back. I have lots to be thankful for.
Handling & Performance:
Outstanding with turbo power that is the future for gas or diesel powered engines. And the engine employs variable valve timing that is usually found only on more expensive cars.
Styling:
Great job on giving the Sonata the look of 'today' and not unlike even more expensive top luxury brands. I suspect that is the major reason why there is such a 'buzz' in the air from reviewers and car buyers how much they like this Sonata. The cars rep is growing in part because it is a South Korean product that is also getting good press.
Fit and Finish:
Very good, especially for the money, this is a well put together car.
Cost:
You'll hear a lot about the real value of the Korean made cars and it is all true. Much like the early days of Japanese products the price was destined to go up quickly. If you're in the market this is the perfect time to take advantage of the new kid on the block.
Conveniences and comfort:
Hyundai delivers a lot for the money which is the consensus of review columnists I talk with. I can't say enough about the keyless start system. You literally do not have to take the key fob out of your pocket or purse.
Consumer Recommendation:
There are so many nice cars in this class to choose from and that gives you even more bargaining power considering a lousy economy if, of course, you are among the lucky ones with a job.
Recognized Competition:
Hyundai Sonata SE $23,000, Acura TSX $30,000, Buick LaCrosse $27,000, Buick Regal $26,000, Chevrolet Malibu $22,000, Chrysler 200 $19,000, Dodge Avenger $19,000, Dodge Charger $25,000, Ford Fusion $20,000, Ford Taurus $25,000, Honda Accord $21,000, Kia Optima $20,000, Mazda 6 $20,000, Mitsubishi Galant $22,000, Nissan Altima $20,000, Nissan Maxima $31,000, Subaru Legacy $20,000, Suzuki Kizashi $19,000, Toyota Camry $20,000, Volkswagen Jetta $15,000.
Good News:
Made in the USA, 'still' priced well, fast, good fuel numbers.
Bad News:
Can't recall anything.
Standard Equipment:
2.0 liter 274 horsepower inline 4-cylinder turbo gasoline engine, continuous variable valve timing, 6-speed auto transmission with Shifttronic pedal shifter, sport tuned suspension, 4-wheel anti lock disc brakes with force distribution brake assist, 18" wheels, electronic stability control, traction control, tire pressure monitoring system, keyless push button start system, power windows, locks & mirrors, power driver seat with lumbar support, 60/40 split folding rear seat, tilt and telescoping leather wrapped steering wheel and shift knob, climate control, audio with XM, CD/MP3, trip computer, iPod / USB / Aux ports, steering wheel cruise, audio and phone controls, fog lights and Bluetooth phone system.
Gas Stats:
$4.23/ Gal avg. April 29, 2011
for more information.
22 City and 33 Highway MPG
Pricing:
MSRP $24,145.
Your comments are welcomed. My e-mail is joe@autolove.com
Copyright © 2011 – An Automotive Love Affair
Your comments are welcomed. My e-mail is joe@autolove.com
Copyright © 2014 – An Automotive Love Affair.