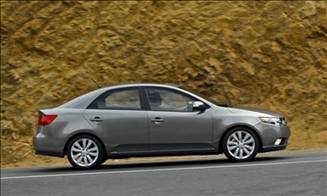 Overview: 
This week we're looking at the 2011 Korean made Kia Forte SX. Kia says they had the best quarter sales on record. Not surprising to me as this company just gets better every year. If you're interested in what is new for 2012 you can go to kiamedia.com.
Hard to believe another car year is almost over as we begin to talk about 2012.
The promotion people at Kia remind us that the entire Kia lineup continues to be backed by its 10 year, 100,000 mile warranty. In today's lousy economy (for way too many) this is good news and welcomed security for a product we just can't seem to do without … of course unless you live in New York City. I love the subway system there.
Opinion: 
Years ago, in the late 1940s, Los Angeles California was manipulated by government and the auto related businesses. They stripped out the public transportation system and tore up all the tracks for the 'Red Car' and other rail services in the area. Why? Because the tire manufactures, auto companies, gas & oil business all wanted to push their products and somehow convinced government the rail system was not the best way to move people around. Ironic, today we have begun replacing the rail system… albeit too late for what it could have been. What a shame. And shame on those government officials who allowed it. That's how the free market system is tampered with to the detriment of the people. It's not nice to fool with mother nature or the 'free market capitalist system'. And yes, you guessed it… those officials were paid off to do the 'wrong thing'. Shame on them.
Handling & Performance:
I prefer the handling of rear wheel drive cars like this Forte. And it doesn't get much better in the performance area to make it a great commuter or simply a great car for the young family on a budget. With gas hovering around $4 a gallon this 32 highway mpg car is looking pretty good to me.
Paddle shifters come standard and they could save the pot metal or plastic as far as I'm concerned. You may like that feature but especially on this economy car it seems inconsistent.
Styling:
Basic, basic, basic which is a good thing in my opinion… and I didn't stutter. It is basic as are all the competition listed here. Anything car makers add is just fluff and you must know you pay dearly for fluff and fancy badges to boost your ego. Sad commentary on us as a culture bent on displaying outwardly who has the most money or rather who appears to have the most money and that translates into who is more important or somehow better.
Fit and Finish:
Basically good.
Cost:
Outstanding value. If you want a BMW or other fu-fu badge, that's a different story. But if you are a self assured person that feels a car is not what makes the person, you will save a really lot of money. I suggest you use the money you save to spend more time with the family. Take them to Europe. Trust me, you really can save that kind of money driving a car like this.
Conveniences and comfort:
Unbelievably good stuff is available for a little more money. I particularly like the push button start keyless device so you can keep it in your pocket or purse. I love it. I like Nav but leave it out and buy a portable brand for about $100. The options above the standard MSRP of $19,000 include leather package for $1,000 a power sunroof for $750 and a Nav system, push button start smart key and climate control for $1,800. The only item I would want to have is the push button start out of all these options.
Consumer Recommendation:
Your budget is vital in a car buying decision. It's not chump change, but if you're an average Joe who needs to commute what better way than in a "commuter" car that delivers great mileage out of a conventional power plant. Hybrids are a waste of money when you can get about the same mpg from a car like this Forte or any of the competitors listed here.
Recognized Competition:
Kia Forte $19,000, Chevrolet Cobalt $16,000, Chevrolet Cruze $17,000, Dodge Caliber $,000, Ford Focus $16,000, Honda Civic $16,000, Honda Civic Hybrid $24,000, Hyundai Accent $12,000, Hyundai Elantra $15,000, Mazda3 $16,000, Mitsubishi Lancer $17,000, Mitsubishi Lancer Sportback $17,000, Nissan Sentra $16,000, Subaru Impreza $17,000, Suzuki SX4 Sport $15,000, Toyota Corolla $16,000, Volkswagen Golf 17,000.
Good News:
 Really economical transportation from purchase price to operating cost.
Bad News:
It won't stroke your ego.
Standard Equipment:
2.4 liter 4-cylinder 156 horsepower engine, 6-speed auto trans rear wheel drive, paddle shifters 17" alloy wheels, front, side and side curtain airbags, LATCH child seat system, 4-wheel anti lock disc brakes with power assist, traction and stability controls, tire pressure monitor, air conditioning, audio with CD/MP3  and 6 speakers, SIRIUS satellite radio, USB & Auxiliary input, Bluetooth, leather wrapped steering wheel & shirt knob, tilt and telescopic steering column, manual adjustable seats, 60/40 split folding rear seats, power windows & locks &  outside mirrors, keyless entry, cruise control, .
Gas Stats:
$4.09/ Gal avg. May 21, 2011
for more information.
23 City and 32 Highway MPG
Pricing:
MSRP $18,895.
Your comments are welcomed. My e-mail is joe@autolove.com
Copyright © 2011 – An Automotive Love Affair
Your comments are welcomed. My e-mail is joe@autolove.com
Copyright © 2014 – An Automotive Love Affair.