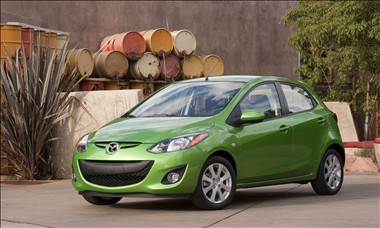 Overview: 
This week we're looking at the 2011 Mazda 2 Touring 4-door compact car that is more capable than it first appears. It is new to the U.S. market for the 2011 model year, but sold in other markets since 2007.  It shares a platform with Ford's Fiesta, meaning the chassis and general body structure are common, but the suspension components, drivetrain and interior are all unique to Mazda.
I've gotta believe the market for this little car will be for younger buyers or those just starting out or simply on a tight budget. I would buy this car for my kid to get through college. Why, because it is like the VW Beetle that helped get me through my college years.
And like the VW we were confident to take it anywhere. I took this Mazda 2 on a road trip and I wouldn't have known how totally impressive it is in all regards if I hadn't. It seats 5 if it has to but comfy for 4 on the highway. It might be a stretch for luggage if all four don't pack carefully. But two of us took way more than needed and still had plenty of room. And fuel economy doesn't get much better. It gets high marks from for me and my passenger Richard who couldn't stop telling folks what a great car it is.
General Info: 
0% of Parts are from the US and Canadian; 99% come from Japan including the Engine & Transmission. It is assembled in Hiroshima, Japan. Class is Compact. Cars from Mazda – CX-7, CX-9, Mazda 2,3,5 & 6, MAZDASPEED3, MX-5 Miata, RX-8,Tribute, Tribute Hybrid & Truck..
Opinion:
Changing lanes: The Mazda 6 comes to mind that had a sensor to warn you of cars in your blind spots, but there are other perils on the highway that you should think about. Some dangers are not obvious and not always present. Debris! Force yourself to make it a habit of looking ahead between lanes before you make the move. Between lanes is where objects are quickly moved by other cars hitting them. There isn't much you can do about objects in the middle of your lane, but debris between lanes can be avoided.
It never seems to fail that if there is something between lanes "Murphy's Law" says you will change lanes just in time to hit whatever is there. Panic, however, can turn a flat tire or slight damage to your car, into a serious accident. So look ahead and you'll have a chance to avoid such road hazards.
Handling & Performance:
Richard asked if this Mazda has a rotary engine'? No but I had to wonder if the Wankel engine is still used in any models in Mazda's lineup – so I asked Meridith at Mazda. She said no… but it is not off the table completely. "It is just put to rest". I'm sure Wankel would be saddened but it has been a less than perfect engine for the automobile over the years. Meanwhile the Rotary has  some aircraft applications. Don't be surprised if it returns someday soon to the automobile.
As to handling I'm not as convinced as some that it takes the corners all that well, but then I tend to push the corners a little harder than the average driver. I'm looking forward to driving it on the track in November and reconsider cornering characteristics.
As to power I have to say Mazda engineers get a lot of performance out of 1.5 liters and 100 horsepower that will pull the grades in 5th gear and only on a couple of occasions did I need to shift down to 4th, right when RPM dropped below 3,000. Impressive.
Styling:
Yes, you can call it a 'pea popper' and the wild green color on my test vehicle is even brighter that a pea. It reminds me of a rebellious youth who colors their hair wild colors. The general design gives it that not quite grown up look, but make no mistake, this is full grown and you will either love it or not. The girls think it is cute so that explains why the guys aren't impressed.
Fit and Finish:
Good.
Cost:
In today's world it is clear anyone can own a new car that is not only affordable to buy, operating cost is also low with 35 hwy miles per gallon. Thanks Mazda.
Conveniences and comfort:
I missed the 'blind spot monitoring system' of the Mazda 6. But more importantly Richard and I were so impressed with the comfortable seats and solid handling. This will help Mazda 2 become a winner with consumers.
Richard commented that on a long ride these Mazda 2 seats are more comfortable than his wife's new Ford Fusion. He had just returned from a road trip in the Ford and thought it was terrible compared to the Mazda.
Consumer Recommendation:
If price is a consideration and you need a good commuter that is also road worthy on longer trips  you will have to give the Mazda 2 careful consideration. When I saw it is assembled in Hiroshima, Japan I had an instant flashback to when I stood at 'ground zero' where the atomic bomb was dropped in 1945. Memories linger of the people I met there in 1959 who were scared physically and I imagine mentally. It touched me deeply, and I suspect this Mazda 2 has a bit more meaning for me than simply being a nice little car.
Recognized Competition:
Mazda 2 $16,000, Chevrolet Aveo $12,000, Chevrolet Aveo5 $12,000, Chevrolet Sonic $14,000, Fiat 500 $16,000, Ford Fiesta $13,000, Honda Fit $15,000, Hyundai Accent $14,000, Kia Rio $12,000, Kia Rio 5 $15,000, Nissan Versa $ n/a, Scion xD $15,000, Toyota Yaris $13,000.
Good News:
Exceptional fuel economy, and outstanding comfort.
Bad News:
Different styling that will make it unattractive to some. Richard didn't care for the shifter up on the dash but I didn't have a problem with that design.
Standard Equipment:
1.5 liter 100 horsepower 4-cylinder engine, 5-speed manual transmission, front wheel drive, vehicles anti theft, 4-wheel power ABS front disc and rear drum brakes, stability control, traction control, 18" alloy wheels, dual remote power mirrors, air conditioning, audio withCD changer,  remote keyless entry, power windows & auto door locks, cloth seating for 5, 60/40 split fold down rear seats, tilt leather steering wheel, trip computer, cruise control,LATCH Anchor system & child safety door locks,  front and side and side curtain airbags.
Gas Stats:
$3.85/ Gal avg. September 2, 2011
for more information.
29 City and 35 Highway MPG
Pricing:
MSRP $16,680.
Your comments are welcomed. My e-mail is joe@autolove.com
Copyright © 2011 – An Automotive Love Affair
Your comments are welcomed. My e-mail is joe@autolove.com
Copyright © 2014 – An Automotive Love Affair.