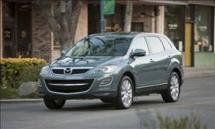 Overview: 
This week we're looking at the 2011 Mazda CX9 Grand Touring AWD SUV. I must say it has been a delight driving this SUV. It is amazing how much car you can get for the money. Consider 1967 a nice Chevrolet Malibu was about $2,500 plus. Well in today's dollars that pretty basic car would be over $40,000. And that Malibu got about 7-12 miles per gallon of gas. So relatively speaking a $30,000 purchase price and 16-22 mpg for this Mazda SUV is a great improvement. And with seating for 7 it is very versatile for a larger family.
As you surely know by now, many Japanese cars are assembled in the US. Not so with this Mazda, and for those of you who have visited Hiroshima after 1945 it is a modern city where several cars are made today. I was there in 1960 and must admit one has to wonder if radioactivity is such a big deal. An Atom Bomb dropped there in 1945 hasn't been a problem at least as far back as 1960. At least I'm not glowing.
General Info: 10% of Parts are from the US and Canadian; 85% come from Japan including the Engine & Transmission. It is assembled in Hiroshima, Japan. Class is SUV AWD. Cars from Mazda – CX-7, CX-9, Mazda2,3,5,6, MAZDASPEED3, MX-5 Miata, RX-8, Tribute, Tribute Hybrid & Truck.
Opinion: 
Unless you are happy paying $5-6- or 7.00 / gal of gas, you'd better start yelling at congress to 'drill-baby-drill'. The USA is #1 in world oil reserves, Russia is a distant second and the Middle East is 3rd. Our reserves are said to be 200 years worth of oil. I for one am tired of pouring our money into the coffers of middle east 'sheiks' and tribal elder idiots to bring them out of the stone age. It's time for us to shore up our own country. How about you?
Consider further transportation in 200 years will be far different than gas burning engines. Six years ago I tested the Hi-Wire Hydrogen powered car and it was then estimated it would be about 5 years before it would be available commercially. We aren't that far away from that reality and it is not so far-fetched we'll power our cars one day on sea water unless we're not already using 'molecular transportation' systems by then to 'beam us up Scotty'.
Hey, some studies on technology are telling us in 50 years we'll be able to download our brains onto computers. Come on, lets face it, we have nothing to fear but fear itself and some will try to scare you into believing the planet will 'implode' if we extract oil from the earth. I don't think we're that stupid.
The current federal government administration is continuing the policies of the past which serves only to push gas prices up. It is clear they want to FORCE you and me to buy greenerwhich means -30-35 mpg in today's world. Say what bro? What about our free market capitalist system? You know, the one I learned about in college Econ 101.
Quit trying to dictate how we should live or spend my money. We rebelled against the tyranny of King George and now they're trying to manipulate us again because they think they know better. I say, throw the bums out and Exile them all to an Island with Qaddafi and other pin head dictators and set ourselves free once again. The rest of the world is expressing the desire to have what America had more of just 50 years ago. Those countries are now being toppled like domino's in their quest for freedom and liberty which is a natural desire of all people. Right here in the USA today's leaders are as bad as other control freak dictators around the world and need to be replaced with common sense folks. Telling me what to do is simply un-American. The French would say, "Off with their Heads".
Handling & Performance:
Wonderfully comfortable and capable. You can't want for much more and it is AWD safe. Ok, so the fuel economy is not the best, especially with today's prices between $4 and $5/ gallon, but if you have a need for seating for 7, this is likely the most economical transporation.
Styling:
Among the more stylish of SUVs. Nice job Mazda.
Fit and Finish:
Excellent.
Cost:
About average in the field.
Conveniences and comfort:
The features included standard for the pricing noted for this CX-9 is tops. What we pay for creature comforts continues to be less of the cost of the entire package as free market technology roars forward. In spite of 22 mpg max common for this class SUV it is still the best we have if you are like my son with 4 kids requiring seating for 7. Can you imagine going on vacation or just taking the kids to school WITHOUT a vehicle of this size? Of course not.
Consumer Recommendation:
Once again if you ever doubted this class SUV is in high demand just look at all the brands. And capitalist companies do what comes naturally – they give the consumer what they want and need.
Of the manufacturers listed here I'm impressed with the Korean and American for price and I have driven all of them. The Japanese – Mazda and Mitsubishi are top condenders and next on my list.
Recognized Competition:
Mazda CX-9 $35,000, Acura MDX $43,000, Audi Q5 $43,000, BMW X5 $52,000, Buick Enclave $44,000, Cadillac Esclade $66,000, Chevrolet Traverse $31,000, Dodge Durango $31,000, Dodge Journey $30,000, Ford Flex $34,000, GMC Acadia $36,000, Honda Pilot $40,000, Hyundai Veracruz $30,000, Infiniti QX56 $62,000, Jeep Grand Cherokee $39,000, Kia Borrego $40,000, Lexus RX350 $40,000, Lincoln MKX $41,000, Lincoln Navigator $60,000, Mitsubishi Enedavor $34,000, Nissan Murano $38,000, Subaru Tribeca $36,000, Toyota Highlander $35,000, Toyota Highlander Hybrid $43,000, Toyota Sequoia $60,000.
Good News:
Well priced, great safety and comfort features and powerful. Great ride that is also great looking.
Bad News:
Only fair fuel economy.
Standard Equipment:
3.7 liter 273 horsepower V6 engine, 6-speed automatic transmission, active torque split all wheel drive, 20" aluminum alloy wheels, roof spoiler, rain sensing wipers, heater power mirrors, 7-passenger seating, tilt & telescopic steering wheel with audio and cruise controls, speed sensing door locks, power windows with remote opening, leather wrapped steering wheel and shift knob, leather heated 8-way driver seat with memory, heated power front passenger seat, 4-wheel ABS vented power disc brakes with electronic brake force distribution, stability control, roll over protection and roll stability control, blind spot monitoring system, tire pressure monitor, auto headlights, fog lights, power lift gate, 60/40 split fold down 2nd & 50/50 3rd row seats, Bluetooth, audio with CD and 6-speakers, climate control, keyless entry with start system, trip computer, dynamic stability control, front and side airbags, anti theft engine immobilizer and alarm, LATCH child safety system.
Gas Stats:
$4.09/ Gal avg. April 8, 2011
for more information.
16 City and 22 Highway MPG
Pricing:
MSRP $34,535.
Your comments are welcomed. My e-mail is joe@autolove.com
Copyright © 2014 – An Automotive Love Affair.