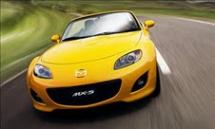 Overview:
This week we're looking at the 2011 Mazda MX-5 Miata. I first tested it in 1995 and there is no question it has gone through gradual changes since then. But the biggest changes have been over the past ten years to give it more power and room. But for me the 2009 with the new styled grill and some lights and cowling enhancements has launched it into a whole new era for this lovely roadster. Thanks to the design folks who have done gradual thoughtful changes to this favorite of mine ever since that first test. I know it is hard to believe it could have ever been smaller than it is in 2011, but it was. More importantly it is more well made today and those of you who have owned as many as I have tested over the years can attest to the maturing of this great little sport car.
Well, Ilona and I took this 2011 MX-5 to Las Vegas for the SEMA / AAPEX show this year and it was a pleasure. She doesn't like to drive so I got all the pleasure, but she commented on how well the ride felt. She has never complained about the smallness and I don't either. It is what it is and when you put it on it fits perfectly. If you're a diver you'll be able to relate when I say it is like putting on a wet suit – without zippers.Well I must admit the luggage area is still limited and it makes you think carefully about what you will need to wear. Fortunately Ilona packs light and if you need a suit you'd best wear it on the trip rather than trying to fit it in the car. Even so it was good the hotel had an iron and ironing board. Me, well I would have put the top down but I didn't even suggest it, know what I mean ladies.
Handling & Performance:
Mileage numbers have not improved since my review in 1999 with 25 and 29 mpg when horsepower was only 140 then as compared to this 167 hp model in 2011. At introduction, the 1990 sported 116 horsepower and did no better in fuel economy than 1999. Handling however has improved greatly with a heavier more solid feel. It is as stable at 90 as it is at lower, around town, speed.
Styling:
Mazda has made only subtle changes in overall look over the years, but it is more substantial or stronger looking and the wider and larger grille gives it a bigger car look. I particularly love the new styling that began in 2009. Nice job guys.
Fit and Finish:
Improvement over the years is nice to see for a car you like a lot. Although it has always been well fit together it is far beefier and eliminates that tinny sound of the early models when closing the hood, trunk and doors.
Cost:
At launch it was about $13,000. Considering the passage of time and the vast improvement in the car today's pricing is quite good with the MSRP of $23,000.
Consumer Recommendation:
The closest competition comes from GM with the Solstice and the Sky but nothing else touches these three pricewise. Clearly this Mazda and the American cars are the best buys in this class car for the money. More importantly you gain very little in driving pleasure with the more expensive foreign badges. If you have money to burn, well that's another story, but Forest Gump said it best, "Stupid is Stupid does". You can stretch your hard earned buck by going with one of these three in class.
Conveniences and comfort:
I particularly appreciate the ease of putting the top up and down. But then I owned an MGB with the classic soft top that took two people an hour to put it down. Ok, the hour is a stretch but that's what it felt like. Thank God for technology and thank those guys who used it to design this top.
Recognized Competition:
Mazda MX-5 Miata $23-29,000, Audi TT $38-49,000, BMW Z4 $47-62,000, Lotus Elise $47-55,000, Mercedes-Benz SLK $48-53,000, MINI Cooper $19-34,000, Pontiac Solstice $24-30,000, Porsche Boxster $48-58,000, Saturn Sky $28-34,000.
Good News:
Great styling, nice ride, fun to drive, great hardtop convertible totally automatic.
Bad News:
Limited cargo and storage spaces and hard to get in and out of, especially after a long drive.
Standard Equipment:
2.0 liter inline 4-cylinder 167 horsepower engine, 6 speed manual transmission, rear wheel drive, front & rear stabilizer bars, aluminum power plant frame, 17" alloy wheels, power mirrors, aluminum hood, power retractable hard top, 2-passenger seating, tilt leather steering wheel with cruise and audio controls, power windows and locks, driver seat height adjuster, anti-lock disc brakes with electronic brake force distribution, electronic power assisted rack and pinion steering, front double wishbone suspension with rear multi-link suspension, halogen headlights, fog lights, auxiliary audio input jacks, Bose audio with 6 disc CD/MP3 and 7 speakers, remote keyless entry with smart key, heated leather seats and leather trimmed hand brake and shift knob, trip computer, auto climate control, front and side airbags, anti-theft engine immobilizer and tire pressure monitor.
Gas Stats:
$2.95/ Gal avg. November 9, 2010
for more information.
21 City and 28 Highway MPG
Pricing:
MSRP $28,400.
Your comments are welcomed. My e-mail is joe@autolove.com
Copyright © 2014 – An Automotive Love Affair.