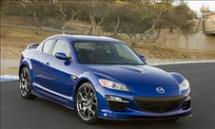 Overview:
This week we're looking at the 2011 Mazda RX-8 sports car. The RX-8 is a fun coupe that revs smoothly thanks to the unique Rotary engine, and the ride is sports car impressive. Handling is agile and the steering is communicative – meaning you can sense the road through the power assist. Although the Rotary engine is smooth, fuel economy is disappointing because I expected more.
The Rotary Engine – Advantages:
Mechanical simplicity – far fewer parts than a piston engine that cuts manufacturing costs and decreased weight without valves, camshaft, rocker arms, timing belts or flywheel. That leads to less and easier repairs. Rotary engines were used early on to power aircraft due to high power-to-weight ratio. Rotary means less vibration and it will continue to run for a time, whereas a piston engine will stop running immediately under similar stresses.
Disadvantages:
Leakage between engine chambers is common resulting in a loss of efficiency over time. They are not expected to last as long as traditional reciprocating piston engines and design includes burning small amounts of engine oil, thus requiring more frequent checking and adding oil.
Applications:
A safer choice for aircraft and preferred by many in sports and racing cars, (notable in Mazda's RX series) due to being able to run at high rpm and produce more power.
Other applications preferring a smooth operation include go-karts, personal watercraft, gas generators, motorcycles and chainsaws.
Read more at http://www.ehow.com/about_5113539_pros-amp-cons-rotary-engine.html#ixzz1BDjWyciA
Opinion:
Putting yourself in Harm's Way – don't do it on the highway where your full attention is imperative. I try to drive defensively and encourage you to do the same.
Be aware of where you are, in relation to other drivers, and avoid putting yourself in places that box you in, or where you can't be seen. No one wants to have an accident – that's why they are call accidents. Consider that if another driver makes a move in a panic, without being able to see you in their blind spots or is drunk, asleep or whatever you must be able to react to avoid an accident. It is not a case of if it will happen but 'when', because it WILL happen.
Handling & Performance:
The RX-8 is agile but not the quickest horse in the barn. But overall this 1.3 liter rotary engine is impressive in design and performance, in that it develops 232 horsepower out of only 1.3 liters.
Styling:
Sporty and low slung gives it superb handling, but for the same reason you'll struggle to get in and out of either front or rear seats. The rear-hinged rear doors make it far easier to enter and exit the back seat albeit the space is suited best for little people.
That's not a bad design but a simple fact for any sports car. Sports car enthusiasts understand that design and although my first assumption is that buyers must surely be younger. Not true. Older less agile folks overlook the inconvenience common to these little high performance vehicles.
According to Sports Car Marketing 54% of their readers have a net worth in excess of $2 million and 60% have an annual household income of $250,000 or more. Subscribers are serious buyers – 41% own five or more collector cars and a staggering 73% say they will buy another collector car in the next year. The conclusion they make is that high net worth readers are not just lookers but rather they are Buyers.
An interesting read on the Sports Car Market can be found at http://www.sportscarmarket.com/about/advertising/circulation-a-demographics .
Fit and Finish:
Very good.
Cost:
A pricey class but the RX-8 may be the best bang for your buck.
Conveniences and comfort:
Once you get into the driver seat you will appreciate the ease of accessing all features that are numerous. If you fly a small aircraft you will appreciate the sports car experience. Bigger is better only when you need to tote a lot of folks and stuff around. Ilona and I took a road trip in a Mazda Miata MX-5 that turned into one of the more memorable travel experiences. Even further back in my younger family travel years four of us including all luggage loaded on the rear trunk rack of a Corvette made for a vacation not soon forgotten.
Consumer Recommendation:
The Rotary engine was designed in 1954 by German Engineer Felix Wankel. And although it has been embraced by few automobile manufacturers it should not dissuade you from owning this unique sports car. If the Rotary Engine is good enough for the airplane I fly it's good enough for my car.
Recognized Competition:
Mazda RX-8 $27-32,000, Audi TT $38-49,000, BMW 1-Series $29-41,000, BMW Z4 $47-62,000, Chevrolet Camaro $23-40,000, Chevrolet Corvette $49-120,000, Dodge Challenger $23-41,000, Ford Mustang $22-38,000, Hyundai Genesis Coupe $22-32,000, Infiniti G Convertible $45-57,000, Infiniti G Coupe $36-50,000, Mercedes Benz SLK $48-53,000, Mitsubishi Eclipse $19-33,000, Mitsubishi Lancer Evolution $34-37,000, Nissan Z $31-41,000, Volkswagen GTI $24-30,000.
Good News:
Fun to drive, well priced in class and tried and true unique power plant.
Bad News:
Only fair fuel economy.
Standard Equipment:
1.3 liter 232 horsepower rotary engine, 6-speed manual transmission, rear wheel drive, 4-wheel power ABS disc brakes, traction control, 18" aluminum allow wheels, power mirrors, Xenon headlights, fog lights, auto on/off lights, climate control, 300 watt Bose stereo with 6-disc CD changer and 9-speakers, power windows & locks, leather seats, 8-way power driver seat with 3 memory settings, heated front seats, leather wrapped steering wheel with audio and cruise controls, keyless entry, sport tuned suspension, electronic assisted direct drive steering, front wishbone and rear multi-link suspension, front and rear stabilizer bars, rear window defogger, rain sensing wipers, power moon roof, rear bucket seats with trunk pass through, Bluetooth phone, SIRIUS satellite radio with 6 month subscription, front and side and side curtain airbags and tire pressure monitor.
Gas Stats:
$3.33/ Gal avg. Jan 17, 2011
for more information.
16 City and 22 Highway MPG
Pricing:
MSRP $32,265.
Your comments are welcomed. My e-mail is joe@autolove.com
Copyright © 2014 – An Automotive Love Affair.