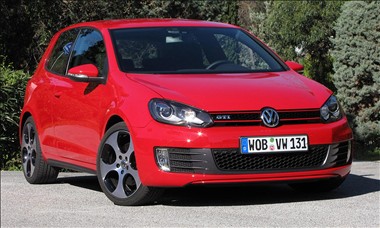 Overview: 
This week we're looking at the 2011 Volkswagen GTI 2-Door Sedan. . . meaning you can actually use the rear seat to carry passengers. If this were a Porsche, Mustang or Camaro I'd have to refer to it as a 2-door Coupe because the rear seats can hardly be used to carry passengers. Well, at least you can't carry passengers with legs and feet, unless they are small kids or midgets.
Don't get me wrong there isn't a lot of room in the rear seat, but acceptable space to carry four  passengers, which is typical of the brand to make the most of the space available. By contrast, do you remember cars of the 1960s that looked to be way overweight. Bulky was in for a time in the US, but thankfully that has changed perhaps forever.
General Info:
Parts – US/Canadian 1%,  Germany 75%; Engine – Hungary; Transmission – Germany
Assembly – Wolfsburg, Germany
Class  – Compact
Cars – Beetle, CC, Eos, Golf, GTI, Jetta, Jetta SportWagon, Passat, Passat Wagon, Routan, Tiguan, Touraeg & Touareg Hybrid.
Opinion:
When a driver pulls in between cars way to small to fit safely a few things happen:
1.     It is inconsiderate and ill advised.
2.     It pisses off the driver who is being cut off.
3.     It adds stress to all those around such dangerous drivers.
4.     Worse yet is the "Domino" effect it causes.
The car cut off generally applies the brakes, and each car behind apply their brakes in a delayed fashion so when a driver is distracted somewhere in the chain a CRASH is caused. The culprit of that multi-car crash is that one inconsiderate driver.
Why we get angry at that pushy driver is rooted in our youth and beyond as we wait in lines and someone walks up to the front of the line and cuts in. That's war. Surely the solution is to make traffic flow more smoothly, but in the meantime it will be necessary to ignore those situations and slow down to the flow of traffic and help to avoid the effects of stupid drivers.
Handling & Performance:
Zippy. Fun to drive. But for greater performance I prefer the TDI engine.
VW says: "The TDI® Clean Diesel engine sips fuel at the wallet-friendly rate of 42 highway mpg. That's up to 609 miles on just one tank. Impressive. The T in TDI stands for turbocharged, and this engine delivers 140 hp and 236 lbs/ft of torque for exceptional power. It's a beautiful thing when a love of driving and a love for the environment coexist".
Styling:
Styling – Not my style, but I am not the last word in style. . . in fact I've owned three V-Dubs over the years, two of which were Beetles (bugs). Who would have guessed young people in the 1950s and 1960s would embrace it… but we did. I believe it had more to do with economics for struggling students, mostly, because it was inexpensive to buy and operate.
Wheels – I have a bitch about the wheel design. When did design ignore practicality? Whoever thought up the design of the wheels to stick out beyond the tire should be fired. When you get too close to the curb, (and we all do) the wheel hits the curb instead of the tire. Scrapes will accumulate on the wheel and look terrible very quickly. Someone please tell me why so many car makers have adopted the design. I can't find anyone who knows, and everyone agrees it is a dumb design.
Fit and Finish:
VW is always good workmanship.
Cost:
It is a little more than I would be willing to pay for a small compact commuter but it is a VW and that means quality to me. As mentioned, I've owned several VW's and they are simply a lot of value for the money.
Conveniences and comfort:
A word about the tire pressure monitor system. I used to think I'd like the feature but over time it has been more of an annoyance than a help. I've found too many false readings on virtually all brands tested. My experience is that for no apparent reason the warning light comes on, but I've observed that happens especially in the morning after a cold night.
Consumer Recommendation:
My favorite engine is the TDI Turbo Diesel… 'clean diesel' and is the direction VW has chosen. That is driven by the high cost of fuel in Europe and now spreading around the globe.
Recognized Competition:
Volkswagen GTI $24,000, Audi A3 $27,000, BMW 1 Series $31,000, Chevrolet Cruze $17,000, Honda Civic $16,000, Mazda 3 $15,000, Mazda Speed3 $24,000, Mazda RX8 $27,000, Mini Clubman $21,000, Mini Cooper $19,000, Mini Coupe $21,000, Mitsubishi Lancer $15,000, Mitsubishi Lancer Evolution $34,000, Mitsubishi Lancer Sportback $17,000, Subaru Impreza $17,000, Subaru Impreza WRX $26,000, Volvo C30 $25,000.
Good News:
Very good fuel economy, VW quality, fun to drive with lots of power.
Bad News:
A little pricey, tire pressure system false warnings.
Standard Equipment:
2.0 liter, 200 horsepower 4-cylinder direct injection engine, power steering, stabilization program, electronic differential lock,  anti lock front and rear disc braking system with brake force distribution, 18" alloy wheels, front side and side curtain air bags, LATCH child system, tire pressure monitor, climate control, power heated mirrors, cruise control, trip computer, adjustable height and lumber seats, adjustable steering column, SIRIUS Satellite radio, remote keyless entry system, power windows, anti-theft alarm with immobilizer theft deterrent, fog lights, 60/40 split folding rear seat, heated front seats.
Gas Stats:
$3.49/ Gal avg. December 17, 2011
for more information.
24 City and 33 Highway MPG
Pricing:
MSRP $25,749.
Your comments are welcomed. My e-mail is joe@autolove.com
Copyright © 2011 – An Automotive Love Affair
Your comments are welcomed. My e-mail is joe@autolove.com
Copyright © 2014 – An Automotive Love Affair.