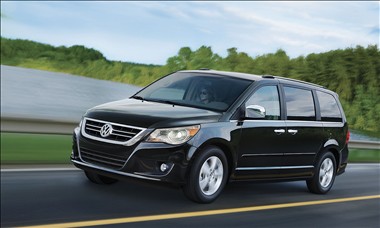 Overview:
This week we're looking at the 2011 Volkswagen Routan SE w/RSE & Nav. In college and early marriage VW played a part of my transportation life, and you don't forget that easily nor should you, I suppose. Your firsts of anything tend to be remembered long and if it was a good experience it will be a pleasant memory. It has been good and I'm all in for VW because they have earned my trust over the years.
General Info:
82% of Parts are from the US and Canada including the Engine and Transmission. It is assembled in Windsor, Canada. Class is MiniVan. Cars from VW – CC, Eos, Golf, GTI, Jetta, Jetta Sportswagon, New Beetle, Passat, Passat Wagon, Routan, Tiguan, Touareg & Touareg Hybrid.
Opinion: 
This car has a theft deterrent system. Well I'm here to tell you it doesn't prevent a thief from entering your car and steeling all your stuff. Theft is a growing problem in the present failing economy in the US. I say present because I'm guessing it is more a problem today than it was say in the great depression where people were more self sufficient and self reliant and didn't lean on the government as much. People helped others, had morals that were faith based. Today however the past couple of generations have become dependent on government that is ever more secular. The "Culture of Corruption" that Michelle Malkin's book talks about is the result of the moral relativism that has emerged.
I had first hand I experience this past week when I was robbed. I'd be interested in your experiences and what you feel the reasons are.
Thieves do far more damage to victims personally than they do to the car, and in this case the VW Routan test vehicle. They simply shattered the passenger side front window and avoiding the alarm system reached into the car and shattered a small part of my life… in the form of my day timer, my $2,000 Nikon photo shoot camera, my $1,000 iPad and so much more. It is heart breaking and life disrupting to say the least.
I reflected on the fact that out of every bad thing comes some good. It occurred to me there were four copies of Calista Gingrich's  children's book "Sweet Land of Liberty". I had just purchased four copies for my grandchildren. The good? – it is possible the thieves children will read about America's religious heritage that they would never learn in our public schools. They may even learn something about values for their life.
Security systems: Since we've lost our moral compass in today's world friend Richard and his wife discussed the failure of alarms on our cars. They suggested it would be better if the alarm sent an alert to your cell phone if someone is messing with your car? It would give you a chance to confront the bad guys – or not.
Handling & Performance:
Powerful and perfect size for a 7 seater that is easy to maneuver with a solid ride. Everything feels good but does have a fair amount of road noise.
Styling:
Very nice looking minivan, that I see more as a crossover from the very popular small SUV.
Fit and Finish:
Excellent.
Cost:
Not cheap, but competitive in class for noted features.
Conveniences and comfort:
The electronics are not as user friendly, which is typical of European cars, especially German built. I judge that on – can I set up every control in under 5 minutes. If I can't, I'm not a happy camper. I do this every week on a different car, so I like quick. By contrast, Japanese cars are far more user friendly. Other than that this is a very comfortable and overall a wonderful car. I would buy one and just have some pre-teen help me set up all the electronics.  Another nice feature is the power sliding side doors and rear lift gate.
Consumer Recommendation:
I don't need to trim down the field of competitors for you since this is such a small number you will want to test drive all of those listed in this class.
Recognized Competition:
Volkswagen Routan SE with Nav $35,000, Chrysler Town & Country $33,000, Dodge Grand Carivan $31,000, Honda Odyssey $37,000, Kia Sedona $29,000, Nissan Quest $31,000, Toyota Sienna $32,000.
Good News:
 Powerful, comfortable, fair fuel economy for a van that seats 7.
Bad News:
Road noise that was unexpected, more complicated user interface of electronic components.
Standard Equipment:
3.6 liter 283 horsepower V6 engine, 6-speed auto transmission, 17" Alloy wheels, 4-wheel anti lock disc brakes, stability and traction control, power windows, locks & mirrors, power sliding doors, tilt and telescoping steering wheel, climate control with separate driver /front passenger controls, audio with CD/DVD, second row sound controls & accessories, Navigation system, trip computer, tire pressure monitor, adjustable foot pedals, tilt steering wheel with mounted controls, cruise controls, leatherette, 8-way driver power seat, heated front seats, second row folding and removable seats, third row removable seats, load bearing exterior rack, seating for 7, front, side and side curtain airbags, LATCH system, theft deterrent system, touch screen Navigation system with SIRIUS, hard disc, Bluetooth and backup camera.
Gas Stats:
$3.67/ Gal avg. October 11, 2011
for more information.
17 City and 25 Highway MPG
Pricing:
MSRP $34,750.
Your comments are welcomed. My e-mail is joe@autolove.com
Copyright © 2014 – An Automotive Love Affair.