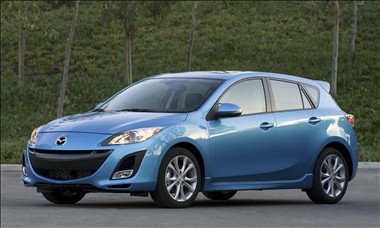 Overview: 
This week we're looking at the 2011 Mazda 3 Grand Tourning. I could have used the added space on my recent road trip in the Mazda 2, although it was fine for two. That speaks to need, right? Common sense will tell you what size car you will need if you think ahead a bit. Son Mike texted me from Utah – "It's a boy". Number 5 for them and I can only say I'm glad they didn't begin their family any earlier. Even so wife Lindsey is only in her mid thirties and could pump out a few more over the next 5 years. I guess they won't need seating for more than 7 for a while so the big SUV they have is just fine.
General Info: 
0% of Parts are from the US and Canadian; 99% come from Japan including the Engine & Transmission. It is assembled in Hiroshima, Japan. Class is Compact. Cars from Mazda – CX-7, CX-9, Mazda 2,3,5 & 6, MAZDASPEED3, MX-5 Miata, RX-8, Tribute, Tribute Hybrid & Truck..
Opinion:
My Opthomologist knows that I review cars so she asked my advice. "My daughter is a senior in high school and I'm most interested in getting her the safest car possible when she goes to college next year". How about this brand or that she asks?
Honestly it is not the brand so much as knowing your daughters level of responsibility and where they will be commuting. So we discussed the real important and latest features available in today's world of automotive technology. Generally that means you need to move up a notch in class and therefore price to buy and operate. But no matter what the brand, I suggest you pick a car that includes Dynamic Braking Control, Vehicle Stability Control and sensors to detect cars in your blind spots.
You will also have to consider if she is even ready for a car, or does she need one where she's going to college.
Youthful inexperience can be dangerous and taking corners way too fast is a common mistake. That's where the smart braking system comes in handy as it will automatically correct for 'stupid'. Oh, that's right, at that age they already know everything, you say.
At the end of our discussion the Doc says her daughter is looking at NYU and in New York a car is a handicap rather than a help, so you're off the hook. There are no places to park, and if you do find a place to park it is like paying rent on a brownstone walk up.
Handling & Performance:
Excellent handling as I found on the Crest Test. Angeles Crest Highway is now opened up here in the San Gabriel Mountain Range area of California so I was able to give this Mazda 3 a chance to show its cornering characteristics. It was really quite capable in 'class'. However the Laguna Seca racing decals didn't make any difference that I could tell. The 167 horsepower inline 4 cylinder engine is lively and the 6-speed manual transmission is well geared.
Styling:
It is sporty and youthful in the style of today's look.
Fit and Finish:
Good.
Cost:
I'm so impressed with the value there is in today's cars in this class with an average price of about $20,000.
Conveniences and comfort:
The real comfort you will feel comes from those neat safety features like 'blind spot' sensors that is a part of this Mazda 3. When you signal to move to another lane the car system beeps to alert you of a car that is already in that lane even though you can't see in your rearview mirror.
Recognized Competition:
Mazda 3 $23,000, Audi A3 $27,000, Chevrolet Cobalt $18,000, Chevrolet Cruze $17,000, Chevrolet HHR $19,000, Dodge Caliber $17,000, Ford Focus $17,000, Honda Civic $16,000, Honda Civic Hybrid $24,000, Honda CR-Z $19,000, Hyundai Elantra $16,000, Hyundai Elantra Tourning $16,000, Kia Forte $15,000, Kia Forte Koup $17,000, MINI Clubman $25,000, MINI Cooper $23,000, MINI Countryman $25,000, Mitsubishi Lancer $15,000, Mitsubishi Lancer Evolution $34,000, Mitsubishi Lancer Sportback $17,000, Nissan Sentra $16,000, Scion tC $18,000, Subaru Impreza $18,000, Suzuki SX4 Crossover $16,000, Suzuki SX4 Sport $16,000, Toyota Corolla $16,000, Toyota Matrix $21,000, Volkswagen Golf $20,000, Volkswagen GTI $24,000, Volkswagen New Beetle $20,000, Volvo S30 $25,000, Volvo S40 $28,000.
Good News:
Comfortable, sporty, fast and fun to drive and great safety features.
Bad News:
Only fair fuel economy.
Standard Equipment:
2.5 liter 167 horsepower 4-cylinder engine, 6-speed manual transmission, front wheel drive, 4-wheel power ABS disc brakes, stability control, traction control, dual remote power mirrors, air conditioning, audio with CD changer, remote keyless entry, power windows & auto door locks, leather seating for 5 – power driver, second row folding seat, tilt leather steering wheel with controls and telescoping column, trip computer, cruise control, LATCH Anchor system & child safety door locks, power sunroof, front and side airbags, tire pressure monitor, .
Gas Stats:
$3.89/ Gal avg. September 11, 2011
for more information.
22 City and 29 Highway MPG
Pricing:
MSRP $23,010.
Your comments are welcomed. My e-mail is joe@autolove.com
Copyright © 2011 – An Automotive Love Affair
Your comments are welcomed. My e-mail is joe@autolove.com
Copyright © 2014 – An Automotive Love Affair.