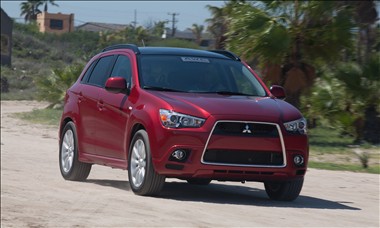 Overview:
This week we're looking at the 2012 Mitsubishi Outlander Sport SE 2WD. It's a new compact 5-passenger crossover that joins the lineup from 2011. It is based on the same platform as the Outlander and the Outlander Sport is more than a foot shorter than the Outlander which has grown enough to offer 7-passenger seating. The 'Sport' model features a new exterior design that includes Mitsubishi's jet fighter front fascia from the Lancer Evolution.
If you've seen the movie "Outlander", this is better than the movie… in fact, Outlander Sport gets thumbs up from US News & World Report, Road and Track, Auto Trader.com, Uptown Magazine, Autoblog and Motor Trend. That doesn't always impress me but since their take is similar to mine I guess they got this one right.
General Information: 
Parts from the US / Canada 4%, Japan 94%. It is assembled in Okazaki, Japan;  Classification is Special Purpose Vehicle. Cars from Mitsubishi Eclipse, Endeavor, Galant, Lancer, Lancer Evolution, Lancer Sportback, Outlander, Outlander Sport.
Opinion:
In the past I have expressed my opinion on how unions are hurting the American Auto industry. Well, I've had mail from folks who agree and others (I assume are union members) were angry to hear my views. Now the NLRB (National Labor Relations Board) has been further emboldened by the present White House and Union Organizing has been raising their ugly head yet again in thanks for government support. In turn you gotta know the money will flow into the Democrat re-election coffers.
My family heritage is Sicilian as far back as I know and it is historically clear both the Mafia and Unions (founded by the same thugs) have and continue to constitute organized crime in America. Sicilian society has to accept the Mafia as a way of life there on that island but American's don't have to accept Union Organizer thugs.
Unions have had a strangle hold on American auto makers for decades and have burdened them with drastic differences in labor cost that is nearly double non-union competitors. US workers cost $78 per hour versus $45 per hour for cars built by Japan and Korea even if the car is physically assembled in the US.
More recently unions have done great harm by NLRB interference in Boeing's attempt to move some of their operations to the right to work state of South Carolina. The NLRB won, and America lost. History tells us unions have outlived their usefulness, if indeed they ever were useful. I have spoken with South Carolina officials who are actively inviting companies in California and I expect other states to move their companies there.
Currently American Airlines' failure is surely in part caused by unions. Not so long ago Daimler (maker of Mercedes Benz) in fact moved its Freightliner truck manufacturing division operations  from Portland Oregon to South Carolina and the physical manufacturing was moved to Mexico. That was in response to union presence in Oregon. This is first hand knowledge and not just my opinion. In fact Freightliner's move was before Obama empowered the NLRB to do even more to force the union on more US companies. Shameful Mr. President.
Unions are ruining America and it is time to put a stop to the cancer and get government and strong arm regulations out of US business. It is time to send the Mafia and the Unions back to Sicily. Sorry cousins but that's the truth.
It is now American voters who will have to throw the union out with our politician's and their expensive Roman Baths.
And yes, I'd be interested in other opinions and views… except for B and A's since I already know their union position.
Handling & Performance:
Nice handling and good fuel economy and fair power all things considered.
Styling:
There is a very difference in the styling from the Japanese and Korean models versus the US made Chevy, Ford and Jeep offerings. I lean to the American made designs so this is a personal thing. All the foreign models look very much alike.
Fit and Finish:
Good.
Cost:
Well priced considering the wide array of standard features.
Conveniences and comfort:
Many consider paddle shifters worth the price but to me it's a total waste of time and money. Another feature I find unreliable is the tire pressure monitor and if it's free I would still consider including it. 4-wheel ABS disc brakes with electronic brake force distribution and stability control are worthwhile features.
Consumer Recommendation:
This is a tough field of competitors and if this is your price range you get a lot for the money for a great family SUV dominated by the Japanese. I surely would include the American made offerings. At the same price I was impressed with the Ford Escape. I would definitely include the three American models along with some of the others in your test drives.
Recognized Competition:
Mitsubishi Outlander Sport $21,000, Chevrolet Equinox $24,000, Dodge Caliber $17,000, Ford Escape $21,000, Honda CR-V $22,000, Hyundai Tucson $18,000, Jeep Patriot $16,000, Kia Sportage $18,000, Mazda CX-7 $22,000, Mazda Tribute $20,000, Nissan Rogue $22,000, Subaru Forester $21,000, Suzuki SX4 Crossover $17,000, Toyota RAV4 $22,000.
Good News:
Good fuel economy, wide array of standard features including high tech safety features.
Bad News:
Only fair and some would consider marginal power.
Standard Equipment:
2.0 liter 4-cylinder 148 horsepower engine, continuous variable automatic transmission, one-touch start / stop switch, 'fast key entry', 18" allow wheels, paddle shifters, color multi information display, economy indicator, front, side and side curtain airbags and driver knee airbag, stability control, tire pressure monitor, Latch system for child seats, anti-theft  alarm system, engine immobilizer, hill start assist, 4-wheel ABS disc brakes with electronic brake force distribution, power steering, climate control with micron filter, heated mirrors, AM/FM CD MP3 head unit with 6 speakers, power door & tail gate locks, power windows & mirrors, auto headlights, rain sensing wipers, steering wheel cruise and audio controls, telescopic steering column, leather wrapped wheel and shift knb, keyless entry, variable intermittent wipers, 60/40 split fold down rear seats, 12V outlets, side turn indicators and fog lights.
Gas Stats:
$3.67/ Gal avg. February 4, 2012
for more information.
25 City and 31 Highway MPG
Pricing:
MSRP $21,000.
Your comments are welcomed. My e-mail is joe@autolove.com
Copyright © 2012 – An Automotive Love Affair
Your comments are welcomed. My e-mail is joe@autolove.com
Copyright © 2014 – An Automotive Love Affair.