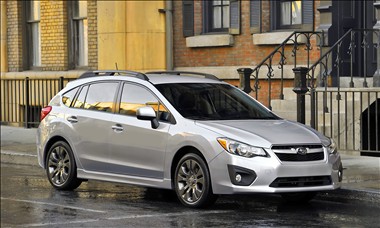 Overview:
This week we're looking at the 2012 Subaru Impreza 2.0 I Premium 5 Door small wagon.
Subaru says that Impreza is redesigned, with all-new 4- and 5-door trims and a new, more efficient power train offering a 30 percent increase in fuel economy over the previous model. It is powered by a new 2.0-liter 148-horsepower boxer engine, and comes with a choice of a 5-speed manual transmission or an enhanced, upgraded Lineartronic continuously variable transmission. A more aggressive new design draws focus to the Impreza's AWD heritage with powerful arches, a longer wheelbase and redesigned door and roof trim and front seats yields gains in passenger and cargo room. Interior upgrades include roomier cabins, higher-quality, soft-touch interior materials and the latest infotainment and connectivity technology, including Bluetooth, audio streaming, iPod capability and six speakers; a new navigation system is available for Premium trims.
Nice words but in truth it is pretty much as I saw it. What's most impressive to me is the fuel economy in a car that is affordable all at the same time. Ok, so it is a fairly compact car in the sedan or small wagon that I tested. And for a small car it is truly roomy for average folks. For the 'big' people it is a little cramped and not suggested.
General Information:
Parts from the US/ Canadian 0%, Japan 100%; Engine & Transmission – Japan. It is assembled in Japan, Classification is Small Wagon. Cars from Subaru:  Forester,Impreza, Impreza WRX, Legacy, Outback & Tribeca.
Opinion:
Here is an echo of a prior opinion about the cost of driving is going up thanks to the CHP enforcing California legislation pointed at raising revenue for a corrupt government hunger for cash to perpetuate a level of government services we can little afford.
But the important thing to remind you of is that you too can be a victim of government hunger for more so they can waste more. Friend Richard reminds me that "the thirst when the well is fullest is the thirst that is unquenchable". The actual quote is "Is not dread of thirst when your well is full, the thirst that is unquenchable?"
―Kahlil Gibran, Lebanese American artist, poet & author of The Prophet
Either way / either version the truth of the matter is that you too may have noticed in the past week a dramatic increase in our fellow travelers pulled over by the CHP. They are hell bent of separating you from the little money you have. . . to put a hurt on you. That my friend is how they "Protect and Serve". What a crock that is.
So – be on your guard and don't be a victim. The bad guys are out in force. Don't give them a target. Slow down and starve the monster government we have in place in today's world.
Handling & Performance:
VDC (Vehicle Dynamic Control) is composed of 2 main systems used with full time 4 wheel drives. VDC is traction control that senses vehicle direction and uses brake, throttle and engine management to help maintain stability. When the wheels are spinning without traction or the vehicle is not going in the direction it is being steered, the VDC system kicks in. Direction: uses brakes to slow down wheels to reduce spin and help control vehicle direction. Skidding: yaw and steering wheel sensors use brakes to slow down spinning wheels and re-direct power to the wheel(s) with the best traction to re-gain control. Engine power: use engine output to slow spinning by reducing spark to cylinders to cut back power and help re-gain control.
Another successful refinement to antilock braking systems has been electronic brake force distribution, or EBD. It is based on the principle that not every wheel needs to put forth the same effort into bringing the car to a stop.
EBD is based on the principle that the weight being supported by the wheels of your car isn't evenly distributed. Some wheels carry a heavier load than others and will require more brake force in order to bring the car to a stop without it going out of control. The amount of weight being supported by a wheel shifts during the braking process, so the amount of force necessary at each wheel can change rapidly. An EBD system detects how much weight is being supported by each wheel, and then changes the amount of braking power sent to each wheel on an instant-by-instant basis.
Styling:
Design definitely uses sharp edges and it seems to work for the Impreza. It is not my favorite style technique because it almost stands out too much.
Fit and Finish:
Good.
Cost:
As expected and the entire segment gives absolutely more value for your hard earned dollar.
Conveniences and comfort:
Perhaps one of the most useful features of modern cars is the simple brake release delay referred to as "Hill Start". This feature is most useful in cars with manual transmissions. When you are ready to start and remove your foot from the brake pedal the brake stays engaged for a brief few seconds giving you the chance to release the clutch as you apply the gas without rolling backwards. Nice.
Consumer Recommendation:
This is a well priced segment of the market and most are closely aligned. Observe the list of features and pay most attention to the safety features such as stability control and dynamic braking. These are particularly important when you have young drivers who will be using the car. Such technology will do much to keep inexperienced drivers out of trouble – accident free.
Recognized Competition:
Subaru Impreza $19,000, Toyota Corolla $16,000, Volkswagen Golf $18,000, Hyundai Elantra Tourning $16,000, Scion tC $19,000, Volkswagen Beetle $22 ,000: Audi S4 $47,000, Chevrolet Cruze $17,000, Hyundai Elantra $15,000, Kia Forte $20,000, Mazda 3 $23,000, Nissan Sentra $18,000, Chevrolet HHR $19,000, Kia Forte Koup $19,000, Ford Focus $21,000, Honda Civic $16,000, Honda Fit $15,000, Volkswagen GTI $24,000, Mitsubishi Lancer $16,000, Toyota Matrix $19,000, Volvo C30 $25,000.
Good News:
Very good fuel economy, important new safety controls.
Bad News:
Only fair interior space.
Standard Equipment:
2.0 liter 148 horsepower horizontally opposed 4-cylinder engine, 5-speed manual transmission, 4-wheel independent suspension, 16" aluminum wheels, all wheel drive, dynamic control or as some call it, Stability Control, front side and side curtain airbags with driver knee airbag, 4-wheel ABS (anti-locking) power disc brakes with brake force distribution, tire pressure monitor, anti-theft alarm & engine immobilizer, daytime running lights, air conditioning, audio system with auxiliary input, steering wheel controls, Bluetooth hands free phone, USB port for iPod connectivity, cruise control, tile/telescopic column, power windows / locks, power mirrors, remote keyless entry, 60/40 split fold down rear seat and trip computer.
Gas Stats:
$4.15/ Gal avg. March 30, 2012
for more information.
25 City and 33 Highway MPG
Pricing:
MSRP $19,295.
Your comments are welcomed. My e-mail is joe@autolove.com
Copyright © 2012 – An Automotive Love Affair
Your comments are welcomed. My e-mail is joe@autolove.com
Copyright © 2014 – An Automotive Love Affair.