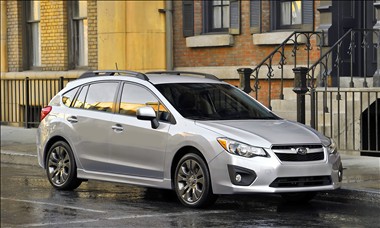 Overview: 
This week we're looking at the 2012 Subaru Impreza 5-Door: Less is More – Driven By Jim Powell- Auto Journalist. This guest column is from a colleague of many years and he writes a column for the Mojave Daily News in the Antelope Valley, CA. Herewith is Jim's review of the Impreza from Subaru.
Everyone seems to know the brand names of WRX or STI but few seem to know what a Subaru Impreza even looks like. Even my family in the Pacific Northwest, where every other car and SUV is a Subaru, did not recognize that Subaru made a compact car and 5-door wagon/hatchback in addition to a Forester and Outback. This might be because the previous Impreza without the performance WRX equipment was more expensive and less fuel efficient than a Toyota Corolla, Honda Civic, or Nissan Sentra. In Europe, the Impreza has been sold as an upscale compact and priced out of the mainstream compact market.
Handling & Performance:
Let us get this straight. The size of the 2012 engine got smaller. Horsepower and torque has been reduced in the non-turbo Impreza engine. And the car got larger? Well, good for Subaru for building a lighter engine, vehicle, and stronger platform using high-strength steel for the same amount of money. $17,495 is the starting MSRP for the 2012 Impreza sedan which matches the outgoing model. Yet the 2012 Impreza gets improvements in mileage with an EPA estimated 27 mpg city and 36 mpg highway.  According to Subaru, these changes make the 2012 Impreza the most fuel efficient all-wheel drive car in America.
Having driven the 5-door Impreza recently, I was impressed with the quiet and smooth operation of the new engine and the total package (CVT sedan starts at $18,495). Acceleration from the 2.0 liter flat Boxer four-cylinder engine with148 horsepower was fairly strong and the mid-range power curve makes the car more drivable on 2-lane highways where many Subaru's tend to live. Passing trucks in this lighter car feels more comfortable and high winds don't seem to bother the Impreza's handling either.
The new 2.0-liter Boxer engine is actually the same size displacement as an earlier Subaru engine but is really a whole new animal. They have lengthened the piston stroke for more mid-range grunt. The new double overhead camshafts have been modified for better engine intake and exhaust breathing at idle and under a load. There is now a Dual Active Valve Control System (DAVCS) for more efficient torque distribution. So the goal is not a dragster engine or a quick torque peak WRX engine but rather a stronger mid-range power curve for everyday driving.
The 5-speed manual transmission in the 2012 Impreza is noticeably smoother and the shifting gates are more aligned and less clunky. The stick shift transmission has been Subaru's Achilles heel in recent years but this gearbox has been improved for 2012. However, for the higher mileage, consumers should choose the second-generation Constant-Variable Transmission (CVT) that provides infinite gear of ratios.
Having lived with this belt-driven transfer of power in Nissans for years, Subaru has made their CVT quicker to response when starting up from a stop and quicker to adjust when passing power is demanded. Either transmission will do the job but the CVT is less to think about and features a 6-speed manual mode with steering wheel paddle shifters, which allows the driver to control the transmission via six pre-set ratios. A remember, it gets 2-5 mpg better mileage.
There are two different versions of standard Symmetrical AWD and average street driving will not reveal which one is which. The Impreza models with the 5-speed manual transmission feature a "Continuous AWD" with a viscous coupling locking center differential that simply and efficiently splits the power between the front to rear (50:50). The Lineartronic® CVT models use what Subaru calls "Active AWD." This system electronically manages a continuously variable transfer clutch that splits wheel torque based on a variety of speed and engine demands. During acceleration, deceleration, and wheel slip, the computer determines the power ratio front to rear and back again for the best traction on wet and dry surfaces.
The longer wheelbase(104.1 inches) has given both Impreza models a larger backseat and the 5-door a very usable cargo compartment (Rear seats up/down: 22.5 cu. ft./52.4 cu. ft.). Little things like a hatch that opens high enough to not decapitate tall people, doors the seal well enough to keep out wind noise, and controls that are easy to understand, are what makes a Subaru a Subaru.  Now the windshield is more raked than in the previous Impreza, with the bottom of the A-pillar moved 7.9 inches forward, allowing for a front door opening nearly five inches longer for easier entry/exit.
Styling:
Higher hip points and a lower, flatter instrument panel, along with larger side mirrors, contribute to better visibility all around the driver. The backseat is larger and the headroom is slightly increased but the rear doors could be lengthened to make ingress and egress easier. Like so many other car companies, there is an assumption that more than 2 people will not be coming along for the ride. The rear compartment in the hatchback is symmetrical with good storage on the sides but it is not very well finished.
Cost:
The 2012 Impreza is offered in 2.0i Premium, Sport Premium and Limited models – the Limited a new addition for this year. The 5-door Premium hatchback starts at $19,295 and includes many standard amenities like air conditioning, cruise control, trip computer, and keyless central locks. For the 2.0i Limited, prices start at $21,595 for the 4-door and $22,095 for the 5-door version. Finally, the Impreza 2.0i Sport Premium starts at $20,295 and is only offered in the 5-door body style.
There are also some Legacy/Outback features like the All-Weather Package, body-color rocker panels, fog lights, roof rails, and upgraded fabric upholstery. The Sport Limited and Premium gets the optional navigation system and power moon roof. Even with all the goodies, the Impreza can stay under $25,000 which is less money than a fully loaded Civic or Corolla Matrix. The standard audio system in the Premium models features Bluetooth® hands-free phone connectivity and audio streaming, Radio Data Broadcast System (RDBS), iPod® control capability, USB port, 3.5mm aux. input jack and six speakers.
A short-coming in all Subaru models has been the navigation system. Fortunately, there is a new navigation system which includes a 6.1 inch touch screen LCD display. Even though the buttons are still too small, the voice controls are improved and features like iTunes® tagging, SMS text messaging, and a larger database make this system sing a better tune.
Consumer Recommendation:
While some criticize the lack of "flash" in the new Impreza, I think they have developed a real-world sedan and 5-door hatchback wagon that is perfect for today's economy. Proven in sales of cars like the new VW Jetta and Hyundai Elantra, people are looking for more substance, more economy and a little less sport. Excellent standard safety features and airbags everywhere protect all 5 passengers. Mileage is up and so is the drivability of this car. In this case, Subaru has proven that less really can be more.
Recognized Competition:
Subaru Impreza 5-door $18,000, Audi S4 $47,000, Chevrolet Cruze $17,000, Chevrolet HHR $19,000, Ford Focus $17,000, Honda Civic $16,000, Honda Fit $15,000, Hyundai Elantra $16,000, Kia Forte $15,000, Mazda 3 $15,000, Mitsubishi Lancer $15,000, Nissan Sentra $16,000, Scion tC $19,000, Toyota Corolla $16,000, Toyota Matrix $19,000, Volkswagen GTI $24,000, Volvo C30 $25,000.
Gas Stats:
$3.54/ Gal avg. January 2, 2012
for more information.
25 City and 34 Highway MPG
Your comments are welcomed. My e-mail is joe@autolove.com
Copyright © 2012 – An Automotive Love Affair
Your comments are welcomed. My e-mail is joe@autolove.com
Copyright © 2014 – An Automotive Love Affair.