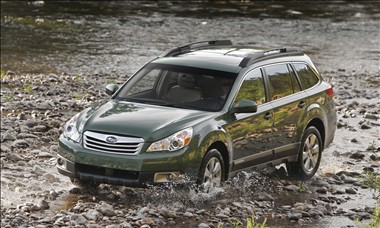 Overview:
This week we're looking at the 2012 Subaru Outback 2.5i Premium AWD SUV.
The 2012 continues with minor changes after the Outback was redesigned for 2010, with a new standard audio system for all Premium trims, which includes AM/FM stereo, single-disc CD player with Bluetooth hands-free phone connectivity and audio streaming, iPod capability and USB port. A new Harman Kardon display-type audio system is optional for the Premium trims. A new Alloy Wheel Package for 2.5i includes 17-inch alloy wheels and fog lights.
General Information:
Parts from the US/ Canadian 40%, Japan 35%; Engine & Transmission – Japan. It is assembled in Lafayette, Indiana, USA, Classification is SUV AWD. Cars from Subaru: Forester, Impreza, Impreza WRX, Legacy, Outback & Tribeca.
Opinion:
Driving requires attention to just that – DRIVING -. It doesn't include sight-seeing, sleeping or TEXTING. Sorry, I didn't mean to yell, but if the police REALLY do a service to all those sharing the highways and byways they should watch more closely for dangerous use of our cell phones. They seem to be motivated only by 'campaigns', like April of 2011 was Cell Phone Awareness month. So every other month it is ok to break the law?
The first fine for illegal use of a cell phone is just under $200… but the second offence will cost you about $450. I have no problem with that law any more than the enforcement of radical, unsafe or drunk driving or excessive speed.
Well I just observed a young woman in the #1 (fast) lane speeding up, slowing down, speeding up and slowing down over and over for miles. So I pulled along side of her to find the answer to the erratic behavior. She was texting.
Handling & Performance:
This is a perfect size for the average family for a great run about, around town, easy to park SUV. It's also good on the highway. AWD is standard on all Subaru's so it adds to handling characteristics as well as providing another degree of safety. It is 170 horsepower powerful. Nice.
Styling:
Smooth lines, which is more to my liking, than a lot of products out there. How about you? Or do you like the edgy and busy lines. Inside the wood accents give an elegant touch to an otherwise plain Jane look. Plain in a woman is my preference since you can't really improve on perfection, but the embellishment in a car does actually add to the beauty.
Fit and Finish:
Good fit and elegant finishing touches.
Cost:
Really good and number one, in my opinion, in this class.
Conveniences and comfort:
Good standard features and overall comfort is very good. Bluetooth was easy to set up which isn't always the case with many of the test vehicles I drive. After getting nailed for not using hands free I'm more aware of the need to use it every time I get into the vehicle.
Consumer Recommendation:
The Outback price point is the best of the bunch as only the more expensive brands are 4WD or AWD. This is at the top of my list in this class. The field is small and when you determine what you are willing to pay for your new car it is even more manageable as you can limit the number you will want to test drive.
Recognized Competition:
Subaru Outback $25,000, Dodge Journey $26,000, Honda Crosstour $34,000, Acura TSX Sport Wagon $31,000, BMW 3 Series Sports Wagon $40,000, Cadillac CTS Sport Wagon $41,000: Land Rover Range Rover $79,000, Mazda CX-7 $34,000, Mitsubishi Lancer Sportback $21,000, Saab 9-3 Sport Combi $30,000, Toyota Venza $29,000, Volkswagen Jetta SportWagen $20,000, Volvo V50 $29,000,.
Good News:
Decent fuel economy for AWD SUV, best price in class for what you get.
Bad News:
None noted.
Standard Equipment:
2.5 liter 170 horsepower horizontally opposed 4-cylinder engine, 6-speed manual transmission, 17" alloy wheels, all wheel drive, dynamic control or as some call it, Stability Control, front side and side curtain airbags, 4-wheel ABS (anti-locking) power disc brakes, tire pressure monitor, anti-theft alarm & engine immobilizer, rollover sensor, independent raised suspension, Roof rails, privacy glass, air conditioning, audio system with CD player, Bluetooth hands free phone, 10-way power adjustable driver seat, cruise control, electronic parking brake, Leather wrapped steering wheel, tilt/telescopic column, power windows / locks, power mirrors, remote keyless entry and 60/40 split fold down reclining rear seat.
Gas Stats:
$4.13/ Gal avg. April 9, 2012
for more information.
22 City and 29 Highway MPG
Pricing:
MSRP $25,095
Your comments are welcomed. My e-mail is joe@autolove.com
Copyright © 2014 – An Automotive Love Affair.