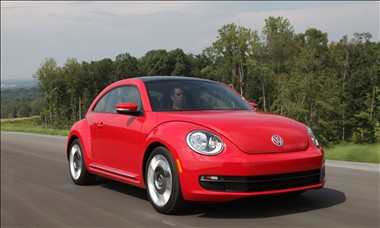 [wpsgallery]
Overview: 
This week we're looking at the 2012 Volkswagen Beetle 2.5 L. VW is Europe's largest automaker and as you may know it is responsible for Audi, Bentley, Bugatti, Lamborghini and VW cars. The Beetle only looks small and at about 3,000 pounds it is a solid automobile.
Perhaps the most interesting note about testing this car is that several people approached me to ask about it. A few parents told me their daughter wants one when she starts driving.
Since VW America landed in the US in 1955 it became the most talked about and sought after little car. And I'm sure that many like me were able to have inexpensive transportation to get them through school. In 1968 the movie 'The Love Bug'   "Herbie" became a household word.
No matter the reasons it has drawn a passionate and almost 'cult' following in spite of the fact it was Hitler's baby. It was originally simply named Volkswagen which means "the Peoples Car". It had many other names here in America from the Bug, Beetle, V-Dub or even a Pregnant Roller Skate.
I suspect VW is the only good things that came out of World War II that has remained a stigma  on the German people even to this day. I used to work for a Jewish man who drove a Mercedes Benz and he used to say it was the German's legacy to the Jews. If that is the case, it is also fair to say that the Beetle was the German's gift to the common man. . . kinda like what Henry Ford did for the auto industry a few decades earlier with the Model A that virtually everyone could afford to own.
The 2012 Beetle offers two engines and transmissions: the 2.5 liter five cylinder engine mated to a six-speed automatic and the 2.0 liter TSI turbocharged four-cylinder engine with a six-speed dual clutch automatic. Also five and six-speed manual transmissions are available.
Handling & Performance:
Solid and a delight to drive. it's a big little car that is great to zip around town as well as heavy enough to feel safe on the highway and freeway speeds.
I had a friend while in college who'd tell the story of the earliest of V-Dubs that he encountered a very windy day going skiing where the wind actually picked up the car from one lane and dropped in the next. It is certain the early VW Bugs were very light but I always wondered how strong the wind was. As Richard says, "The story doesn't have to be true to be good".
Styling:
VW has stayed true to the original design and I believe that is the reason it has crossed generations and retained its popularity. In fact that crossover popularity was helped by the movie "The Love Bug" as future generations of drivers grew up having seen that movie.
The third-generation Beetle is longer, wider, and roomier than even the last car. The odd roofline and long dashboard are replaced by more conventional dimensions and proportions – a great improvement in my opinion. Nice job VW.
Fit and Finish:
Outstanding.
Cost:
My test vehicle was over $23,000 but the base price is $18,995. It is worth the price of admission.
Conveniences and comfort:
Well, I've owned 4 VW's including three Beetles and one Karmann Ghia in the 1960s. You got reliability and economy in the purchase price and operation, but nothing else. They didn't get much more basic than the original. But today's New Beetle is anything but basic. Great car around town, a great car for school driving age kids, but also great on the highway.
Consumer Recommendation:
German engineering from a company dedicated to excellence. I attended a press conference where the President of VW told us what the company's philosophy is and I'm all in.
About half of the cars they produce in Europe are 'clean diesel' and faced with $8.00 a gallon fuel you know efficiency is important. I might suggest you look into VW products with TDI (Turbo Diesel) power.
VW says 'Efficient TDI Clean Diesel Models Go on Sale in 2012, Expected to be the most Fuel-Efficient Beetle Ever'.
Recognized Competition:
Volkswagen Beetle $23,000, Chevrolet Cruze $21,000, Fiat 500 $18,000, Ford Focus $18,000, Honda Fit $18,000, Hyundai Veloster $17,000, Kia Forte Koup $18,000, Mazda 3 $19,000, MINI Cooper $23,000, Mitsubishi Lancer Evolution $34,000, Nissan Sentra $20,000, Subaru Impreza $19,000, Suzuki SX4 Crossover $16,000, Toyota Yaris $16,000.
Good News:
It's a VW that equals quality and reliability, great ride, fair fuel economy.
Bad News:
None noted.
Standard Equipment:
2.5 liter 170 horsepower, 6-speed automatic transmission front wheel drive, panoramic sunroof with power tilt and slide, leather wrapped muti-function steering wheel, keyless access and push button start, trip computer, Fender premium audio with touch screen and Sirius satellite, 18" alloy wheels, tire pressure monitor, air conditioning, cruise control, two power outlets, fog lights, power windows locks and mirrors, LATCH child seat anchors, manual 8-way adjustable front seats, front side and side curtain airbags, 50/50 split folding rear seat, 4-wheel ABS power disc brakes, speed sensitive power steering, anti-slip regulation, brake pressure distribution, stability control.
Gas Stats:
$4.25/ Gal avg. March 2, 2012
for more information.
20 City and 29 Highway MPG
Pricing:
MSRP $23,395.
Your comments are welcomed. My e-mail is joe@autolove.com
Copyright © 2012 – An Automotive Love Affair
Your comments are welcomed. My e-mail is joe@autolove.com
Copyright © 2014 – An Automotive Love Affair.