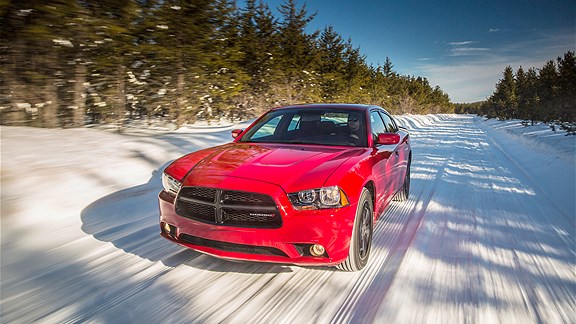 Overview:
This week I had the opportunity to test the 2014 Dodge Charger R/T Plus 100th Anniversary Edition. Fortunately I was able to give it a good test that revealed the strengths of this car that otherwise would not have been as obvious tooling around town alone. I was invited on assignment to the United We Stand conference with Sarah Palin and one for my most favorite people in the world, Dinesh D'Souza who's books and Documentaries of 2016 and America (Imagine the world without her). They are the most watched documentaries ever. The bad news is that the IRS dogs were sic'd on Mr. D'Souza for exposing some myths about current and past events. I guess that's what you refer to as Politically IN-Correct speech. The administration want to throw him into prison. Wow, what is happening to our first amendment right to free speech?
So back to the trip to Phoenix Arizona and the wide open road. What a delight as a highway car. Smooth and robust is just the beginning of the experience that answered my uncertainty of this Chrysler product. Was it just a Muscle Car? But it passed with flying colors. Friend Richard was reluctant to make the journey but he became a convert too. This is a car worth your consideration too.
General Information:
Parts from the US / Canada 62%; Mexico 15%. It is assembled in Brampton, Ontario, Canada USA, Classification is Midsize. Cars from Dodge: Avenger, Challenger, Charger, Dart, Durango, Grand Caravan, Journey and SRT Viper.
Handling & Performance:
370 horsepower these days is getting rarer especially with the cost of fuel. But it was impressive here too at 25 highway MPG. Thus when you have a need for acceleration it is there right under your foot. It was stable yet a soft and super quiet ride at the same time. Steering was sure and the feel was perfect which translates into a less stressful driving experience. I have a Ford F350 crew cab and long bed truck and I have to say the steering is a disappointment and tiring on the nerves in that Ford.
This was a rear wheel drive model and although you can opt for AWD all-wheel drive I have no problem with the performance afforded with traditional RWD cars. I rather like that "Old Feeling". Yes, it did break away a few times and it brought back memories.
Styling:
Simply beautiful. Great job and kudos to the design team at Chrysler.
Fit and Finish:
Excellent. Richard commented on the great looking dash and in general the assembly was pretty near flawless.
Cost:
$30 grand is pretty fitting and I take no exception on the pricing.
Conveniences and comfort:
All the appropriate bells and whistles and more new stuff. The seating was good for me with well-padded leather seats and on a long driver that is super important. The Bluetooth was simple to set up and clear as a bell communication.
One feature I thought unnecessary is the Remote Start but Phoenix was 107 degrees and it was nice to turn on the car from the air conditioned house so the car would be cool when we got in. Cool… literally.
An interesting addition to some cars is the Ready Alert Braking system. It anticipates a possible emergency stop when the gas pedal is release quickly so the braking system is alerted and the control pump engages to set brake pads against the rotors in order to decrease the time required for full brake application. What will they think of next? I'm glad you asked. They have added Rain Brake Support that is a system to apply a small amount of brake pressure to remove any water buildup on the front brake rotors when the windshield wipers are on. Is that interesting or what?
Consumer Recommendation:
100th anniversary is impressive. These guys have been around at least twice as long as most competitors and senior citizens can appreciate that fact … that is if you are 100 or more. I'm not there yet but I have always had a love affair with the automobile, so it was love at first sight for this Candy Apple Red beauty. The company calls it High Octane Red Pearl Coat Exterior paint. Whatever they call it, it is still Candy Apple Red to me. When a car brightens your day or week in my case you get attached. You are surely going to fall in love with this car too.
There is a lot of competition in this class because it is so popular but you will want to test drive the Charger R/T.
Recognized Competition:
Dodge Charger R/T $30,000, Acura TSX $31,000, Audi $30,000, BMW 3-Series $33,000, Buick LaCrosse $34,000, Cadillac ATS $33,000, Chevrolet Camaro $29,000, Chrysler 300 $31,000, Honda Accord EX-L $30,000, Hyundai Azera Ltd $35,000, Kia Optima SX $28,000, Mazda 6 $25,000, Mercedes Benz CLA $30,000, Mitsubishi Lancer EVO $35,000, Nissan Maxima $31,000, Subaru Legacy 3.6R Ltd $33,000, VW Jetta $27,000, Volvo S60 $33,000.
Good News:
Classic Muscle car performance coupled with decent fuel economy, well appointed and very pretty.
Bad News:
Dick said the reclining seat was uncomfortable. Picky picky picky.
Standard Equipment:
5.7 liter 370 HP V8 HEMI VVT engine, 5-speed automatic trans, front side and side curtain front and back airbags, 4-wheel ABS performance disc brakes, stability and traction control, hill start assist, rain brake support, ready alert braking, performance suspension, tire pressure monitor, information center, keyless enter and go push button start / stop, remote start system, climate control dual zone, 8-way driver power seat, 4-way passenger power seat, heated front seats, rear 60/40 split folding seat, rear armrest with cup holder, Uconnect 8.4 CD/DVD/MP3 touch screen display, audio jack input for mobile devices, remote USB port, 6-premium speakers, Sirius XM satellite radio, leather wrapped steering wheels and shift knob, tilt and telescope steering column, 18" polished aluminum wheels and auto headlights.
Gas Stats:
$3.65 / Gal avg. September 14, 2014
www.fueleconomy.gov
For more information.
15 City and 25 Highway MPG
Pricing:
MSRP $30,495.
Your comments are welcomed. My e-mail is joe@autolove.com
Copyright © 2014 – An Automotive Love Affair.