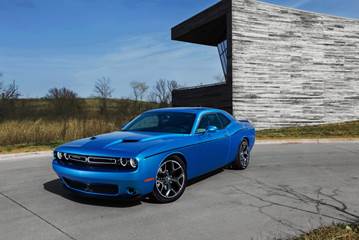 Overview:
This week we're looking at the 2015 Dodge Challenger SXT. This is a car that draws attention and that is a testimony to this retro era category of muscle car. We knew back in the 50s and 60s which cars were special in design and would be destined to be sought after in the future.
Retro cars or what is referred to as classic or vintage cars are just that – car designs that have stood the test of time. Today's test car looks the same as it did in 1968. People who grew up with the car revere it for nostalgia but those born after 1968 like the design for the same reasons folks liked it over 40 years ago. It is just as good looking today to our youth as it was to us back then. At a Christmas eve gathering of family and friends the teens to 30-somethings gathered around the Challenger admiring it.
If you want to take a trip down memory lane of the cars of the 1950s and 1960s just take a trip to Cuba, because that is all they have. For the past 55 years, locals have played the role of Dr. Frankenstein, pulling components from old Fords, Chryslers and Chevrolets, and even creating custom parts to keep their vintage cars on the road.
General Information: Parts – US/Canadian 61%, Mexico 27%, Engine – Mexico & Transmission – USA. It is assembled in Brampton, Ontario, Canada. Classification is Midsize. Cars from Dodge: Avenger, Challenger, Charger, Dart, Durango, Grand Caravan, Journey and SRT Viper
Handling & Performance:
Fast, fun and it touches the senses with that deep rumble of the exhaust reminiscent of muscle cars of those early days. Today's cars are built with more interest in quiet, and in fact they muffle it to near silence. And that's okay because the rumble then was more a reaction to performance to improve power and fuel economy. Necessity was the mother of invention then as it is today. But this 2015 model of the Challenger gets 30 highway MPG where that 1968 would have been doing great to get 7-10 MPG. At least that is my recollection… but at 20 cents a gallon for gasoline you could afford to waste a little petro.
Styling:
Vintage, classic, retro and they didn't have to do a thing to improve the look. Of course it is constructed of less steel and more plastic and likely will not rattle ever. The insulation will absorb the loud exhaust and road noise so some of the experience will be lost. Now that is a good thing.
Fit and Finish:
Fit and Finish is great because assembly is easy these days and a great improvement over cars of the past. The reason, of course, is because computers make the components fit perfectly. Nice.
Cost:
Priced as I had imagined.
Conveniences and comfort:
The list of standard features is long and mostly all those things that I would want on my personal car. Some features that were optional on this test vehicle that I would want include Adaptive Cruise Control, forward collision warning and blind spot detection. Those groupings will add about $1,800 to the price tag.
Consumer Recommendation:
The real comparison of those listed below centers around the first three. These are classic muscle cars and own the category in this class. The others are good cars too and a great deal of fun to drive.
You can add Cad CTS Coupe too at about the same pricing and they are super impressive cars to drive. They are elegant, comfortable and fast but significantly more money.
Recognized Competition:
Dodge Challenger SXT Plus $30,000, Chevrolet Camaro $30,000, Ford Mustang $30,000, Hyundai Genesis Coupe $26-34.000, Cadillac ATS Coupe $38-50,000, Infiniti G Coupe $40-53,000.
Good News:
Great classic styling with good fuel economy, comfortable ride, and nice features.
Bad News:
n/a
Standard Equipment:
3.6 Liter 305 horsepower V6 VVT engine, TorqueFlite 8-speed automatic transmission, performance brakes, sport suspension, stability control, traction control all speeds, power steering, hill start assist, rain brake support, ready alert braking, 18" alloy wheels, cruise control, rear park assist system, rear back up camera, keyless enter and push button start / stop, theft deterrent system, speed sensitive power door locks, power windows, front, side and side curtain front and rear air bags , 7" display, Uconnect 8.4 A AM/FM/SXM/BT, Sirius XM satellite radio with 6-speakers, 276 watt amplifier, integrated voice command with Bluetooth, Media hub for SD, USB, and Auxilliary outlets, heated and ventillated front seats, heated leather wrapped steering wheel with audio controls, power 6-way driver and 4-way lumbar adjust, dual zone climate control, auto headlights, fog lights, daytime running lights, LED aplit tail lights, rear spoiler, power mirrors with manual fold away.
Gas Stats:
$2.65/ Gal avg. December 27, 2014
www.fueleconomy.gov
for more information.
19 City and 30 Highway MPG
Pricing:
MSRP $29,995
Your comments are welcomed. My e-mail is joe@autolove.com
Copyright © 2014 – An Automotive Love Affair.