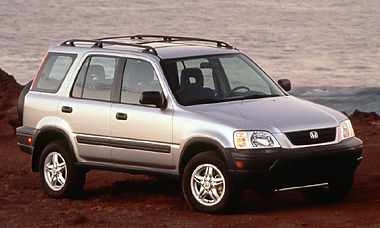 Overview: 
If reaction to the CR-V in America is as good as its introduction in Japan it will do great. It Honda's newest sport utility they say is virtually the same size as a Honda Passport and is14 inches longer than a Toyota RAV4. It is all-wheel-drive with 4-wheel double wishbone independent suspension. It's not intended for rugged off-roading but a picnic it can handle and even has a table that folds out of the cargo area! It is definitely a young peoples vehicle and is priced pretty well.
The CR-V comes in three trims: LX 2WD, LX 4WD and EX 4WD. I've driven most of the competition listed below, and the CR-V stands up very well in comparison to all of them. It would appear the Toyota RAV-4 is the closest, but even it doesn't offer as much standard features as the CR-V. At first blush I didn't agree that the Montero and Jeep are in the same class, because the CR-V has more of the look and feel of a wanna-be SUV and the stature of the other two fit the full size SUV profile. The CR-V seems to fit somewhere between the Tracker and a Blazer, for example.
Good news:
Good price for a lot of features, Honda reliability, and good mileage for a UV.
Bad news: 
It's not really an off-road vehicle. It will be a SUV when it grows up.
The competition: 
Chevrolet Tracker $13,655 – $15,605, Jeep Cherokee $15,540 – $24,480, Kia Sportage $14,895 – $18,495, Mitsubishi Montero Sport $18,030 – $32,250, Subaru Forester $18,695 – $22,195, Suzuki Sidekick $13,099 – $19,399, Toyota RAV4 $15,388 – $17,658.
Standard Equipment:
2.0-liter DOHC in-line 4-cylinder engine that produces 126 horsepower, 4-speed automatic trans, dual airbags, full-time 4WD, child safety locks (anti-lock brake system – ABS on the EX). Standard features on the LX include air conditioning, power door locks and windows, cruise control, AM/FM stereo, and the removable cargo floor that becomes a picnic table. The EX adds remote keyless entry, a CD player, alloy wheels and body-color door handles and mirrors.
Gas Stats:
22 City and 25 Highway MPG.
Pricing: 
MSRP is $20,400
Your comments are welcomed. My e-mail is joe@autolove.com
Copyright © 2014 – An Automotive Love Affair.