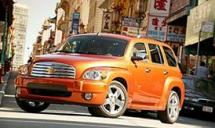 Overview:
This week we're looking at the 2006 Chevrolet HHR – GM's answer to Chrysler's PT Cruiser. It's similarly priced and Chevy lovers now have an option to the Chrysler to own a retro styled car / truck – or what is SUV styling in today's terms.
I drove this HHR to San Diego – actually Coronado for a stay at the Hotel Del Coronado for a little more nostalgia staying in a room that was built in 1888. Wow! Elton John would likely break into song and say "It's still standing"! And indeed it is still standing even if the floors seem to go up and down where they shouldn't.  
And you know what, driving up to this world famous luxury hotel I felt as much at home in this Retro Chevy HHR as I would in a Cad or Jag or even a Bentley or Rolls Royce. Somehow the HHR seemed to fit the surroundings more appropriately than any of those.
General Info:
Parts – US
Assembly – Ramos Arizpe, Mexico
Class:  – Special Purpose
Cars: – Astro, Avalanche, Aveo, Aveo5, Cavalier, Cobalt, Colorado, Corvette, Equinox,     Express, Express Cargo Van, HHR, Impala, Malibu, Malibu Maxx, Monte Carlo,                Silverado 1500, 2500, 3500 and hybrid, SSR, Suburban, Tahoe, Trail Blazer and          Uplander.
1940 Chevrolet Sedan Delivery.
Public Service:
Boycott toll roads. It's not what California has been all about. In the east and much of the rest of the country the people have been duped into accepting them. In the Newport Beach area of California Highway 73 is highway robbery.
In contrast Coronado and San Diego are linked by a huge bridge that was built as a toll bridge to accommodate the largest of war ships to pass under and to handle to ever growing number of commuters to and fro. Since its construction and opening in 1967 the cost of construction bonds have been retired and it is now toll free.
If you know the 73 roadway will return to a toll free California Highway please email the information to me. I'll share that information with our readers.
Handling & Performance:
You're not going to pull a big boat with this HHR but it is a great commuter with very good mileage numbers. I did a lot of highway driving miles and it is very comfortable. It's a little slow off the line, but when you get rolling it is just fine. You won't zip by traffic in a passing situation because it's a bit sluggish at 143 horsepower where 0-60 mph is 8.5 seconds. You can get up to 85 mph in a quarter mile in about 17 seconds. It won't do very well at the drags, but then you won't suck up very much gas either. The standard engine is 2.2 liters but a 2.4 liter for 172 horsepower is available. A 5-speed manual transmission is standard and I tested the optional 4-speed automatic transmission.
Styling:
Retro is the thing for a lot of us whether old or young when it comes to car design. Take a look at the 1940 Chevrolet Sedan Delivery and you'll see where the inspiration came from. Put some more windows, rake the front hood and wa-la you are in the 21st Century. Some things simply can't be improved upon and this and the PT Cruiser are testimonials to that fact.
Fit and Finish:
I'm a little disappointed in the way components feel on the interior. Pushing some control buttons cause the plastic support to give a bit which is not as solid as it should be.
Cost:
This is where this car shines and you've got to wonder how they can build cars this inexpensively. In a world of $45,000 cars and SUVs being so common it is refreshing to be able to buy this HHR for as low as $16,000.
Conveniences and comfort:
Unlike the 1940 version this retro has comfortable bucket seats and electronics for a good sound system, auto trans, power seats and air conditioning. You'd have to spend a ton to restore the '40 and for a few shekels you can own a new car for trouble free driving for a long time.
I noticed the arm rests are not very comfortable. OK, so I have boney elbows – how about you?
Storage compartment nooks and crannies are good.
Consumer Recommendation:
For the best comparison to the HHR retro Sedan Delivery / SUV test drive the PT Cruiser from Chrysler.
I could own this car and when I gave it more thought I concluded that for the same money as one high end SUV I could own this HHR as well as the Saturn Sky, 2-seat sport car, and have the best of all worlds. Think about that.
Recognized Competition:
Chevrolet HHR $15-16,000, Mazda 5 $17-19,000, Subaru Forester $22-28,000, Toyota Matrix $15-19,000, Scion xB $14,030, Chrysler PT Cruiser $14-29,000, Suzuki Aerio SX $14-17,000, Kia Spectra 5 $15,900, Pontiac Vibe $16,630, Honda Element $19-23,000.
Good News:
Good fuel economy, wonderfully retro styled and fantastic pricing for a daily driver.
Bad News:
Some cheaply made components, skimpy horsepower and discomfort from door armrests.
Standard Equipment:
2.2 or 2.4 liter ($650 more) inline 4-cylinder engine with 143 and 172 hp respectively, 5-speed manual transmission, touring suspension, power front disc and rear drum brake system, dual air bags, theft deterrent system, rear child seat latch system and door locks, daytime running lights (auto control), 16 inch aluminum wheels, dual breakaway power mirrors, intermittent front wipers, rear wiper, air conditioning, stereo with CD, MP3 playback and auxiliary input jack, reclining front bucket seats, power driver seat, 60/40 split folding rear seat, fold flat front passenger seat, tilt steering wheel, rear window defogger, power windows and locks, remote keyless entry, and cruise control.
Gas Stats:
Gas Stats: $2.80/ Gal avg.
23 City and 30 Highway MPG
Pricing:
MSRP $16,325.
Your comments are welcomed. My e-mail is joe@autolove.com
Copyright © 2014 – An Automotive Love Affair.