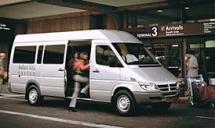 Overview:
This week we're looking at the 2006 Dodge Sprinter 2500 SHC (Super High Passenger Van) perhaps for the first time for most of us.  Ok, so it's not the prettiest debutant at the ball, but it does serve a purpose… I think.
I'm at the airport dropping a friend and a 'Sky Cap' says "Is that your van?". Now what, I thought. Is he going to call a cop. My mind races, am I parked poorly – illegally? Did I run over someone and didn't hear the thud? Yessss, it is! "Oh", says the 'Sky Cap',  "how much do they cost?" I told him and we chatted for a while about its capacity of 10 people and then I got in and remembered the automated message indelibly etched on my brain "the white zone is for passengers only – NO parking".
Public Service:  Ever notice the signs on the back of public service vehicles something like "Thank you for Driving Safely"? If I could reply with I sign on my car to them it would say "Thanks for keeping debris off our highways". But we pay them to do that, you say. And of course the Highway Patrol is there to make sure debris is indeed removed. I thought of that because we see more and more of it on the highways. If you've ever been to Germany or Singapore you'll notice the absence of junk on the roads. I'm embarrassed for us as a society especially when I see avoidable stuff on the road sides.
Richard says there is only public and private and government should stay out of our private lives and we should respect public rights. I think most would agree our fellow citizens can litter their homes but don't throw crap in my yard which extends to our parks and highways.
According to Caltrans in California you can report litter that needs removal on line via Caltrans' Roadside blight litter reporting system.  http://www.dot.ca.gov/dist07/rdside_blight/index.shtml . However if you observe the jerk doing the littering you can report that to the CHP at  818-240-8200. By the way, if you are wondering whether you should or not – wonder no more. If someone tossed that stuff in your front yard you'd be mad as hell. Well… would you do it? Probably not because most people are considerate while a few have a blatant disrespect of others.
Handling & Performance:
Well, a six foot person can stand tall in this Sprinter as he finds his seat. You get the picture… this is not a vehicle in which you'll want to take the corners too fast. And you'll want to pick your parking areas and pathways carefully. This thing is so tall I felt like ducking when I drove under a freeway overpass.
It is however quite spry off the line from the Turbo Diesel. It is really quick. It is only 2.7 liters but the turbo helps it to leave many in its dust.
Styling:
Now this is what I call "Coyote ugly". I found the entry and exit to be difficult for all. There is no step low enough for easy access particularly for both old and young.
Fit and Finish:
Rattles a bit but it is assembled well as you'd expect from a Mercedes-Benz company.
Cost:
No exact competition but reasonably priced for a commercial use vehicle.
Conveniences:
It doesn't have more than the basics equipment except for the air conditioning which is pretty impressive, but then with ten people you need that to be good. We had a large group for a birthday dinner celebration and it was nice not having to take more than one vehicle.
Consumer Recommendation:
Applications: Company Van Pooling/ shuttle; small school bus; summer transportation van. But most likely it will find a home where there is a commercial need. Race Tech company tells me they bought this (Mercedes truck knock-off) for uses a Box Van wasn't as well adapted to. They take race bikes, etc. to testing sites and built out for their needs gave it a more solid and quiet ride. Another major reason for buying the Sprinter was that it gets 28 mpg where alternate van types get only 10-11 mpg. "It is also more car like to drive." "We particularly like the rear door opening that allows for doors to swing completely around and lock on the sides." Mike says it is a Mercedes with a Dodge nameplate.
Recognized Competition:
Dodge Sprinter $30-36,000, Ford E-Series Wagon $25-32,000, Chevrolet Express $24-29,000, GMC Savana $24-29,000.
However, this is truly a special purpose vehicle and there really isn't any close competition especially when it comes to that much headroom.
Good News:
Thoughtful seat belt reminder that wasn't annoying as so many are. It begins as a slow ding that gradually increases. Good fuel economy. ESP system for stability. 26 gal fuel tank for long range travel between stops.
Bad News:
High step up into the cabin, difficult parking, buffeting in the wind and it could be quieter.
Standard Equipment:
2.7 liter inline 5 cylinder turbo diesel engine, 5 speed auto trans, dual airbags, traction control, 4-wheel ABS brakes, Electronic Stability Program (ESP), power rack and pinion steering, front and rear stabilizer bars, hydraulic jack and tool kit, rear window defroster, 26 gallon fuel tank, climate control, stereo with cassette player, 10 passenger seating, rubber floor coverings.
Gas Stats:
City and  Highway MPG not published but 'in-use' experience was about 28 mpg.
Pricing:
MSRP $33,111.
Your comments are welcomed. My e-mail is joe@autolove.com
Copyright © 2006 – An Automotive Love Affair
Your comments are welcomed. My e-mail is joe@autolove.com
Copyright © 2014 – An Automotive Love Affair.