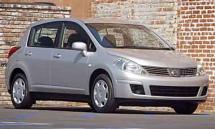 Overview:
This week we're looking at the 2007 Nissan Versa 1.8 S HB. And what a nice little car it is. I have always liked Nissan products since owning my first Datsun station wagon in the mid 1960s. Five years earlier I stood at ground zero in Hiroshima, Japan and couldn't help feel compassion for those who had nothing to do with Pearl Harbor. And it was also a scant 14 years before I stood there that the bomb was dropped.
What they couldn't do with their war machine they have managed to do economically as they eclipse GM as the largest car manufacturer in the world. Now that's the American way – turn the other cheek. I thought winning the war means "spoils to the victor" – and we didn't even start it. Did too, Did not, Did too…  Does that sound familiar?
On the other hand… consider the following story that you may have seen on the internet. http://www.autolove.com   and go to "Toyota dominates GM ousted". I think you will get a kick out of this.
General Info:
Parts – n/a
Assembly – Mexico
Class:  – Midsize
Cars: – 350Z, Altima, Altima Hybrid, Armada, Frontier, Maxima, Murano, Pathfinder, Quest, Sentra, Titan, Versa and Xterra.
Handling & Performance:
The Crest Test is the ultimate place to separate the men from the boys. But you know what – it is generally the small cars that zip in and around the sharp curves of the Angeles Crest Highway. And although this Nissan gives a good account for itself I have to bend a bit to the thrills of high performance cars like the nearly 500 horsepower Cad I had last week.
On that drive a motorcycle rider in front of me (after I let him pass) pulled up his visor, waved me up beside him and gave what I call the ultimate compliment on the handling of the Cadillac STS V. In short he felt that was "Some Kind of Car" – I thanked him and agree enthusiastically. On the other hand it averaged 15 miles per gallon – tops.
Styling:
Proletariat transportation and proud to be an American… driving a Nissan. Ahh soooo. The trunk / hatch back lid is a little odd shaped but I was able to get a full size golf bag in with only slight difficulty. One more average size bag would fit but cramped.
Fit and Finish:
Good
Cost:
Hey you'll be the judge at the end of the day but this is a lot of commuter car for the money. But so is the rest of the field noted below. This is in the top few of that list in my opinion including Chevy Aveo, Ford Focus but I haven't tested the Honda Fit so that may well Fit (no pun intended) into the top few.
Conveniences and comfort:
Good… not excessive but it has the basics plus for a great price. It did not come with cruise control which is more than a convenience if you do any highway driving.
Recognized Competition:
Nissan Versa $13-15,000, Suzuki Aerio SX $15-17,000, Toyota Yaris $11-14,000, Chevrolet Aveo $12-14,000, Honda Fit $14-16,000, Ford Focus $14-17,000, Suzuki Reno $14-16,000, Kia Rio5 $13,750.
Good News:
At 4 bucks a gallon of gas I just love to see the stats on fuel economy rated highest of any Nissan, Versa is roomy and good snappy performance to keep up with traffic without a strain, even in the mountains.
Bad News:
Light weight. I noticed a bit of squealing on the curves but it did hold the line on the Crest Test and a little boring in the styling.
Standard Equipment:
1.8 liter 4-cylinder 122 horsepower engine, 4-speed auto trans, independent front strut suspension with stabilizer bar, torsion beam rear suspension with stabilizer bar, power assist front disc and rear drum brake system, electric power steering, 13.2 gal fuel tank, tachometer, 15" steel wheels and full covers, power mirrors, multi reflector halogen headlights, rear window defroster, 4-way adjustable driver seat, audio system with CD player, 60/40 split fold down rear seat, cargo cover, air conditioning, tilt steering column, intermittent wipers, immobilizer anti theft system, child safety rear locks, lower anchors and tethers, and tire pressure monitoring system. Options that came with this model: Splash guards front and rear, Power package including power windows and locks, remote keyless entry, door armrest pad, rear door pockets, glove compartment light, anti lock braking system, electronic brake force distribution and Brake assist that would adda $1,200 to the price noted below.
Gas Stats:
$3.43/ Gal avg. May 5, '07
for more information.
28 City and 35 Highway MPG
Pricing:
MSRP $13,250.
Your comments are welcomed. My e-mail is joe@autolove.com
Copyright © 2014 – An Automotive Love Affair.