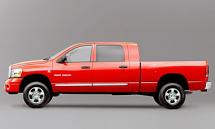 Overview:
This week we're looking at the very versatile 2008 Dodge Ram 2500 Laramie Quad 4X4. On a ranch trucks like this are commonplace because they are a necessity and not just cool to have. These are workhorses and when you're hauling horses and hay and all the other stuff you'll need for the lifestyle even the lousy fuel economy is a secondary consideration.
I asked Glenn how much fuel he burned in his 39 foot motor home from Medford to Los Angeles and the number is staggering at nearly $500 at today's prices. Or, about 70 cents a mile. But that's the cost of moving his entire home so fuel consumption is very relative.
You may recall several weeks ago I tested the Chevrolet Silverado 2500 LTZ Crew Cab with a 6.0 liter engine and is direct competition to this Dodge Ram. I found that model to be quieter and smoother in ride and engine vibration.
General Info:
Parts – n/a
Assembly – US & Saltillo, Mexico
Class:  – Special Purpose
Cars: – Avenger, Caliber, Charger, Dakota, Durango, Grand Caravan, Magnum, Nitro, Ram 15, 25 & 3500, Sprinter Van and Wagon.
Handling & Performance:
It doesn't get much better for pulling a horse trailer and all your tack, feed and kids with their dirt bikes. It pulls all that with ease. But you don't need the 6.7 liter turbo diesel to do that… it just gives that margin of performance I like to have.
Styling:
The look and feel telegraphs the image of one tough truck. The Japanese are making strides at penetrating this big truck market but there is no doubt it will be an uphill climb. They know how much styling plays a role in what Americans like in their trucks, but 100 years of tradition of devotees to Ford, GM and Chrysler isn't dead. In fact I believe most will reject the off shore invasion of the Asian car and truck competition and we'll look to the familiar All American Truck icon that is not American buying them helps your cousin, uncle, brothers and sisters with a stronger economy here at home. Think about that when you consider buying Japanese trucks in today's world. Style also means preserving our own Lifestyle.
Fit and Finish:
Outstanding – let's face it, US ingenuity and world leading technology has made American made cars and trucks every bit as good as intense cheaper labor in Asia.
No longer do we have to apologize for our US auto makers.
Cost:
Since I'd have to take out a second on my house to buy most trucks today I'd likely borrow a little extra so I could have the Cummins Turbo Diesel. And the added loan on the mortgage for the second largest of asset acquisitions makes total sense to do just that… unless of course they are giving no interest financing on the truck. The last company purchase we made was a Ford F-350 and that's exactly what Ford financing did, so you should check that out first.
Conveniences and comfort:
As I mentioned above if you are an out-of-doors family this truck does it all, in style.
Consumer Recommendation:
There are a limited number of players in this class so you will surely want to test them all even if you don't care for the brand. You may change your mind.
Recognized Competition:
Dodge Ram 2500 $35-39,000,  $27-31,000, Chevrolet Silverado 2500 HD $24-40,000, Ford F-250 Super Duty $23-38,000, GMC Sierra 2500 HD $24-40,000.
Good News:
Perfect size, tough, very versatile and lots of torque to tote the entire family and all the gear, in style.
Bad News:
Poor fuel economy in a world of quickly rising gas prices.
Standard Equipment:
5.7 liter 345 hp V8 engine, 6-speed automatic trans, 34 gallon fuel tank, sentry key theft deterrent system, security alarm, power steering, tire pressure monitor/signal, multistage air bags, HD engine cooling, 4-wheel power ABS disc brakes, power adjustable pedals, 600 amp maintenance free battery, air conditioning, tilt column, leather wrapped steering wheel with audio controls, cruise control, rear power sliding window, power windows and locks, remote keyless entry, stereo with CD player, SIRIUS satellite radio with 1 year fee included, heated front seats, 6-way power front seats, rear 60/40 split fold down seat with storage compartment beneath, trailer tow wiring 4 pin connector, power heated fold away mirrors, full size spare, cargo and fog lights, 17" chrome aluminum wheels with all season tires.
Optional:
6.7 liter Cummins Turbo Diesel engine, O/H console, diesel exhaust brake, tow hooks, 750 amp battery upgrade ($6,100), leather seating ($490), DVD based GPS Nav system with 6-CD / MP3 changer, ($1,895) and power sunroof ($850) – other ($1,025)
Gas Stats:
$3.95/ Gal avg. Diesel fuel – January 12, '08
for more information.
(no data) City and  Highway MPG
Pricing:
MSRP $39,315 – With options noted above $49,675.
Your comments are welcomed. My e-mail is joe@autolove.com
Copyright © 2014 – An Automotive Love Affair.