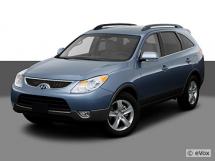 Overview:
This week we're looking at the 2008 Hyundai Veracruz Limited. I've been testing Hyundai since they joined the market fight in the US. I've tested all of them now with this week's test of the new Veracruz. It will surprise you. It did me, but it shouldn't have since I had a good feeling about cars from Hyundai when I told my kids to look closely at the Santa Fe when I first tested it in 2003. And I've been happy with all models since then.
General Info:

Parts – US/Canadian 7%, Korea 80%, Transmission parts from Japan.
Assembly – Ulsan, Korea
Class:  – Special Purpose
Cars: – Accent, Azera, Elantra, Entourage, Santa Fe, Sonata, Tiburon, Tucson and Veracruz.
Observation:
World price of gas at the pump http://europe.theoildrum.com/node/2653 in June 2007 will put car buying decision into perspective. The majority of the world is paying from $4.00 to over $8.00 per gallon of gas. When will we ever learn that it is up to the consumer to make a change in the oil company's attitude about building more refineries to lower the price of gas? They pushed us into cheap gas to get us hooked and then they stick it to us. Sounds like the Columbians learned from the oil companies. What's your drug of choice? Seems to be oil for most of us. Count on gas going to world levels in the next year or two at the most. Be smart and make the change now.
Handling & Performance:
Handles as well as all the others I've tested in class but all are pitifully bad when it comes to fuel economy.
Styling:
Classy and nearly indistinguishable from the best – correction – oldest badges on the market. It is implied that because they are the oldest they are the best. Not necessarily true and Hyundai and other new comers are making that point clear. And they have an advantage because they are the underdog and we all know we tend to pull for the underdog.
Fit and Finish:
As good as the rest – generally.
Cost:
Veracruz is priced from a few to several thousand less than most of the competition but I'm sure Hyundai has not reached the level of acceptance by consumers to overlook the badges it is pitted against. When you're spending this much money most folks would be willing to pop for a few thousand more and buy a Lexus or other brand that has been around much longer.
Features and Conveniences:
Some features can get away from you if you're not careful. I pushed the close button on the power lift gate and it went down, but as I reached in my pocket for the key fob I must have pushed the lift gate button by mistake. Well, of course it lifted up and I thought there was an eerie open feeling when I looked in the rear view mirror and thought this thing has great visibility. I was lucky my computer didn't fall out. They need to fix that glitch as it shouldn't open or at least warn you that it is open while in a drive position.
Consumer Recommendation:
Resource – www.safercar.gov
Buy a fuel efficient car. Don't wait until it's too late.
Recognized Competition:
Hyundai Veracruz $27-36,000, Mazda CX-9 $29-35,000, Cadillac SRX $38-45,000, GMC Envoy $28-37,000, Subaru Tribeca $30-34,000, Mercury Mountaineer $27-33,000, Infiniti FX $38-50,000, Mercedes M-Class $44-87,000,  Acura MDX $40-48,000, Nissan Murano $26-36,000, Saab 9-7X $40-46,000, Lincoln MKX $36-38,000, Jeep Grand Cherokee $29-43,000, BMW X5 $46-55,000, Lexus RX 350 $38-39,000, Volkswagen Touareg 2 $39-68,000.
Good News:
Generally priced much better than competition.
Bad News:

Challenging longer established badges with greater prestige, equally as bad fuel economy as others in this class, so you may be buying a dinosaur as fuel prices soar.
Standard Equipment:

3.8 liter 260 horsepower V6 engine, 6-speed automatic transmission, front wheel drive, electronic stability control, traction control, anti locking brake force distribution system, front and side airbags, tire pressure system, backup warning system, climate control, power tilt and slide sunroof, audio with CD player and XM satellite, steering wheel audio controls, smart key system with alarm, power front seats, power tailgate, windows and locks, power mirrors, leather seating, power adjustable pedals, power steering wheel and driver memory settings.
Options: Navigation system $1,750, roof rails $205.
Gas Stats:

$3.79/ Gal regular gas. May 12, '08
www.fueleconomy.gov
for more information.
16 City and 23 Highway MPG
www.safercar.gov  or   888-327-4236
Pricing:

MSRP $36,825.
Your comments are welcomed. My e-mail is joe@autolove.com
Copyright © 2014 – An Automotive Love Affair.