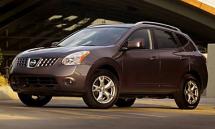 Overview:
This week we're looking at the 2008 Nissan Rogue SL 2WD.  And it looks like it should cost a lot more money than it does. Perhaps the pricing was the biggest surprise of all for me. I can't imagine paying thousands more for its sister the Murano for example.
One has to wonder how cars from the same company can be engineered differently in areas where they should be the same. For example the Quest had a jerky throttle and this Rogue is smooth as silk with a wonderful feel and control. Generally this crossover is more car-like, even though it has a moderately high step up. But it handles well and the 170 hp 4-cylinder engine is well matched to a continuously variable transmission for smooth power delivery.
For me, this Rogue deserves a rating of 9 out of 10 in class.
General Info:
Parts –  n/a
Assembly – Los Angeles, CA USA
Class:  – Special Purpose (SUV)
Cars: – 350Z, Altima, Altima Hybird, Armada, Frontier, Maxima, Murano, Pathfinder, Quest, Rogue, Sentra, Titan, Versa & Xterra.
Observation:
A reminder for those drivers out there who find it difficult to be sensitive to the traffic around them and they select the wrong lane for the speed they are traveling. Consider as you drive down the freeway and you are not passing traffic in the lane to your right, that's the lane you belong in. And why is it that when you pull up alongside that person who seems to be sleeping they are in fact not sleeping but zoned out as they talk on their cell phone. Keep in mind that will not be legal without a hands free capability in the very near future.
Handling & Performance:
Outstanding handling. I could not imagine how well it handled before I actually tested it on the mountain course over the Crest between the high desert and Los Angeles. It was really exceptional and earns a 10 out of 10 which I believe you would consider to be a fair assessment. You can buy the Rogue with front or all wheel drive. My test vehicle was front drive but if I spent a lot of time in the snow I'd opt for the AWD.
Styling:
It is very much today and mirrors that kind of styling car buyers seem to want at this time. I'm indifferent to its appearance but love how it drives. Kind of like some of the women in my life I should have pursued. Rogue is available in S and SL models. And me, I guess I should have been available in other models too.
Fit and Finish:
Nicely done… 8 out of 10.
Cost:
Outstanding value. SL with all wheel drive is $1,200 more than my test vehicle. The S model is only $19,250 with front wheel drive. The SL has more standard equipment and is offered with options not available for the S. Major SL extras include an $800 moonroof, $1,800 Leather Package that contains a power driver's seat and heated leather-covered seats.
Consumer Recommendation:
There is no available reliability data on this new entry but it comes from good stock with reliable genes. For the money this is a good value and if in your price range and budget you'll want to test drive this one.
Recognized Competition:
Nissan Rogue $19-22,000, Saturn Vue $21-29,000, Pontiac Torrent $23-29,000, Mercury Mariner 21-26,000, Ford Escape $19-26,000, Subaru Forester $21-28,000, Jeep Patriot $15-22,000, Mazda CX-7 $24-28,000, Mitsubishi Outlander $20-25,000, Suzuki Grand Vitara $19-25,000, Chevrolet Equinox $23-29,000, Toyota RAV4 $21-27,000, Hyundai Tucson $17-25,000, Honda CR-V $21-28,000, Kia Sportage $16-23,000.
Good News:
Very well priced, great handling, comfortable ride.
Bad News:
Only average fuel economy in class, rear doors are noticeably narrow.
Standard Equipment:
2.5 liter 170 hp four-cylinder engine, continuously variable transmission, four-wheel disc brakes, four-wheel antilock braking system, electronic brake force distribution, front and rear stabilizer bars, independent strut front and MultiLink rear suspension, 17 inch alloy wheels, halogen headlights, manual rear liftgate, rear privacy glass, roof rails, variable intermittent front and rear wipers with washer, six way manual driver seat, 4-way manual front passenger seat, air-conditioning, cruise control with steering wheel mounted controls, tilt steering column, power windows and door locks, remote keyless entry, front seat center console, 4-speaker audio system with AM/FM and CD, front airbag system, supplemental side air bags, roof mounted curtain side supplemental airbags, lower anchors and tethers for children, child safety rear door locks, tire pressure monitoring system, vehicle security system, vehicle dynamic control, traction control, and vehicle immobilizer.
Gas Stats:
$2.90/ Gal avg. Feb 6, '07
for more information.
22 City and 27 Highway MPG
Pricing:
MSRP $20,670.
Your comments are welcomed. My e-mail is joe@autolove.com
Copyright © 2014 – An Automotive Love Affair.