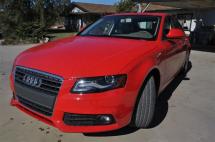 Overview:
This week we're looking at the 2009 Audi A4 Sedan 2.0 T Quattro Tiptronic. It sports the new signature headlights similar to those first introduced on the Audi R8 featuring LED running lights. I fell in love with this lighting feature when I first tested the R8 and was happy to see it a part of the A4 touches.
The 2.0-liter engine produces 211 horsepower and 258 lb-ft of torque, significantly more power than the engine it replaced. More importantly it is a testimony to the fact that you CAN achieve more than 100 hp per liter. Of course we in America historically hadn't wanted to do that for US made cars. Again I suspect that had more to do with marketing and giving the consumer what they wanted – 'down and dirty' simple Muscle kinda cars. The other ingredient in the American auto experience and love affair was the fact that gas prices have always been far lower than the rest of the world so we didn't need to engineer in exceptional power train design. No country has better engineering than is achievable from inventive and Space Age America. That's why we have historically been the world leader in the industry. We simply got out foxed by countries more hungry with more realistic corporate leaders that didn't get paid $500 million a year plus benefits and perks beyond belief.
Hey, I'm not knocking our beloved capitalism but rather I'm disappointed with the greed and corruption from captains of industry here in America. But guess what – it always catches up with the bad guys and the consumer sensed it and turned to better run car producers.
General Info:
Parts – US/Canadian 1%, Germany 75%
Assembly – Neckarsulm, Germany
Class:  – Compact
Cars: – A3, A4, A5, A6, A8, Q5, Q7, R8, RS4, S4, S5, S6, S8, TT
Handling & Performance:
I wasn't happy with the brakes because they are very grabby. I'm sure I would adjust to them over time but it was a constant irritation. The rest of the handling characteristics are Audi excellent and thus very enjoyable to drive.
Styling:
Thumbs up in this category. Audi has always had distinctive styling that is consistently Audi and a common trait of most German cars. A good thing, and it reminds me of the days when American car makers would retool every couple of years for a new look and a marketing strategy that I never appreciated as it implied you should trade up every two years because new vs old was intentionally obvious.
Fit and Finish:
Very good.
Cost:
Pricey in large part because of the badge but it is competitive with others in its class.
Conveniences and comfort:
Audi is a comfortable ride by any standards but I find all model electronic controls to be much too complicated an not at all intuitive.
Consumer Recommendation:
The competition is not terribly clear so I've chosen All Wheel Drive cars similarly priced. The competitors to the A4 noted here are all V6's and the BMW and Mercedes have a bit more horsepower and only a little less fuel economy as you'd expect. Most other dimensions and weight are nearly identical.
Recognized Competition:
Audi A4 AWD $32,000, BMW 328 xi AWD $35,600, Mercedes Benz C300 AWD $37,000, Lexus IS250 AWD $35,000.
Good News:
Nice handling and a comfortable ride, lots of power with more than 100 hp / liter.
Bad News:
Electronics controls are not to my liking – just not intuitive enough.
Standard Equipment:
2.0 liter 211 hp 4-cylinder engine, 6-speed auto transmission w/Tiptronic / Dynamic Shift Program, Quattro all wheel drive system, ABS, Electronic Stabilization program, 17" alloy wheels, speed sensitive power steering, auto climate control, power windows & locks, cruise control, 60/40 split folding rear seat, power adjust front seats, leather wrapped steering wheel, AM/FM with in dash CD player & Sirius satellite radio, leather seating, trip computer, front and side and side curtain airbags, power heated mirrors, anti-theft alarm system, LATCH for children.
Options:
Prestige model $7,300 – 18" alloy wheel, Bang & olufsen sound system, side assist & rear parking system, advanced key keyless start/stop, Xenon headlights, Bluetooth, three zone climate control, heated front seats, 6-CD changer, memory driver seat & mirrors. Audi Drive Select – $2,950. Navigation with rearview Camera, voice control – $2,500.
Gas Stats:
$3.05/ Gal avg. November 2, '09
for more information
21 City and 27 Highway MPG
Pricing:
MSRP $32,700 – With options $45,850.
Your comments are welcomed. My e-mail is joe@autolove.com
Copyright © 2014 – An Automotive Love Affair.