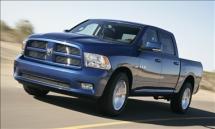 Overview:
This week we're looking at the 2009 Dodge Ram 1500 Crew Cab SLT 4X2 short bed quad cab pick up truck. This truck is one of nine in class and for my money it is equal to the task of competing but is no longer among the American made trucks until recent years were the unquestioned absolute king of trucks.
That's a fact but that being said if you know my column you know I drive a Dodge Ram 3500 dual wheel Cummins powered one ton pickup truck. My other truck is a 1985 Chevrolet Silverado and my 775th vehicle is this Ram 1500.
So I tend to lean toward them even though one of my favorite trucks was my 1955 Ford half ton that was my 3rd ownership right behind a 1946 Chevy pickup that followed my first which was a 1934 Chevy coupe with a rumble seat. You know the scene of young kids with their first car – taking it to school with all the other hoodlum friends hanging out of the rumble seat and the ring leader in the front seat yelling – "Stop, there's Bab's" or some such other craziness. Thank God we didn't kill anyone.
Well I can't help but be impressed with the new offerings from Chrysler because I've tested all those listed below. But at the end of the day I know full well your choice will have more to do with your personal preferences and leanings than what mine are or what I have to say. Me, I could see owning any of those listed here.
General Info:
Parts –  US/Canadian 53%, Mexico 18%
Assembly – Warren, MI, USA.
Class:  – Standard Pickups
Cars: – Caliber, Challenger, Charger, Dakota, Durango, Durango Hybrid, Grand Caravan, Journey, Magnum, Nitro, Ram 15-25-3500, Sprinter, Sprinter Wagon & Viper.
Handling & Performance:
Well, what can I say – it is HEMI powered and I love great performance and innovated technology embodied in the HEMI engine design. It is a 4X2 so it won't take you off road very far but it has better fuel economy than those dragging around all that added weight.
Styling:
Always a leader. The Japanese have copied the toughness of all American Trucks and the most notable to me is the Nissan Armada. The Japanese car makers share the market and rightfully so. They have applied their great work ethic just as they have with passenger cars.
This bad boy seats 6 comfortably and is well appointed. It has a solid, well assembled and that heavy feel but it is light and nimble on its feet as well.
Fit and Finish:
Very good. In fact as I've said before it's almost too much opulence and carlike for a working truck. So let's face it, marketing found that most buyers will not want this truck for hauling manure alone. I observe that most people are gentlemen farmers and ranchers who are more interested in comfort.
Cost:
Competitive. It's a toss up and there is no price advantage to any of them. Trucks are among the most profitable vehicles and I believe they need not be so pricey. But then again they are much more utilitarian than alternative transportation options. And for the ranch most of us living in rural lives know these are necessities not luxuries.
Conveniences and comfort:
All the comforts of home away from home. The only uncomfortable time is driving the freeway without a load. It will flat shake your eye teeth out and give you a sense that you need a kidney belt.
Consumer Recommendation:
Pick your favorite but there are only 6 brands to test and you might be surprised a change is in order with no sacrifice of performance. For example although I have always owned trucks from the big three as is the case with most of us, I like the Honda and Toyota trucks also. They're the relatively new kids on the block and worth a look see. Then buy one of the others.
Recognized Competition:
Dodge Ram 1500 $22-44,000, Chevrolet Silverado 1500 $19-41,000, Nissan Titan $26-39,000, GMC Sierra 1500 $19-44,000, GMC Sierra Hybrid $38-47,000, Honda Ridgeline $28-37,000, Ford F150 $22-39,000. 2010 model year – Toyota Tundra $23-42,000 and Chevrolet Silverado Hybrid $38-47,000.
Good News:
Solid ride, powerful HEMI gas engine,
Bad News:
Only fair fuel economy,
Standard Equipment:
4.7 liter 310 hp V8 engine, 5-speed automatic transmission, front and side curtain air bags, stability control, 4-wheel ABS disc brakes, sentry key and theft deterrent system, HD engine cooling, cruise control, remote keyless entry, power windows and locks, tire pressure monitor, locking tailgate, air conditioning, stereo with in dash CD/MP3 player, Sirius satellite radio, 40/20/40 split bench seat and rear fold down with under seat storage, rear power sliding window, tilt steering column, trip computer and info center, temp and compass gauges, 17" aluminum wheels, fold away power heated mirrors.
Options: 5.7 liter 390 hp V8 HEMI engine, $1,310; Clothe bucket seats $925, preferred package, 20" aluminum wheels, leather wrapped steering wheel with audio controls, dual exhaust, overhead console, exterior mirrors with supplemental signals and courtesy lights, rear dome light, fog lights. $2,250.
Gas Stats:
$2.90/ Gal avg. August 31, '09
for more information.
14 City and 20 Highway MPG
Pricing:
MSRP $31,880 and with options $37,845.
Your comments are welcomed. My e-mail is joe@autolove.com
Copyright © 2014 – An Automotive Love Affair.