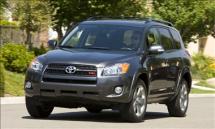 Overview:
This week we're looking at the 2009 Toyota RAV4 4-wheel drive SUV that is in a class that has become the most popular vehicle on the planet.
And it seems as time goes by even the smallest models get larger which is the case with this RAV4.
General Info:
Parts – n/a
Assembly – Japan
Class:  – SUV
Cars: – 4Runner, Avalon, Camry, Camry Hybrid, Camry Solara, Corolla, FJ Cruiser, Highlander, Highlander Hybrid, Land Cruiser, Matrix Prius, RAV4, Sequoia, Sienna, Tacoma, Tundra, Venza and Yaris.
Opinion:
Reminder – Revenue's are a high priority everywhere in our economy these days and you need to watch your speed to keep the vultures from picking your bones. I'm sure you've noticed lots of ticketing on our highways. Set your cruise control no more than 4-5 miles over the limit so you don't get run over by traffic willing to chance increase tax levies by our arrogantly proud traffic cops. You know those crime fighters of people trying to get to work to pay their salaries. They thank us with $300 fines. Don't you just love these guys?
Handling & Performance:
Since 2003 the RAV4 has gone from a 2.0 liter 4-cylinder engine that did better on fuel economy than today's inline 4 and moved more to the 3.5 liter V6 bigger is better version. Why? Because that is what people want so it's not Toyota's fault.
Styling:
Not much change in the look and feel from previous years. They still have a rear door opening out left to right with a hard spare tire cover. Although it is personal preference on opening style / design I really prefer the door opening as opposed to a lift gate for the rear access.
Fit and Finish:
Toyota good.
Cost:
Since the 2003 model year the price has gone up nearly $10,000 and there are 50% more competitors to choose from because this truck .
Conveniences and comfort:
All the comforts you'd expect and options can include a power moon roof, power leather heated seats, roof rails, and navigation system, etc. which can push the price up to $33,000 plus.
Consumer Recommendation:
If you can live without leather, moon roof and built in Nav system you can save a bunch. Me – I like the portable Nav options that will save over $1,500. I don't use a moon roof and think they are passé. Leather and power heated seats are nice but not necessary and can save $2,000 in options.
Take a good look at the newer kids on the block that can save even more. Toyota has a good name but I'll remind you that even they are outsourcing to Korea. So the Kia and Hyundai are worth a look see.
Recognized Competition:
Toyota RAV4 $22-28,000, Pontiac Torrent $25-31,000, Hyundai Tucson $18-26,000 , Mazda Tribute $20-28,000, Nissan Rogue $20-26,000, Honda CR-V $21-29,000, Jeep Liberty $23-28,000, Jeep Wrangler $21-32,000, Suzuki Grand Vitara $19-27,000, Honda Element $20-26,000, Mitsubishi Outlander $21-26,000, Kia Rondo $17-22,000, Kia Sportage $17-23,000,
2010 year models: Chevrolet Equinox $22-30,000, Subaru Forester $21-28,000, Mercury Mariner $23-27,000, Ford Escape Hybrid $30-34,000, Ford Escape $21-27,000, Mazda CX-7 $22-33,000, Volkswagen Routan $25-39,000.
Good News:
Toyota quality, decent fuel economy, good size 5 seat SUV that is easier to handle.
Bad News:
Top of the price point in class.
Standard Equipment:
3.5 liter 269 hp V6 engine, 5-speed automatic transmission, electronic on-demand 4-wheel drive, electronic power steering, 4-wheel ABS disc brakes with brake assist and electronic brake force distribution, 18" alloy wheels, vehicle stability and traction control, front, side and side curtain front and rear air bags, child safety tether anchors and safety locks, tire pressure monitoring, fog lights, rear wiper washer, air conditioning, audio with CD changer & 6 speakers, 60/40 split reclining fold flat rear seat, tilt & telescopic steering wheel, cloth interior, power windows & locks, cruise control, keyless entry, 3- 12 V outlets.
Gas Stats:
$2.95/ Gal avg. Sept 17, '09
for more information.
19 City and 26 Highway MPG
Pricing:
MSRP $26,530.
Your comments are welcomed. My e-mail is joe@autolove.com
Copyright © 2014 – An Automotive Love Affair.