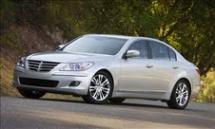 Overview:
This week we're looking at the 2010 Hyundai Genesis 3.8. After its introduction in 2009, the 2010 Hyundai Genesis remains primarily unchanged for this model year. Upgrades included standard navigation on Genesis 3.8 with Premium Navigation Package and Genesis 4.6 base. Premium leather trim is standard on Genesis 3.8 when equipped with Premium, Premium Navigation and Technology Packages. Smart Cruise Control and electronic parking brake are both now available on vehicles equipped with the Technology Package. And also, visually the 2011 model year remains the same as well.
Well, I'm in love. I wish I could say that I have toured the production plant but I haven't. However, I'm confident this is a worthy competitor in class in spite of the seemingly lower cost. Korean cars have earned respect over the years if only because of the absence of any bad news and from my experience there is none. I would personally put this at the top of the shopping list right after milk and coffee.
Daughter Jenny says she would take her Acura TL over the Genesis. She was very happy with hers. When she rode with me in this Genesis she commented that the price was the same. Well, it is close but the fact is that you pay a premium for the Acura badge as you would for BMW and Mercedes-Benz. What I have found is that when the new kid on the block must be better for less money. I believe that is the case with this Genesis and of course only time will tell.
Opinion:
Handling & Performance:
Genesis has more than enough power at 290 horses but you can also opt for the 4.6 liter option for 375 horsepower. But it will cost you a few miles per gallon in fuel performance. I found the 3.6 liter test car just fine for my need for speed. It is a smooth and comfortable handling car that is clearly going after the best of the rest.
Styling:
Hyundai has patterned Genesis after the look of BMW, Lexus, Acura and they were wise not to change it since its introduction in 2009 through the 2011 model. Good job and kudos to the designers. Smart!
Fit and Finish:
Very very good.
Cost:
Wow, this is in good company and to me it is rightfully classed.
Consumer Recommendation:
My guess is that when you include this car in your test drives you will be hard pressed to justify more money for the others. You will never see Korea in the same way again. South Korea is totally patterned after the US. Take a look at Google Earth and the dramatic difference North and South of the 38th Parallel. God bless America.
One last recommendation – if you can, buy stock in Hyundai.
Conveniences and comfort:
Excellent features like the very convenient 'rain sensing wiper' option. Another that is only found on more expensive luxury cars is the 'smart cruise control'. You'll recall the recent commercials for Mercedes and others in that price range who have been promoting the great safety afforded by this option. Not to be missed. It also has a fabulous Navigation system and an excellent sound system.
Recognized Competition:
Hyundai Genesis $33-43,000, Acura RL $47-54,000, Acura TL $35- 43,000, Audi A6 $45-59,000, Audi A4 $32-36,000, BMW 5 Series $45-60,000,Buick Lucerne $30-44,000, Cadillac CTS $35-62,000, Cadillac DTS $47-60,000, Infiniti G Sedan $33-37,000, Infiniti M $47-60,000, Lexus GS $46-54,000, Lincoln MKS $41-48,000, Mercedes-Benz E Class $49-88,000, Saab 9-5 $47,565, Volkswagen CC $28-40,000, Volvo S80 $39-51,000.
Good News:
Well priced and as good as the rest. My choice for car of the year.
Bad News:
Ok, so I could find ONE thing I wasn't happy with – the audio controls are only good. Why, because I like basic more. You know, like push buttons and knobs. This system requires more steps to get to the same place. I would not, however, let that dissuade me from buying one.
Standard Equipment:
3.8 liter 290 horsepower V6 engine with variable valve timing, 6-speed automatic transmission, 4-wheel ABS disc brakes, stability control, traction control, front, side and side curtain airbags, tire pressure monitor, 17" alloy wheels, fog lights, auto headlights, power mirrors with turn indicator, leather power heated front seats, leather wrapped tilt steering wheel with controls, smart push button start, dual zone climate control, trip computer, cruise control, Bluetooth hands free, audio system with XM, CD, MP3 with 7 speakers and USB, IPod and auxiliary jacks.
Gas Stats:
$3.03/ Gal avg. October 26, 2010
for more information.
18 City and 27 Highway MPG
Pricing:
MSRP $33,000.
Your comments are welcomed. My e-mail is joe@autolove.com
Copyright © 2014 – An Automotive Love Affair.