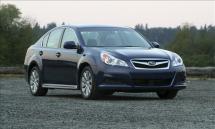 Overview:
This week we're looking at the 2010 Subaru Legacy 2.5i Sedan. Subaru is not the new kid on the block as is the case with Kia and Hyundai. Subaru has been around for a long time, but it isn't as recognizable a brand and not as prestigious a badge as some of the others. It does, however, deserve your consideration. It is a company product that I have always found to be a sleeper and one that is well built. You don't hear them blowing their horn as loudly as most others.
All models I have tested over the past 18 years have always been consistently good, albeit not the most flashy. But in the years I spent owning an Automotive Repair facility Subaru was always under the repair radar. It was rather the Luxury badges that needed the most attention. BMW, Jaguar, Audi and Fiat led the list with nit picking repairs. These come to mind easily because they were constantly in the shop. But with BMW and Jag and Audi the cost of maintenance was high. Japanese models were not a frequent visitor to the shop.
General Info:
Parts – .
Assembly – USA
Class:  – Compact
Cars: – Forester, Impreza, Impreza WRX, Legacy, Outback & Tribeca.
Opinion:
Ever feel like you're part of a "Herd of Caribou" when you head down the freeway all in lock step moving essentially at the same speed? Beware – predators. Lions? Sharks are waiting for you to drop your guard. Trying to get to a job that actually produces some goods and services is a noble thing. Tax collectors are ignoble and if you chose to work for the CHP that handle would fit you fine.
Getting pulled out of the pack for a ticket means they were the unlucky ones. The speed laws are antiquated and remain low for tax reasons. Modern cars are far safer today yet the posted limits are substantially the same as when mechanical brakes were used. Younger drivers may not get that one.
Many other states operate just fine thank you with much more liberal speed laws. Some states' posted maximums in rural areas go to 80 mph. In California you could shoot off a cannon and not hit a soul on our freeways at off peak hours and that is prime time for the CHP sharks. So, be careful, especially now when the states need money to pay for those predators and other wasteful stuff. Check out the speed limits in the US at http://www.motorists.org/speedlimits/home/state-speed-limit-chart/
Handling & Performance:
Not a lot of power and it will struggle when you need fast acceleration. It is however adequate under normal operating conditions. If you demand more responsive power you will want to move up from the 170 hp 2.5 liter to the 265 hp 3.6R Premium or Limited or the Turbo that generates 256 hp from the 2.5 GT Premium or Limited. Otherwise the car handles nicely. If you like paddle shifters that feature is available.
Styling:
Familiar look in today's design world. There is a formula approach for most cars today and little creativity. That has its place but it can be boring to many. It is however a nice looking inexpensive family sedan that works as a comfortable commuter.
Fit and Finish:
Very good.
Cost:
Very competitive in class in my mind because all Subaru's include the handling and safety of all wheel drive included standard on ALL models.
Conveniences and comfort:
All the expected standard features are included.
Consumer Recommendation:
You owe it to yourself to include the Subaru brand in your review process. The list is long and if you think the auto industry is in trouble this is a reason why. When I was a kid there was only the big 3. There are more models in this class than there was in all the industry back then. Bail out was a stupid thing. As in nature only the strong will survive and should survive.
Recognized Competition:
Subaru Legacy $20-30,000, Acura TSX $29-38,000, Audi A4 $31-34,000, BMW 3 Series $34-51,000, Buick LaCrosse $27-33,000, Cadillac CTS $37-61,000, Chevrolet Malibu $22-27,000, Chrysler Sebring $20-35,000, Dodge Avenger $20-22,000, Ford Fusion $20-28,000, Honda Accord $21-31,000, Hyundai Azera $25-30,000, Hyundai Sonata $19-27,000, Infiniti G Sedan $33-36,000, Kia Optima $17-22,000, Lexus ES 350 $35,175, Lexus IS $32-38,000, Lincoln KKZ $34-36,000, Mazda 6 $18-28,000, Mercedes-Benz C-Class $34-57,000, Mercury Milan $22-28,000, Mitsubishi Galant $22-24,000, Nissan Altima $20-30,000, Saab 9-3 $30-51,000, Saturn Aura $23-27,000, Suzuki Kizashi $19-27,000, Toyota Camry $19-29,000, Volkswagen CC $27-40,000, Volkswagen Jetta $18-23,000, Volkswagen Passat Wagon $29,690, Volvo S40 $29-34,000.
Good News:
Subaru consistent quality, all wheel drive standard, good fuel economy.
Bad News:
None.
Standard Equipment:
•2.5-liter SOHC horizontally opposed (Boxer) 4-cylinder engine with i-Active Valve Lift System 170 hp, 170 lb.-ft. torque, Symmetrical All-Wheel Drive, 6-speed manual transmission, Electronic parking brake with Hill Holder® system, Power-assisted 4-wheel disc brakes with Electronic Brake force Distribution (EBD), anti-lock brakes (ABS), Dual-stage deployment driver and passenger front air bags, Front seat side impact air bags, Side curtain air bags, Rear seat LATCH (Lower Anchors and Tethers for CHildren), Remote keyless entry and security system with engine immobilizer, Tire Pressure Monitoring System, Vehicle Dynamics Control (VDC) stability and traction control, 60/40 split fold-down rear seatback, Air conditioning with electronic control panel, AM/FM/single CD stereo system with MP3/WMA playback, auxiliary audio input jack, radio data system (RDS) and 4 speakers, Cloth upholstery, Cruise control, Integrated ignition key with remote keyless entry system, Power door locks, Power side mirrors, Power windows with driver's auto-down, Trip computer.
Gas Stats:
$2.99/ Gal avg. January 9 '10
for more information.
19 City and 31 Highway MPG
Pricing:
MSRP $24,995.
Your comments are welcomed. My e-mail is joe@autolove.com
Copyright © 2014 – An Automotive Love Affair.