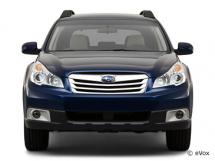 strong>Overview:
This week we're looking at the 2010 Subaru Outback 2.5i crossover sport utility vehicle. It's a 'sleeper' and it will impress you just as it did me and Motor Trend awarded it Sport Utility Vehicle of the Year. Good call MT.
I had the pleasure of making the trek up to the SEMA / AAPEX event in Las Vegas with this Outback. It is 250 miles from the Los Angeles area and it passed the test in part because of the comfort that also impressed a usually picky couple of guys sharing the ride. We went to see some new 'stuff' from our industry's aftermarket producers. Nothing earth shattering but interesting.
This Outback is in good company of competitors but in my opinion it is the toughest when you consider the price point while giving up nothing in quality. In fact I'm not sure the others listed here won't need to rise to the Outback standard. It has a lot to offer and I predict you'll be impressed as I was.
General Info:
Parts – n/a
Assembly – United States
Class:  – SUV / Crossover
Cars: – Forester, Impreza, Impreza WRX, Legacy, Outback & Tribeca.
Handling & Performance:
You're not going to tear up the highway with raw horsepower but it is no slouch either. It is smoothly fast on the highway. In part that is because of the smartly designed Boxer engine – I could but won't bore you with the technical reasons. If you want to know the details email me.
Styling:
Many competitors with more prestigious badges will offer little more than badge for the extra dough. Subaru delivers great styling with little pomp and ceremony which requires less advertising bucks because it simply delivers quality AWD to convince buyers this is the better car for the money. You can bet the word will get around.
This 2010 model is larger with a wider track and while prior models didn't ring my bell  this Outback has moved up in class and will appeal to many more consumers. Some boring numbers may be of interest for specific details.
Some will complain it sits too high, but that is a part of the design for a Crossover. It is still easy enough to get in and out while providing SUV type ground clearance (8.7 inches).  Overall the new platform increases the passenger leg room by nearly 4 inches to 37.8 and has a 2.8 inch longer wheelbase (107.9 inches). Total passenger volume is increased by 8 cubic feet (now 105.4 cu. Ft) and with the standard 60/40 split rear seatbacks folded it is up by 6 cubic feet to 71.3 cu. ft.
Kudos to the design team at Subaru.
Fit and Finish:
Excellent.
Cost:
The best of the bunch and a lot for your money which was factored in the Motor Trend award noted above. This is the year to buy the Outback because it is sure to go up in price to equal the value.
Conveniences and comfort:
Outstanding comfort. A great ride with all the interior features you expect in higher priced competitors.
Consumer Recommendation:
This Outback is really tough competition and priced extremely well. Subaru admits they are being very aggressive to get your business. It is well worth your time to include this in your selection process.
Recognized Competition:
Subaru Outback $23-31,000, Audi A4 Avant $35,000, BMW 3 Series Sport Wagon $35-37,000, Volkswagen Passat Wagon $27,000, Saab 9-3 Sport Combi $32-45,000, Volvo V50 $30-36,000, Volvo XC70 $37-40,000, Volvo V70 $33,000, Cadillac CTS Sport Wagon $40-54,000, Mazda CX-7 $22-33,000, Dodge Journey $20-28,000.
Good News:
AWD handling, very comfortable, best pricing in class and great fuel economy for an AWD vehicle.
Bad News:
Some will complain it sits too high.
Standard Equipment:
2.5 liter 170 horsepower 4-cylinder engine, 6-speed manual transmission, 4-wheel ABS power assist disc brakes, air conditioning, cruise control, front –side and side curtain airbags, power windows and locks, power mirrors, tire pressure monitoring, dynamic control, tilt & telescopic steering wheel / audio & cruise control (std all models), 60/40 split folding rear seat, remote keyless entry, auto on/off lights, stereo with CD player, 16" allow wheels, electric parking brake / hill holder function.
Premium model adds:
10-way drivers seat, 17" allow wheels, cargo cover, fog lights, leather wrapped steering wheel & privacy rear glass.
Limited model adds:
4-way power passenger seat, all-weather package including heated front seats, de-icer wiper & heated mirrors, CVT (continuously variable transmission, dual zone auto climate control, leather seating, 440 watt Harman/Kardon audio system with 6-CD player & Bluetooth.
Gas Stats:
2.85/ Gal avg. November 7, '09
for more information.
22 City and 29 Highway MPG
Pricing:
MSRP $22,995 – 24,295 – 27,995.
Your comments are welcomed. My e-mail is joe@autolove.com
Copyright © 2014 – An Automotive Love Affair.