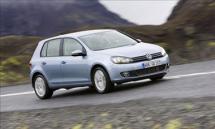 Overview:
This week we're looking at the 2010 Volkswagen Golf TDI 4-door compact sedan. You gotta love the European approach to car making. They are different from American made cars. They build with an eye to 'substantial' and make things that last a lifetime. They engineer components to last longer than they need to. American car makers engineer components to last just long enough and therefore are generally more profitable.
Asian made cars tend to be "knock-offs" or clones of American cars. Think about it. Some believe Asian cars are more thoughtfully put together, but even that may have been true 30 years ago but not today. Cheaper labor doesn't mean better labor.
European and American products have always been higher quality in most everything that has been or IS made today. But probably not with Will be made in the future because that will change over time and even third world countries will continue to develop and come closer together with other artisans of the world. Not in your lifetime but eventually they will become industrialized and look just like the Western World. . . God help us, because I'm not sure Western Culture is better just because it is different, or rather because it is more progressive and aggressive.
I spent 4 years in the Navy and so I understand living life with less restraint. I understand when some use the term "like a drunken Sailor" to embellish or explain in fewer words "Wild and Crazy" behavior. It happens and that is what I mean by 'less restraint'. Well, that's the difference in Eastern and Western cultures when it comes to "Consumption". And frankly I'm not sure such a life style is an enviable quality of Western Culture. Yea we all like more, bigger, better but there's the rub, eh!? Is all that "Better"? Well, I'm not crazy. I'm not going right out and buy a bicycle or ride in a rickshaw to the office.
General Info:
Parts – US/Canada 1%, Germany 75%
Assembly – Wolfsburg, Germany
Class:  – Compact Cars
Cars: – CC, Eos, GLI, Golf, GTI, Jetta, Jetta Sports Wagon, New Beetle, Passat, Passat Wagon, R32, Rabbit, Routan, Tiguan and Touareg 2.
Opinion:
Driving on our highways is generally a wonderful experience. But studies are being done on what keeps traffic moving smoothly. Those studies have shown ONE distracted driver can tie up traffic for miles around him or her.
You can help traffic move smoothly and better if you use Cruise Control and set your speed at the general flow of traffic. Thoughtful drivers also move to a slower lane if they are moving slower than the flow in their lane. The guideline here is that if people are passing you on the right, you might want to move over to the slower lane. It's the polite thing to do. It doesn't matter why traffic at that time and place insists on traveling faster than you. Suck up your pride and move over.
Consider it is not only the right thing to do it will prevent you from being involved in a needless accident or be a victim or cause of 'roadrage'. Better yet, when you do allow faster drivers to go ahead of you they will be the ones who attract the CHP and a ticket for their speed if it exceeds or ignores safety under the conditions.
Handling & Performance:
It is amazing what power and performance VW can get from 2.0 liters. Ok, so it's only 140 hp but because of the Turbo, this diesel will knock your socks off. You will definitely notice the impressive acceleration when you enter a freeway and need to merge into fast moving traffic.
What this also means is that when you set the cruise control it will pull on the hills with ease. Even more amazing is that it does "everything" you need in a commute and more with MPG numbers of 41 mpg highway. I'm really impressed with that.
Styling:
You'll be the judge on this one. It is better looking than the Toyota Prius and does it all better. Those German's are good.
Fit and Finish:
Excellent.
Cost:
Really tough to beat.
Conveniences and comfort:
European cars absolutely do the best job when it comes to making compact cars roomier inside than most other cars in the world, and give up little in comfort. I've never been a fan of German, and particularly VW seat adjustment mechanism's. I prefer almost any other design.
Carefree maintenance service and 24-hour roadside service is covered at no cost for 3 years or 36,000 miles.
Visors don't extend and that bugs me.
Recognized Competition:
Volkswagon Golf $18-23,000, Chevrolet Cobalt $15-25,000, Dodge Caliber $16-25,000, Ford Focus $16-19,000, Honda Civic $15-25,000, Honda Fit $15-19,000, Hyundai Elantra $14-18,000, Hyundai Elantra Touring $16-20,000, Kia Forte $14-17,000, Kia Forte Koup $17-18,000, Mazda 3 $15-22,000, MINI Clubman $20-31,000, Mitsubishi Eclipse $21-33,000, Mitsubishi Lancer $15-27,000, Mitsubishi Lancer Sportback $19-28,000, Nissan Sentra $15-20,000, Saturn Astra $17-20,000, Subaru Impreza $17-27,000, Suzuki SX4 Crossover $16-20,000, Toyota Corola $15-20,000, Toyota Matrix $17-22,000.
Good News:
Well made, priced and performance doesn't get any better.
Bad News:
Visors that don't extend,
Standard Equipment:
2.0 liter 140 horsepower Inline 4-cylinder turbo clean diesel engine, 6-speed manual transmission, electro mechanical power steering, independent front and rear suspension, front side and side curtain airbags, Electronic Stability program, anti-slip regulation, 4-wheel ABS power disc brakes, LATCH child safety system, tire pressure monitoring system, power mirrors, leather wrapped steering wheel, cruise control, remote keyless entry, anti-theft alarm with immobilizer deterrent system, air conditioning, tilt and telescopic steering wheel, power windows, 60/40 folding rear seat, touchscreen audio with 6-CD changer w/ SIRIUS satellite radio w/ 6-month subscription, fog lights, 17" alloy wheels
Gas Stats:
$3.00/ Gal avg. May 15 '10
for more information.
30 City and 41 Highway MPG
Pricing:
MSRP $21,990.
Your comments are welcomed. My e-mail is joe@autolove.com
Copyright © 2014 – An Automotive Love Affair.