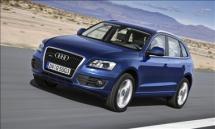 Overview:
You can, as I did, get on the 241 and not realize you're on a toll road because other than a small note on the freeway signs "Toll" you wouldn't know it. When you drive on the east coast you learn to expect toll roads because there has been Graft and Corruption there longer than here in California. You can bet the farm someone got paid off to get this by the people. Was there any vote on this? How could this happen when we already pay for our "FREEways". It's just plain BS.
I'd tell you how I really feel buy my editor / publisher would bleep it out. How about you – what do you think about toll roads here in California, and is there anything we can do about it? joe@autolove.com.
Handling & Performance:
I just love turbocharged engines. It 'boosts' performance of smaller engines when you need it. However, many people complain that the delay you feel before the turbo kicks in is a constant annoyance. True enough and Audi needs to work on this.
Some will appreciate the Tiptronic but you can have it. I find it useless and a big waste of money.
Styling:
Electronic's are a sore point for me with all German Cars generally so they all receive a bad rating from me. I think they must be made in Poland if you get my drift. (And before you write me about ethnic slurs, my better half was born in Poland. I've been all over the country and I love the people, so that qualifies me to make that comment).
The elegant look of Audi is distinctive and designers have given it some pretty amazing touches – most notably the innovative lighting. You definitely know it's an Audi when you see it cruising down the highway. Nice going guys.
Audi along with Porsche, Bentley, Bugati, and Lamborghini are subsidiaries of the Volkswagen Group. Those are all great cars and VW management is special and smart. I owned a Lamborghini and I trust VW has improved on what I experienced way back when.
Fit and Finish:
Very Good, as expected.
Cost:
If your budget is tight the Q5 is just big enough for most of us with a price tag that is livable, but if your threshold of price pain is greater you will fall in love with the Q7 as I did (coming next week).
Conveniences and comfort:
Rain sensing wipers, Bluetooth, outstanding quality seats.
Consumer Recommendation:
If you came from a prior generation you will have to put aside your experience with the mechanical maladies of model years past. VW has been involved Audi and like Ford's involvement with Jaguar all benefited from the liaison.
Recognized Competition (MSRP):
Audi Q5 $35,200, Acura RDX $32,620, Acura ZDX $45,645, BMW X3 $38,850, BMW X6 $57,000, Cadillac SRX $34,430, Ford Edge $27,455, GMC Terrain $24,250, Infiniti EX $34,550, Land Rover LR2 $35,500, Lexus RX 350 $38,375, Lexus RX 450h $43,935, Lincoln MKX $39,375, Mazda CX-9 $29,135, Mercedes-Benz GLK $35,500, Nissan Murano $28,520, Porsche Cayenne $45,500, Volkswagen Tiguan $23,720, Volkswagen Touareg Hybrid $60,565.
Good News:
Great styling, hugely improved quality from early product, helpful features like Rain Sensing and very comfortable seating and last but not least is great management.
Bad News:
Tiptronic racing feature is a needless cost, only fair fuel economy and annoying hesitation from the Turbo, lousy electronics interface.
Standard Equipment:
2.0 liter 211 horsepower turbocharged inline 4-cylinder direct injected engine , 8-speed automatic Tiptronic transmission, Quattro permanent all wheel drive system, 18" alloy wheels, 5-link front suspension, roof rails with crossbars, trailer hitch with pre-wiring, electronic stabilization, 4-wheel antilock disc brake system, tire pressure monitor, leather 12-way power seats, climate control, wood decorative inlays, tilt & telescopic steering column, leather wrapped multifunction steering wheel, heated power mirrors, rain sensing wipers, 60/40 split folding rear seat, Concert radio with CD, SIRIUS satellite radio, driver information system, cruise control, front, side and side curtain airbags, active & passive rollover protection, anti theft vehicle alarm, LATCH – lower anchors for child restraint & rear safety locks.
Gas Stats:
$3.71/ Gal avg. Feb. 28, 2011
www.fueleconomy.gov
for more information.
20 City and 27 Highway MPG
Pricing:
MSRP $35,200.
Your comments are welcomed. My e-mail is joe@autolove.com
Copyright © 2014 – An Automotive Love Affair.