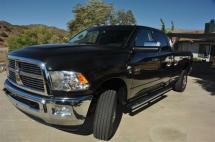 Overview: 
This week we're looking at the 2011 Dodge Ram 2500 Laramie Crew Cab Long Wheel Base 4X4. This is one big truck. It barely fits under my car port. It reminds me of my friend Norm who is too tall for any bed, which gives me an idea – I could park it corner to corner… that might work. I'll let you know.They tell me size doesn't matter. But you know, it really does… know what I mean.
Well, anyway, I'm sure there are people who can put the size to good use but it is a pain to take it places where the size is inconvenient – like going shopping, running to the store for a quart of milk and eggs… that kind of thing. This Ram means Business and it is right at home on the range where the buffalo roam and there is lots of room to turn around. Speak of a bull in a china closet…
Handling & Performance:
I'd be surprised if you weren't impressed with how fast and smooth a ride this Laramie delivers. I was totally blown away. Before I knew it, as I entered the freeway and looked at the speedometer, I was doing 90 and I swear officer I could have bet my lunch that I wasn't doing over 67 and a half miles per hour. I backed off and thought – if only I were in Wyoming, or Montana, or some other Big Sky Western State. But no, I was in California, the western version of New – York – City! Here, in California, you used to be able to sing "Oh Give me land, lots of land under starry skys above… don't fence me in…". God those were the days.
And thanks to this Laramie I'm reminded of those simpler times. But the good news is that I don't have to hitch up the horses to the wagon to get things move'n. I'll bet you could haul two tons of hay in this big fella.
It just about made me forget my youthful days when we'd refer to things made in Mexico as put together with bail'n wire and chew'n gum. Old habits and opinions are hard to shake. Those were the days when 'Made in Mexico' was about as bad as 'Made in China'. Surely it serves a lot of good in that it keeps the cost down and well if that ain't re-distribution of American Wealth I don't know what is.
Now don't get me wrong, I got nuth'n a-genst out-surs-en. Hell we could even get back to doing our own farm'n and pick'n right here in the old US of A again like we used to.
Well will ya look-e here – I been a rambling on … sorry I just couldn't help myself.
Styling:
This is a pretty plain Jane look but the frills are definitely in there. It's pretty, like the girl next door. Come to think of it her name was Jane too and I'm appreciating this Laramie all the more.
Fit and Finish:
Actually the attention to detail is quite good, which I find almost unimportant in a work truck like this class of truck. Beverly Hills applications are rare because that 'ilk' would simply get somebody else to do the heavy lifting and if they wanted to appear like real people they would pick up a Cadillac Escalade and not a work truck.
Cost:
Consider this observation. You would hardly bat an eye if I were a contractor and pulled up to give you an estimate in a $54,000 truck, but you can bet if I pulled up in a $54,000 Mercedes Benz you'd give the job to someone else. Perception my friends, perception.
Cost is also relative in another way. Consider the cost of an 18 wheeler brand spank'n new is under $100,000. And as an aside, it is sad that in today's market you can buy that big rig used for about $20,000. Why, because there ain't no shovel ready work bro. Speaking of bro's, brother John has three trucks just a sittin 'cause there isn't a damn thing going on in construction. I don't know about you but I'm ready for real change.
Consumer Recommendation:
If you're employed or have a small business that needs a truck buy it this year and take advantage of 179 tax code property where you can write off up to $250,000 in the first year. The vehicle must be 6,000 lbs or greater, which this Dodge Ram is.
I thought a little tax advice wouldn't hurt… especially since the all knowing present federal government administration in its infinite wisdom will get rid of such tax incentives next year. I miss ya George, and Ronnie Baby – Especially Ronnie even more than Nancy does.
Conveniences and comfort:
All of 'em you need and more you don't need.
Recognized Competition:
Dodge Ram 2500 $23-29,000, Chevrolet Silverado $38-49,000, Ford F-250 Super Duty $47-62,000, GMC Sierra 2500 HD $28-34,000.
Good News:
Fast and smooth, the quietest diesel you'll ever drive, a work horse and if used in business Uncle Sam will pay a good chunk of the price (in the form of less tax on your income), and with a low gear and torque that will pull a house.
Bad News:
A little pricey – unless of course you use it in business.
Standard Equipment:
5.7 liter inline 383 horsepower V8 engine, 6-speed manual transmission, front and front and rear side curtain airbags, 35 gal tank, tire pressure monitor, heavy duty cooling, 4-wheel ABS disc brakes, remote keyless entry, theft deterrent & security alarm, cruise control, power windows and locks, auto headlights, power mirrors, park assist sensors, electric shift on the fly 4X4, auto dual zone air conditioning, Media center with 506W Alpine radio with CD, DVD, HDD and SIRIUS satellite and 9-speakers, power 10-way driver and 6-way passenger heated seats, heated steering wheel with audio controls, 40/20/40 split bench seat, rear 60/40 split folding seat, 12 volt power outlet with Uconnect with voice command and 115 Volt Aux power outlet, rear power sliding window. 


Options included on this test vehicle:
6.7 liter Inline 6 Cummins Turbo Diesel Engine, 9600 pound GVW, diesel exhaust brake, tow hooks, upgraded media center, GPS Navigation system with SIRIUS traffic, Chrome tubular side steps, rear backup camera, integrated trailer brake controller, spray in bedliner, rear seat Video System and SIRIUS TV.
Gas Stats:
$2.99/ Gal avg. November 15, 2010
for more information.
City and Highway MPG
Data not available, but that is deductible this year as well.
Pricing:
MSRP $42,650 with options $53,430.
Your comments are welcomed. My e-mail is joe@autolove.com
Copyright © 2011 – An Automotive Love Affair
Your comments are welcomed. My e-mail is joe@autolove.com
Copyright © 2014 – An Automotive Love Affair.